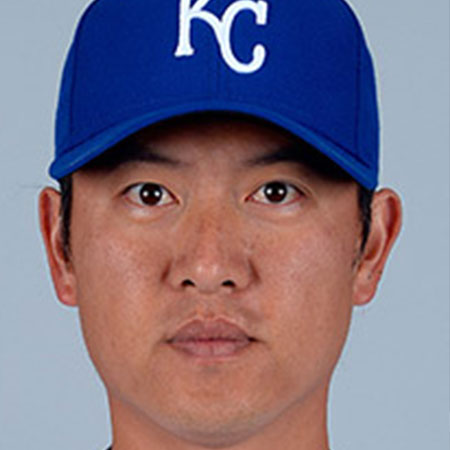 Personal Info
Famous Name

Chien-Ming Wang

Country Taiwan TW
Facts
Birth Name

Chien-Ming Wang

Birth Place

Tainan City, Taiwan

Famous Name

Chien-Ming Wang

Salary

$1 million in 2016

Position in Team

Pitcher

Current team

NA

Nationality

Tiwanese

Ethnicity

Asian

Profession

Professional Baseball Player

Famous for

Sinker

University attended

Taipei Ti Wu University

Married to

Chia-Ling Wu

Children

J.J. Wang, Wellington Wang

Squad No

40, 67
Chien-Ming Wang is a former professional Taiwanese baseball pitcher famous for his Sinker. He played for teams like New York Yankees, Washington Nationals, Toronto Blue Jays, and Kansas City Royals in (MLB) Major League Baseball. He played for the Taiwan national baseball team and won silver in Busan 2002 Asian games playing for Chinese Taipei.
The 41-year-old is currently working as a CTBC Brothers coach. He is often confused with Ching-Ming Wang, another Taiwanese professional Player who plays for Uni-President Lions in the Chinese Professional Baseball League (CPBL).
Chien-Ming Wang was born in Tainan City, Taiwan, on March 31, 1980. Following his amateur contract in 2000, Wang made his way up to the New York Yankees 'A' team through New York Yankees minor league system. He played several seasons with Yankees minor league teams like Staten Island Yankees, Columbus Clippers, and Scranton/Wilkes-Barre RailRiders.H his made in MLB Yankees on April 30, 2005.
Chien-Ming Wang Net Worth & Salary In 2021
Chien-Ming Wang's total net worth as of 2021 is set to be $10 million. He started his baseball career as he signed as an amateur free agent with the Yankees in 2000. Since then, he played for several minor leagues and major league with several teams, New York Yankees being the first to debut him in the MLB on April 30, 2005.
He collected $17,850,707 as playing for several teams in his nine-year-long playing career in MLB till 2016.
Chien-Ming Wang pitching for New York Yankees first & only Taiwanese player to be signed Yankees in MLB history.
SOURCE: Pinstripe Alley
Wang played the last game in MLB with Kansas City Royals and released on September 22. Since then, we haven't seen him play for any team in MLB, but it is yet to confirm if he retired from professional baseball as we could see him covered by sports tabloids that he is still willing to not withdraw from the professional baseball scene.
After retirement, he joined the Fubon Guardians coaching team for the 2019 season in CPBL(Chinese Professional Baseball League) and also presented him as a guest instructor for the Florida Baseball Ranch from November 28 to December 2 in Taiwan. Since 2020, he is coaching CTBC Brothers.
Chien-Ming Wang training Fubon Guardians' player for the 2019 season in CPBL
SOURCE: cpblstats.
As far as being a never giving up person as portrayed in the 2018 Taiwanese-American documentary film directed by Frank W Chen, Late Life: The Chien-Ming Wang Story.
Wang bounced back several times in his playing career in his later years in MLB. 39-year-old is still working, fulfilling different roles as a coaching staff in several teams all over the world, providing for his family and stacking up his fortune by being the perseverant character in the baseball scene.
Chien-Ming Wang Relationship and Family:
Chien-Ming Wang tied the know with Chia-Ling Wu in 2003. The pair has two sons, J.J, born in 2009, and Wellington, born in 2013. The couple had a struggle as their relationship took a U-turn in 2011 when Wang revealed cheating his wife Chia in 2011 and publicly apologized to his wife and fans.
Chien-Ming Wang with his Wife, son JJ, Wellington, Dr. Frank W Chen, and friends in the primer of Documentary, Late Life: The Chien-ming Wang Story, based on his life.
SOURCE: Giant Robot Media
Following the apology, the couple had a tough time, but his wife eventually accepted the apology. They resumed their healthy relationship and had their second baby boy wellington on 2013 when Wang was playing MLB at Toronto Blue Jays.
You may also want to check Brady Singer Biography
Chien-Ming Wang's Extramarital affair :
Chien-Ming Wang started seeing a Taiwanese American woman Cyindi when he wa playing his pro baseball in MLB with Washington Nationals in 2010. Although Wang was married to his wife Chia-Ling Wu for seven years and had their son JJ in 2009, he admitted he was the one who instigated the relationship with Cyndi during the struggling phase of rehabilitation from a shoulder injury.
"I was feeling helpless and hopeless through the long hours of rehabilitation every day; At the low ebb of my life, I had this affair."
He apologized to his family and his fans during the interview with the Taiwanese media in 2011. He stated sincere regret for his Infidelity.
"I betrayed my family and fans two years ago. I dare not to even ask for forgiveness to my family members and fans who have loved and supported me, Due to my weakness, I've hurt my wife, family members, and the third party. I can't find words to describe my obligation to them. The forgiveness and support shown by my wife and family have made me feel even more shame."
Please follow PlayersWiki for more updates on sports icons.