Carney Chibueze Chukwuemeka is a professional footballer who plays as a midfielder for Premier League club Aston Villa. He is a Nigerian-British midfielder. He was named Aston Villa Academy Player of the Season for the 2020-21 season.
Carney started to play sports at a young age. The game that captured his heart when he was young is soccer. He literally worked tirelessly to make his career a football player. He plays for the under 23 team of Aston Villa football club and England National Team.
Early life and career
Carney was born on 20th October 2003 in Austria to Nigerian parents and was raised in Northampton. As for his date of birth, his Zodiac sign is Capricorn. The name Chukwuemeka means God has done something great, and it is associated with people from the eastern part of Nigeria commonly referred to as Igbos.
He has an elder brother known as Chigozie Caleb Chukwemeka, a professional football player and plays for a villa. Carney is usually deployed as a central midfielder though he can play slightly further forward.
Club career and international career
Carney joined the Aston Villan academy from the Northampton Town academy in March 2016. He signed his first professional contract with Villa in July 2020. Chukwuemeka made his senior debut for the team on 19 May 2021 in a 2-1 away victory over Tottenham Hotspur, hitting the post within minutes of entering the game.
On 23 May 2021, he was named Aston Villa Academy Player of the Season for the 2020-21 season.
Carney Chukwuemeka
SOURCE: instagram@chukwuemeka10
Carney is eligible to play for the national teams of England, Nigeria, and Austria. After making two appearances for England U17 national team, on 29 March 2021, he made his debut for the England U18 squad in a 2-0 victory over Wales.
The midfielder showed his talent as a regular starter in the under-23s before making his senior debut against Tottenham in the Premier League. He won the FA youth cup in May 2021, finishing as the tournament's top scorer with seven goals. His exploits during the campaign led to him being awarded the Academy player of the season.
Carney Chukwuemeka with Jack Grealish
SOURCE: instagram@chukwuemeka10
According to the Birmingham Mail, Manchester United City, Liverpool, Bayern Munich, and Juventus have all scouted Carney at one point over the past year. Man Utd interest is believed to be the most concrete as they were alerted to the player's talents even before the comments from Purslow.
Villa may face a fight to keep hold of him in the future, but now he seems content enough to try and break into the villa first team.
Carley Chukwuemeka-Salary and Contract
Playing in such a competitive league already means Carney is earning some good money. Carney earns $1,400 per week which is $72,800 per year playing for Aston Villa F.C in the Premier League as a M/AM/C.
Carney has earned a total of $72,800. His current contract expires on June 30, 2023.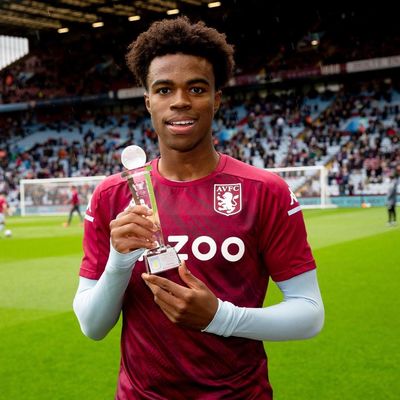 Carney Chukwuemeka
SOURCE: instagram@chukwuemeka10
He is not living a lavish lifestyle as he is a young one and more are there in his coming years. He has been targeted by many popular Clubs and might be getting sponsors in these coming years, and his net worth will rapidly increase.
Who is Carney Chuwuemeka Dating?
Carney is too young to have a girlfriend now. He is totally focused on his career, and there is no time for him. He has a tight schedule.
Carney is also not that open about his private life and hasn't posted about his love life, and there is no information about his previous relationships.
Social Media
Carney's Instagram account has 43.7k followers as of April 2021. He is a skilled and ambitious footballer because of his style. He quickly grabbed everyone's attention.
Carney Loves sharing about the progress. He frequently posts about the training and the time with the boys. His Instagram goes by chukwuemeka10.
Stay Tuned with Playerswiki