Facts
Birth Name

Robert Paul Melvin

Net Worth

$10 Million

Currently Married

Yes

Birth Country

Palo Alto, California

Salary

$3.5 Million

Married to

Kelley Melvin

Famous Name

Bob Melvin

Children

1

Position in Team

Manager

Nationality

American

Current team

Oakland Athletics

Ethnicity

White

Profession

Baseball Manager
Robert Paul Melvin a.k.a. Bob Melvin is an American baseball player turned coach who currently stands as the manager of the Oakland Athletics of Major League Baseball (MLB). Throughout his decade-long playing career (1985-1994), he was a catcher for various MLB teams: Detroit Tigers, San Francisco Giants, Baltimore Orioles, Kansas City Royals, Boston Red Sox, New York Yankees, and Chicago White Sox. He finished his collegiate career playing for Golden Bears.
Palo Alto, California native, Bob Melvin was born on 28th October 1961, under the star sign Scorpio. The fifty-year-old holds an American nationality and is of white ethnic background.
How Much Is Bob Melvin's Net Worth In 2021?
Since mid 80s Bob Melvin is professionally active on MLB: initially as a player then coach and now manager.
Though there is no exact infromation about his salary during his playing career, source confirms an average salary of MLB player during 80s and 90s is $400,000 to $1,000,000.
Bob Melvin is believed to summoned no less than the seven digit figure as his MLB player career earnings.
After a decade long playing career, he coached various MLB teams such as Milwaukee Brewers (1999), Detroit Tigers (2000), and Arizona Diamondbacks (2001–2002).
In 2003, he stepped as a manager in the league and still going strong as ever.
In 2018, Melvin inked a long-term contract extension, through 2021 with a club option for 2022 deal with Oakland Athletics of Major League Baseball (MLB), making him one of MLB's highest-paid managers at around $3.5 million per anuum.
With his deal set to expire after 2021 season with a club option for 2022, manager Bob Melvin said he hopes to stay in Oakland.
Bob Melvin's Former House In Berkeley, California (CA), US
SOURCE: Virtual Globetrotting
About his real estate property: in 2013 Melvin scored a house in Berkeley, California for $2.3 million. Later five years in 2018, he sold the house for $3.3 million.
As of 2021, his net worth is $10 million.
Is Bob Melvin Married? Know His Personal Life
Bob Melvin is married to Kelley Melvin whom he knew when he was 21 years old. The duo met in 1982 and tied the knot the following year in January in an intimate wedding ceremony.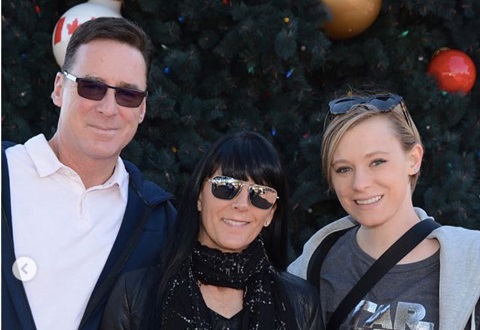 Bob Melvin's wife and daughter
SOURCE: Fwag
On 21st December 1988, The couple welcomed their first and only child, Alexi. At the age of fourteen, Alexi was diagnosed with Juvenile diabetes, since the family is very actively involved with the Juvenile Diabetes Research Foundation.
Alexi is an actress, writer, and filmmaker.
Parents & Other Family Members
Bob Melvin's mother is Jewish and his father is Catholic. Bob is Jewish and was one of eight Jewish managers in MLB history through 2018.
He is the grandson of R.B. "Bud" Levitas, who was the original ballboy in the 1920s for the Acme Packers (precursor to the Green Bay Packers).
Career
High School & College
Bob Melvin enrolled at Laurel and then Encinal elementary school. After that, he attended Mento-Menlo-Atherton High School where he played baseball (at catcher), basketball (at forwarding), and golf. He batted .474 with 11 home runs for the baseball team. He was the first student inducted into the school's Hall of Fame.
Upon graduation in 1979, he attended the University of California in Berkeley, playing catcher for the Golden Bears. He concluded the freshman season batting .269 with two doubles and 12 RBIs in 67 at-bats over 29 games and also lead Cal to a third-place finish at the College World Series in 1980. After his freshman year in California, he was transferred to Canada College.
Professional Playing Career
In the 1981 MLB Draft, Melvin was picked in the 1st round (2nd pick) by the Detroit Tigers. On 25th May 1985, the MLB debut at the age of 23.
He played 11 seasons in MLB mostly appearing as a back-up catcher, for the Tigers, San Francisco Giants, Baltimore Orioles, Kansas City Royals, Boston Red Sox, New York Yankees, and Chicago White Sox.
During his stint at Tiger, he backed up Lance Parrish.
Melvin finished his career with a batting average of .233, and 35 home runs.
Coaching Career
Bob Melvin started his coaching career in 1999 with Milwaukee Brewers. In 2000, he served for Detroit Tigers and then Arizona Diamondbacks (2001–2002).
Managerial Career
In 2003, Bob Melvin became the manager of the Seattle Mariners. That season, the M's won 93 games with a .574 win-loss percentage as the 93 wins tied Melvin for the 15th-most by any rookie manager in MLB history. The 2004 season was less successful, as the Mariners lost 99 games.
In 2005, he was hired by the Arizona Diamondbacks. The team finished the 2005 season with a record of 77–85.
In 2007, he led Arizona to a National League West title with a record of 90–72, and a .556 win-loss percentage. On June 9, 2011, Melvin was hired as an interim manager of the Oakland Athletics. He wore #6 since becoming a manager.
On 21st September 2011, he became the managerial position on a permanent basis, becoming the 30th manager in franchise history.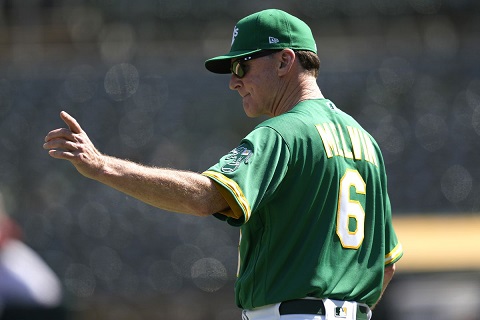 Bob Melvin
SOURCE: Athletic
In 2012, Melvin won the American League Manager of the Year. He is the 14th manager in history to win the award.
In the 2013 season, the team was 96–66 with a .593 win-loss percentage.
On 29th July 2017, Melvin became the 64th MLB manager to win 1,000 games in his career.
On 13th November 2018, Melvin was awarded the Manager of the Year award for the 3rd time, becoming just the 8th manager in MLB history to win the award thrice.
On June 1, 2021; with a 12–6 victory against the Mariners, Melvin tallied Bob's 798th win as A's manager, which vaulted him past La Russa to become the second-winningest manager in A's history and the winningest in the West Coast portion of franchise history.
Stay Tuned With Playerswiki