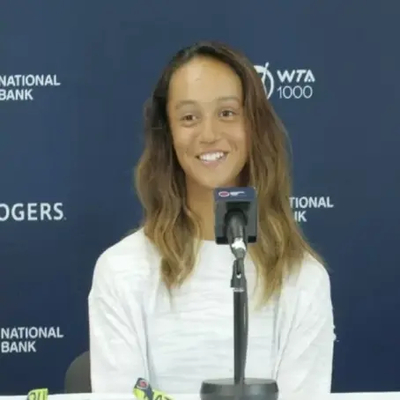 Personal Info
Date of Birth

Age

19 Years Old

Famous Name

Bianca Jolie Fernandez

Country Canada CA
Facts
Father

Jorge Fernandez

Relationship Status

single

First Name

Bianca

Fiance

N/A

No. of Instagram Followers

5,176

Father Nationality

Canadian,Ecuadorean

Mother

Irene (née Exevea)

Wikipedia

https://en.wikipedia.org/wiki/Bianca_Fernandez

Last Name

Fernandez

Birth Name

Bianca Jolie Fernandez

Net Worth

$100k

Mother Nationality

Canadian,Filipino

Currently Married

Unmarried

Siblings

Leylah Fernandez

Salary

$45k

Birth Country

Canada

No. of Siblings

1

Instagram

https://www.instagram.com/biancajolietennis/

Famous Name

Bianca Jolie Fernandez

Nationality

Canadian

Affair with

Ethnicity

Mixed

Boyfriend

NO

Profession

Tennis player

Famous for

Leyla Anne Fernandez'sister

Started career as

Tennis Player

Came to fame after

Leyla Anne Fernandez
Bianca Jolie Fernandez is a Canadian professional tennis player who has been playing at professional events for some time. Bianca was born into a sports family and has been following in her parent's and siblings' footsteps. Fernandez is yet to earn a major title to her name.
Bianca was born to parents Irene and Jorge Fernandez. Her elder sister, Leylah Annie Fernandez is a famous professional tennis player. Her father, Carlos, is a former soccer player who represented Ecuador in the 1983 Pan American Games. Bianca Jolie Fernandez's parents have been supportive of her tennis career from the beginning and have played a significant role in her success.
Net Worth, Salary, and Career Earnings
While there is not much information available about Bianca's net worth, salary, and career earnings, there's significant information about the monetary value of Leylah's winnings and earnings.
Leylah Fernandez's net worth is estimated to be around $6 million as of the latest updates. The majority of her net worth comes from her prize money earnings from her tennis career. She has earned a total of $3,476,543 in prize money. Her biggest earnings came from her runner-up finish at the 2021 US Open, where she earned $1.25 million.
Bianca Jolie Fernandez in an attempt to shoot the ball during a tennis match, 2019
SOURCE: opencourt.ca
In addition to her prize money earnings, Leylah also earns money from endorsements and sponsorships. She has deals with major brands such as Lululemon, Babolat, Telcel/Claro, Birchbox, EasyPost, Flair Airlines, USANA, Morgan Stanley, and Google Canada, which have contributed to her net worth. The exact value of these deals is not known, but it is estimated that she earns around $300,000 per year from her endorsement deals.
Leylah's career earnings have been steadily increasing since she turned pro in 2019. In her first year on the pro circuit, she earned $17,925 in prize money. This increased to $305,609 in 2020 and then skyrocketed to $3,476,543 in 2023 thanks to her impressive performance at the US Open. Her current singles ranking is No. 26 in the world, which is expected to increase as she continues to play at a high level.
As for Bianca Jolie Fernandez, there is not much information available about her net worth, salary, or career earnings. However, as the older sister of a successful professional tennis player, it is possible that she has also been involved in the sport in some capacity, either as a player, coach or in another role. It is also possible that she has pursued other career paths outside of tennis.
Relationship Status, and Instagram Appearance
Despite being a public figure, not much is known about Bianca's romantic part of life. However, based on her social media profiles and public appearances, it can be said that she is currently single.
Bianca is known to be a private person and doesn't share much about her personal life with the media or her fans. She is focused on her career and is often seen practicing or competing in tournaments.
Bianca Jolie Fernandez during her summer trip with friends, July 2021
SOURCE: instagram.com/biancajolietennis
Bianca's Instagram, @biancajolietennis also mostly features posts related to her tennis matches, training sessions, and vacation with friends, with little to no information about her personal life or relationships. Hence, it can be inferred that Bianca is currently single and prioritizing her career over her personal life.
Career Statistics, Records, and Achievements
Bianca has achieved many notable milestones and made a name for herself in the tennis world. She began playing tennis at a young age. Her career statistics and achievements are impressive, and she is considered one of the rising stars of Canadian tennis.
Fernandez began her professional tennis career in 2018 and quickly made a name for herself. In 2019, she won her first WTA singles title at the Rogers Cup in Toronto, becoming the first Canadian woman to win the event since 1969.
Bianca Jolie Fernandez has had some impressive performances in Grand Slam tournaments, including winning the 2019 US Open. In addition, she has reached the quarterfinals or better at several other Grand Slam events, including the 2021 French Open and the 2022 Australian Open.
Bianca Jolie Fernandez shots the ball during a tennis match, December 2022
SOURCE: instagram.com/biancajolietennis
Bianca Jolie Fernandez made her WTA debut in 2018 at the Rogers Cup in Montreal, where she received a wild card entry. Although she lost in the first round, Bianca Jolie Fernandez showed promise and continued to work hard to improve her game. In 2019, she made it to the final of the Acapulco Open, where she defeated some of the top players in the world to reach the title match.
One notable match in Bianca Jolie Fernandez's career was against Anna Ulyashchenko in the first round of the 2022 US Open. Despite dropping the first set, Bianca Jolie Fernandez rallied back to win the next two sets and secure her spot in the second round. The match showcased Bianca Jolie Fernandez's resilience and determination on the court.
In addition to her success at the Rogers Cup and US Open, Fernandez also won two ITF singles titles and reached a career-high singles ranking of No. 4 in the world. Fernandez's success on the court earned her several accolades, including the 2019 Lou Marsh Trophy as Canada's Athlete of the Year and the 2021 WTA Fan Favorite Award. She was also named the 2019 Tennis Canada Female Player of the Year and the 2020 Tennis Canada Female Singles Player of the Year.
Early Life, Education, and Family
Bianca Fernandez was born on February 24, 2004, in Montréal, Quebec, Canada. She comes from a family of athletes, with her father, Carlos Fernandez, being a former soccer player and her mother, Irene Fernandez, a ballerina.
Bianca Jolie Fernandez with her sister, Leylah, mother, Irene, and a friend by the beach during summer, May 2022
SOURCE: instagram.com/biancajolietennis
Bianca started playing tennis at the age of 7 and quickly showed her talent for the sport. She trained in Florida for several years and her father became her coach. In 2018, she won the Junior French Open singles title, which helped her rise in the rankings. The following year, she made her breakthrough on the WTA tour by winning the Indian Wells title and the Rogers Cup.