Ghana is slowly rising as a football powerhouse, appearing in FIFA World Cup matches since 2006. Baba Rahman is one of the many fantastic footballers in Ghana.
Baba Rahman is a professional footballer from Ghana playing the left-back role. The youth plays for FC Reading on loan from FC Chelsea. The left-back was scouted at 16 by a local football club and had played professionally ever since, even as a part of the Ghana national team.
Find out more about Baba Rahman's childhood, lifestyle, family, love life, and more below.
Early Childhood and Upbringing
Abdul Rahman Baba was born in Tamale, Ghana, on July 2, 1994. His father, Alhaji Baba, and his mother, Hajia Fati Baba Sibdoo, were Ghanaian nationals and raised their child well. Rahman attended two schools, Our Lady of Fatima Junior High School and Young Dakpem'yili JHS, in his city.
Rahman started playing football at the young age of 9. The youngster made his first debut game in football for Young Meteors Tamale. After playing for six years for the team, the left-back was scouted by Dreams FC. Baba Rahman was sixteen years old when scouted by the Accra-based club.
More on Baba Rahman
The Ghana national star stands at 5 feet 10 inches (1.80 meters) with an athletic build. He's playing a defensive role, after all. The 70kg (154kg) player has a darker complexion with black eyes and hair. He is a follower of Muslims. Baba's sexual orientation is straight. Find out more about his love life below.
Baba Rahman at Chelsea
SOURCE: Ghana News
The footballer was born in July, making his zodiac sign Cancer. Rahman is known to be compassionate and protective with pure goofiness. He is also hard-working and determined, as from a quote: "You've got to work hard every day, constantly strive to improve, and believe in yourself."
Rahman's role model is Marcelo, who also plays a defensive role. He's happy enough but not satisfied, trying to reach new heights in football. As for other hobbies, the left-back likes to play football video games, listen to Justin Beiber songs, and enjoy an excellent Italian or Halal meal.
How much does the football star own? Net worth and salary details
Coming from a World Cup powerhouse, the football star is sure to have earned a lot throughout his career. According to sportrac, Baba Rahman makes about $4.5 million per year, as discussed in a contract with FC Chelsea.
With a weekly wage of around 90 thousand dollars, Baba Rahman sure has a lot to spend. The footballer is estimated to have a networth of about $15 Million, no less. Either way, Rahman lives a lavish life with his clothing and outfits.
The left back's market value was around its highest in 2015, with 15 million dollars. Now it's back to around 2 million dollars which are not exceptionally high but not low.
Baba Rahman's Love Life and Marriage
Baba Rahman's love life remains no secret as he has openly uploaded his wife on social media. Perhaps love isn't all dead. Pure love exists and lasts as long as you're alive, which is proven by Rahman's childhood love, Selma.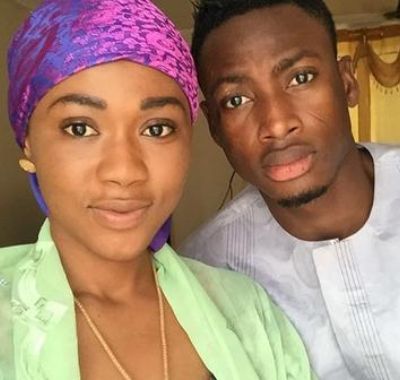 Baba and his wife Selma
SOURCE: Instagram: @baba_rahman_
Selma and Rahman were childhood lovers who met in Tamale and have been dating ever since. The couple got married back in 2016, May in their hometown, Tamale. Love life for the couple seems to be going smoothly; perhaps a child soon?
Start of Career and Rising
The left-back started playing at Dreams FC ever since being scouted in 2010. His plays left an impression as he was transferred on loan to a club of the Ghanaian Premier League, Asante Kotoko, just the following year.
Many transfer rumors were raised for the youngster as serious inquiries were made about him for Manchester City, Arsenal, and Parma. These were no small clubs, and Rahman's future was bright.
Ultimately, Baba Rahman signed a contract with Greuther Furth in 2012 for the Bundesliga. The left-back searched for a place to develop and grow, not just money and fame. After playing two seasons with the team, Baba then moved on and signed a contract with FC Augsburg of the same division.
2014-2015 became one of the best seasons for the left-back as he would go on to make 108 tackles, the most in the Bundesliga division that season. Baba Rahman's playstyle was upfront. He would use his sheer strength and pace to win over most of his opponents. In the end, Rahman had an 83% tackle rate, one of the best recorded.
New eyes on Rahman
The Ghanaian defender now had piqued the interest of many. Rahman signed a five-year contract with FC Chelsea on August 16, 2015. While the initial fee for the contract is undisclosed, people say it to be around 14 million dollars, rising to about 22.
Baba playing for Chelsea
SOURCE: Chelsea Football Club
He debuted for the team the next month on September 16, which was a smooth victory, 4-0, against Maccabi Tel Aviv. This debut was for the UEFA Champions League. His next debut for another title, the Premier League, was on October 17, going home with a 2-0 win against Aston Villa.
Everything was well for the defender except for a fatal mistake in a game against Southampton. This resulted in a score from the opposition, and the coach decided to bench him for the match. Although Chelsea won the game, Antonio Conte was not impressed.
Series of Loans
Baba Rahman would now be loaned from Chelsea to various other clubs. Chelsea coach Antonio stated he preferred more defensive players than Baba Rahman. The left-back then was moved to FC Schalke for a season-long loan.
Baba Rahman played for Schalke from 2016-2019 with 26 appearances and a single goal. Goal count wasn't a big deal for him, as he was a defender. The defender would go on to a series of loans for clubs through four different clubs.
1. Reims
2018-2019 season for Ligue 1 with 11 appearances and 1 goal.
2. Mallorca
2019-2020 season for La Liga with a total of five appearances
3. PAOK
2020-2021 season for Super League Greece with 17 appearances and a single goal.
4. Reading
2021-2023 season for the English Football League with a total of 30 appearances and ongoing.
Baba wins the Greece Cup
SOURCE: Instagram: @baba_rahman_
International career
The Ghanaian national has also represented his country nationally, starting with the U20 team. The player also made his first international debut in 2014 after being called to the Ghana national team.
Baba Rahman also played full-time against Ivory coast in the 2015 Africa Cup of Nations. Although this ended in a loss, it was still a great game. The defender suffered a knee injury and had to come off from his opening game in Gabon.
Honors and Awards
Ghana Premier League Champions, 2011-2012 season

Greek Cup, 2020-2021 season

Africa Cup of Nations runner-up, 2015 (international)
Some Facts on Baba Rahman
Baba Rahman started playing football at the young age of 9. His passion and talent for football were awe-inspiring.
The defender's famous name is Baba. He changed his jersey to Baba, as his father greatly supported Chelsea. In South Asian countries, Baba also translates to father.