With the name of basketball, the legendary name Michael Jordan comes along with it. Today we are talking about the legendary basketballer Michael Jordan who is now retired and is a businessman and principal owner of the Charlotte Hornets of NBA. Jordan, who played for 15 seasons in the NBA for the Chicago Bulls and Washington Wizards, even after his retirement is enjoying a huge amount of net worth.
So, probably you are curious about Jordan's net worth, right? What's about his house, salary, and income? Let's know the details about his net worth, career earnings, and property in this section.
Net Worth of Michael Jordan
Michael Jordan, considered the highest paid athlete during his career, as of 2017 is ranked 4th in America's Wealthiest Celebrities. With the calculation of his earnings from his business, revenue from his endorsements and from his team, Charlotte Hornets, he is reported to have a net worth of $1.39 billion.
Let's know the details, right down there.
Career Earnings
Michael Jordan started his professional career in 1984 signing a 7-year contract with the Chicago Bulls worth $6.3 million with his base salary of $550,000. While playing for the Bulls, his annual salary in 1987 reached $845,000 with the increase in his performance.
In September 1988, Jordan re-signed the 8-year contract with the Bulls earning an annual salary of $2 million. The annual salary gradually increased from $2.25 million in 1989 and became $3.2 million in 1991. Jordan, who stayed out of the court for 1994 season, earned the average annual salary of $3.8 million till 1996.
With his one year contract with the Bulls in both 1996 and 1997 season, Jordan's annual salary became $30.14 million and $33.14 million respectively which is the highest single-season NBA salary ever.
Michael Jordan in Chicago Bulls
Source: NSSmag
Jordan later signed a 2-year contract with Washington Wizards in September 2001 worth $2 million with his annual salary of $1 million which got reduced under the maximum salary rules made in 1999.
After the 2003 season, he announced his retirement from the professional basketball. As reported, Jordan earned a total of $94 million through salary of his 15 seasons in the NBL.
Many of you might not know, but Michael Jordan also featured in the 1996 film Space Jam accounting $20 million. The film hit the box office with $230 million.
Endorsement of Michael Jordan
Michael Jordan, famed for his slam dunk, while in the rookie season after his high school, signed a 5-year contract worth $2.5 million with Nike at the age of 21, and an additional amount of $12.5 million with his deal with the shoemaker. Jordan made $200,000 with Chevrolet, the same year.
The endorsement deals flooded on Jordan, as his endorsement deal with Wheaties in 1988 earned him $2 million and made $10 million more in the following year with Hanes. Jordan, who earned $13.5 million with his deal with Gatorade, got his 10-year deal with MCI halted in 2002 after the bankruptcy. With MCI, he earned $2 million.
He also got $2 million for his 10-year contract with Oakley in 1995.
Nike has been a great backup of Jordan's income. As reported, Jordan made around $480 million from his endorsement deal with Nike between 2000 to 2012.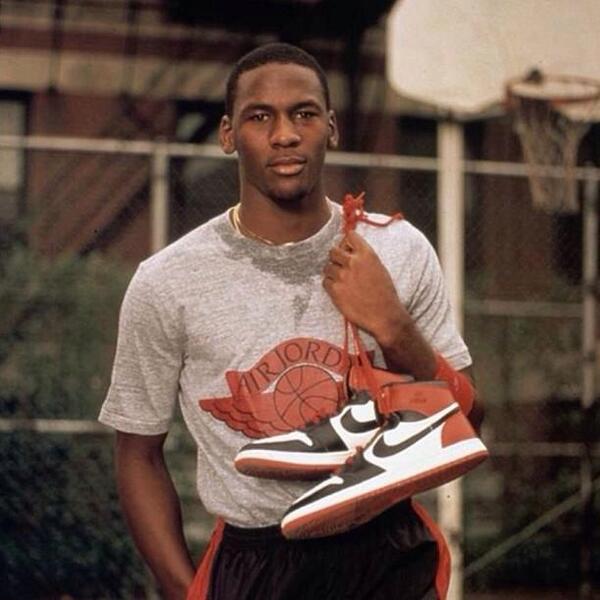 Michael Jordan's endorsement of Nike in the 1990s
Source: Kosarka
Michael Jordan also earned $18 million for endorsing Gatorade, $14 million from trading-card brand Upper Deck, and another $14 million from underwear giant Hanes (HBI), along with $10.6 million from XEL, between those 12 years.
Only with Nike, Jordan earned $90 million in 2013. The total earnings of Jordan in 2014 and 2015 was reported to be $100 million and $110 million respectively.
As per Forbes, Nike, the longtime endorsing partner of Jordan, paid him $100 million a year, with its annual revenue of $3 billion from Jordan Brand.
Jordan's NBA team Charlotte Hornets made him a Billionaire
Following 7 years of his retirement, Jordan invested his economy in the 80% stake of the NBA team Charlotte Hornet in 2010. The majority stake in 2010 was worth $175 million which in 2013 increased to $252 million.
The average franchise value of the team became $367 million after the new TVdeal to pour an extra $57 million into its co-offers annually and reached to $725 million in 2015 from $410 million in 2014.
Charlotte Hornets Players
The value of Jordan's 89% stake in the Hornets in June 2014 was reported to be $416 million, leading him to the seat of a billionaire in 2015 with his net worth of $1 billion.
The team, where Nicolas Batum (2017 salary $22.43 million) plays, has a current team value of $780 million.
Michael Jordan's House
Jordan, along with his established name in the NBA history, currently lives in his mansion with his second wife, Cuban-American model Yvette Prieto and twin children, Victoria and Ysabel, in Charlotte.
The lakefront house built in 1993, was previously listed for $3.49 million, but Jordan negotiated and purchased the 12,310 sq-foot property with six-bedroom, eight-bathroom paying $2.8 million in early 2013.
Let's have a look at his mansion.
Michael Jordan's house in Charlotte, North Carolina
Source: AOL
Besides that, Jordan also owns a custom built golf course worth of $12.8 million. We do also have the details about his former house in Chicago.
In 1991, Jordan purchased a plot in Highland Park, Illinois, to build a 56,000 square-foot-mansion. The mansion built in 1995, with nine bedrooms, 15 baths, a cigar room, and a big garage was put on the market in March 2012 with a price tag of $29 million.
The mansion also consists of a regularly sized basketball court with Jordan's jersey no. 23 on the entrance, however, after failed auction the value of the property degraded to $16 million in 2014.
Let's have a look at the property.
Michael Jordan's former house in Highland Park, Illinois
Source: Business Insider
But, Jordan's history got a tag of failure as its price fell to half that of the original price, i.e. $14.855 million in 2015, but has not been able to sell his house till date.
Michael Jordan's Cars, Private Jet, and Restaurants
And talking about the cars, Jordan has got a quite impressive collection.
His collection includes Chevrolet Corvette ZR1, Aston Martin DB9 Volante, Ferrari 599 GTB Fiorano, Aston Martin DB7 Volante, Ferrari 512 TR and more. The price of the 2-Aston Martin cars is around $200,000 each, whereas Ferrari 512 TR and Ferrari 599 GTB have the base price of $239,900 and $450,000 respectively.
Michael Jordan in his Aston Martin DB9 Volante
Source: Yahoo
Jordan also owns Mercedes-Benz SLR McLaren 722 worth $497,450 and Mercedes-Benz SL 55 AMG, which costs around $100,000. In addition, he has a Ducati 999 bike worth around $7260.
Michael Jordain is also reported to own a private jet, Gulfstream IV, which he painted Carolina Blue. The price of his Gulfstream IV is around $41 million.
Michael Jordan's Private Jet
Source: Boss Hunting
Jordan has invested his money in the restaurants too, as per sources, he is reported to have owned 7 restaurants.
Michael Jordan's Enormous Divorce Alimony
As we all have known, Jordan is married twice in his life. Prior to his second wife, Prieto, he was married to Juanita Vanoy in September 1989. But, the parents of two sons, Jeffrey Michael and Marcus James, and a daughter, Jasmine, filed for divorce after 16 years of their marriage, finalized on December 29, 2006.
Michael Jordan's ex-wife, Juanita
Source: Wikiceleb Info
Jordan's ex-wife received $168 million as the alimony which was biggest celebrity divorce settlement on public record at the time.
Also, Jordan came on a controversy, after he was accused of fathering a child by his former lover Karla Knafel, who claimed that Jordan promised her $5 million to keep their relationship secret. However, in the court, it was proved that Jordan already paid her $250,000, and she owed not a penny more than that.
Jordan's Gambling Controversy
When Jordan was seen gambling in Atlantic City, New Jersey, in 1993, just a night before his game against the New York Knicks. Jordan reportedly lost $57,000 in the gamble and was playing to recover his loss.
Also, the author, Richard Esquinas, claimed that he won $1.25 million from Jordan in the golf course after winning the bet.
Michael Jordan's Philanthropy
Michael Jordan has provided his helping hands to the charity works too. Back in 2006, Jordan and his wife Juanita pledged $5 million to Chicago's Hales Franciscan High School as a support to the fundraising. But he didn't stop there.
Have a look at the list some of his charity works:
1)Boys & Girls Clubs of America
2)Buoniconti Fund To Cure Paralysis
3)Cats Care
4)CharitaBulls
5)Jackie Robinson Foundation
6)James R. Jordan Foundation
7)Kids Wish Network
Really generous!
Let's wish him best for future and stay tuned for more updates on your celebrity.
AD Here (After Content)