Personal Info
Date of Birth

Age

27 Years Old

Famous Name

Akram Afif

Country Qatar QA
Facts
Father

Hassan Afif

No. of Instagram Followers

169k

Market Value

5.50M Euro

Mother

Fayza Afif

Birth Name

Akram Hassan Afif Yahya Afif

Net Worth

$4M

Currently Married

Married

Siblings

Ali Afif

Salary

$712,400

Birth Country

Doha, Qatar

Famous Name

Akram Afif

Horoscope

Scorpio

Position in Team

Left Winger

Nationality

Qatari

Current team

Al Sadd SC

Ethnicity

Asian

Awards

Qatari Stars League, Player of the year

Profession

Football Player

Is played fifa word cup 2018

No

Squad No

15

Started career as

Football Player

Caps

76

Currently Club

Qatari Stars League
Akram Afif is a Qatari professional football player playing football for the Al Sadd Sports Club, or simply Al Sadd. Al Sadd, a Qatari proficient football club headquartered in Al Sadd, Qatar, takes part in Qatar Stars League, the most raised Qatari football league. Besides, Afif also plays for the Qatari national team and has earned seventy-six international caps for the national team and has scored twenty-two international goals.
Akram Afif plays from a left-wing position. Akram wears jersey number 15 for his current club Al Sadd Sports Club. With his current club, he has won three Qatari Champion trophies; in the season 2018/19, 2020/21, and 2021/22. He is also a player of the year in 2018/19 with his current club Al Sadd SC. With his national team Qatar, he won AFC Asian cup in the year 2019. Akram Afif is one of the most decorated players in the present Al Sadd and Qatari roster.
Akram Afif Personal Details
Akram Hassan Afif Yahya Afif, simply known as Akram Afif, was born in Doha, Qatar, on March 11, 1996. Akram's star sign is Scorpio. Akram is 26 years old as of 2022. Akram Afif is 5 feet 10 inches tall and weighs over 67 kg. He has long black and curly hair.
Akram Afif
SOURCE: https://www.euronews.com/
He has a brother named Ali Afif who plays football for Lekhwiya of the QSL. Hassan Afif, his father, was born in Moshi, Tanzania, and is of Somali ancestry. His father used to play for Simba in Tanzania before moving to Somalia and playing for Horseed and the Somali national team.
Later, he relocated to Qatar and joined Al Ittihad as a player (later renamed Al Gharafa). Following his retirement, he oversaw Al Gharafa from 1986 to 1987, Al Markhiya from 2001 to 2003, and then from 2006 to 2007. Yemen is where Fayza, his mother, hails from.
Akram Afif's football career
Afif, a gifted left-winger, has always been a consistent performer. He used to become involved in every conceivable academic and extracurricular activity. While at school, he took part in a variety of sports and extracurricular activities. Sports have always piqued Akram's attention, and he enjoyed them as a youngster.
Club career
Akram Afif was born in Doha, Qatar, to a Yemeni mother and a Tanzanian father of Somali ancestry. He first played for the Al-Markhiya and Al Sadd juvenile teams before switching to the Al Sadd as a full-time student in 2009. Afif played for the young teams of Sevilla and Villarreal while he was an exchange student at Aspire and went to Spain.
Akram on Villareal outfit
SOURCE: https://www.villarrealusa.com/
He played for Sevilla in the 2013 Al Kass International Cup, scoring twice and providing an assist in the team's 3–0 victory over Aspire Academy in the opening game. Later, Afif joined the Villarreal youth squad. Eupen signed Afif in January 2015. On January 19, he made his debut against Eendracht Aalst and scored a goal. He contributed to three of his team's five goals against KRC Mechelen on January 24.
With two goals in nine games, Afif completed his first senior season. He scored a pair of goals in a 4–0 home victory over KSV Roeselare on March 18, 2016. Afif would be returning to Villarreal, this time on a long-term contract, it was announced on May 8, 2016. He so became the first player ever signed by La Liga who was born in Qatar. He began a season-long loan to fellow top-tier club Sporting de Gijon on August 4.
Akram on KAS Eupen jersey
SOURCE: https://www.worldfootball.net/
On August 21, 2016, during a 2–1 home victory against Athletic Bilbao, Afif made his professional football debut in Spain's top division after replacing Burgui. He returned to his original senior club Eupen on a one-year loan on July 14, 2017, following nine league games. In January 2018, he returned home to play with Al Sadd, where he had a very productive season.
International career
Afif participated in Qatar U20's 2014 AFC U-19 Championship qualification run. He provided Qatar with the winning goal against DPR Korea in the championship match of the main competition.
In September 2015, manager Daniel Carreno called him up to the senior national team. On September 3, 2015, as part of the 2018 World Cup Qualification stages, he scored in Qatar's 15–0 victory against Bhutan. In the game, he also recorded an assist.
Afif played a crucial part in helping Qatar win the 2019 AFC Asian Cup, contributing 10 assists altogether, a new tournament record, to the victory of his side.
Also, read the biography, relationship status, and net worth of Sean McEwen.
Salary and Net Worth of Akram Afif
Akram Afif, the most valuable player for Al Sadd, started playing football professionally in 2015. Over the course of his six-year professional football career, Afif has played for a variety of teams. Akram's financial success has been significantly influenced by his football career.
Akram after winning Amir cup
SOURCE: https://twitter.com/
According to the reports, Akram used to earn $712,400 yearly and $13,700 weekly as an Al Sadd player. According to the transfer market, Akram has a current market value of €5.50M. This is his all-time highest market value. Akram Afif's net worth is $4M in 2022.
Through sponsorships and grants, Akram earns a sizable income. There have not yet been any documented financial transactions between the two detachments, according to sources. One of the most talented and highly compensated players in the club is Akram.
Relationship status, Love life, and affairs.
Sportsman Akram Afif is rackety and fierce. Currently, Akram is wed to a Qatari lady. He frequently uploads pictures of her on his Instagram page. The name of Akram's wife has not yet been made public.
The current status of his wife's employment is unknown. They routinely make public appearances together. Although they have been dating for a while, they are unsure of when it all began. They do not currently have any children.
Social Media Presence
The insolent player seemed to be completely engrossed with social media. He prefers Instagram above other social media networks. Akram gives others access to their private life via social networking sites. There is a blue tick mark next to Akram's Instagram handle name, indicating that it has been verified.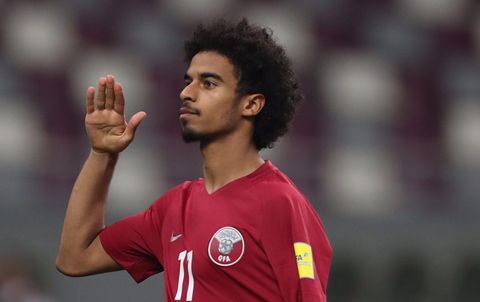 Akram Afif
SOURCE: https://dohanews.co/
@akramafif is Akram's Instagram username, and he has 169k followers. His supporters are informed about his every day stirs, events, and sporting news. Akram also uses every opportunity to promote his sponsors and businesses through social media. On the internet, Akram is one of the most searched Qatari football players.
You may discover an expansive range of buzz, sports news, and love matters on Playerswiki.