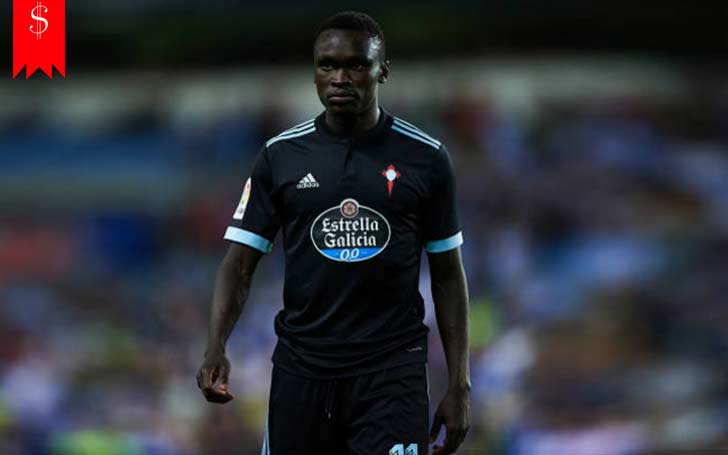 Pione Sisto, probably many of us have heard the name of the professional Danish footballer. The 22-year-old footballer currently plays as a right winger for Celta de Vigo in La Liga after his transfer from Midtjylland. With his senior professional career of 5 years, Pione has marked himself as a prominent footballer and is estimated to be enjoying the net worth of $1.1 million with his career earnings.
Pione, till date, has his record of 39 career goals and also has played in the Danish National Football team. It has earned him a lot of bank balance and fame as well. Let's know all about his earnings, salary, endorsements, and net worth.
Net Worth of Pione Sisto
As we have mentioned earlier, Pione in the path of his career establishment has played professionally for 2 teams so far. Even though Pione Sisto's net worth as of 2018 is under review, but as reported, his net worth back in 2017 was around $1 million.
Let's know about his career and his earnings.
Pione Sisto's Earnings in Midtjylland
Initially, Pione played for Tjørring IF at the age of 7 and after playing for 8 years, he moved to FC Midtjylland youth team in 2010. After that, during the 2012–13 Danish Superliga season, Pione made his professional debut in Midtjylland senior team, and got voted as Player of the Year 2014 by the Danish Footballers' Association for his victorious 2 goals.
[ CAPTION: Pione Sisto while playing for Midtjylland ]
[ SOURCE: Vigoe ]
However, the detail of Pione Sisto's salary in Midtjlylland is not available, though his market value in 2013 was reported to be $187,068. As per Dutch newspaper De Telegraaf, Ajax FC offered him a bid of $8.72 million after the news of Pione Sisto's transfer aired.
But later, He was transferred to Celta de Vigo, after playing for 3 seasons in Midtjylland.
Pione Sisto's Earnings in Celta de Vigo
On 31 July 2016, Pione Sisto's move to La Liga football team Celta de Vigo was finalized with the transfer fee of $7.48 million. As per the report of 2016, the market value of Sisto was reported to be $4.36 million.
Have a look at this tweet.
Pione Sisto, celeste ata 2021. #BenvidoSisto!

?? https://t.co/km93s7SBQq pic.twitter.com/vVyeM4EAec

— RC Celta (@RCCelta) August 1, 2016
While playing till the 2017 season, the jersey number 11 freak of Celta de Vigo, Pione Sisto earned the weekly wage of $32, 425 which turns out to be $129,700 monthly salary and $1,556,400 annually. However, it is less than that of his teammate Iago Aspas who earns $3.05 million annually. His contract with Celta tenures up to June 30, 2021.
Also Read: Denish footballer Pione Sisto's Girlfriend and Family
Pione Sisto's House, cars, and endorsements
Sadly, Pione has not disclosed anything about his house or cars nor he has spoken about his relationship openly yet. Pione rather seems to be dedicated to his career establishment.
Talking about his endorsement, Pione has a sponsorship deal with Nike since July 10, 2017, and he wears Nike Mercurial Vapor XI FG, which cost ranges from $130 to $230.
Sisto's possible net worth in 2018
Along with the rise in fame and gameplay, Sisto's market value as of 2018 has hit up $15.58 million approximately. Sisto's net worth is estimated to rise up by 50% reaching more than $1.5 million this year.
Stay tuned for more updates!
AD Here (After Content)