Tommy Pham is an American professional baseball player whose main position is an outfielder. He is a free agent but has previously played in Major League Baseball (MLB) for multiple teams such as Tampa Bay Rays and San Diego Padres.
Pham went to Gorman High School, Centennial High School, and Durango High School. Besides, Pham initially committed to playing college baseball at Arizona but later switched to Cal State Fullerton. Apart from that, he also has preserved a considerable fortune from his baseball career.
How Much Is MLB Player Tommy Pham's Net Worth? Know His Career Earnings
Pham is currently a free agent but previously played for multiple MLB teams. Having professional deals with those teams, Pham has racked up a massive fortune. So, he has an estimated net worth of over $10 million. Since 2006, he has been professionally playing baseball.
Online reports show that Tommy's career earnings are over $26 million. From 2014 to 2018, Pham played for St. Louis Cardinals. When he joined the Tampa Bay Rays, he received $500,000 of international bonus pool money. After that, Tommy also represented other teams.
Tommy Pham posing with his car
SOURCE: Instagram @tphamlv
Most recently, Pham played for the Boston Red Sox, and it is reported that his salary was $1,500,000. Besides, he also earns money from brand endorsement. His Instagram bio shows that Pham is an investor in multiple companies such as Instacart, Epic Games Store, ZenWTR, and Casa Azul Spirits.
Read More: Chase DeLauter
Is Tommy Pham Dating or Single?
Pham appears to be a single man, as none of his current social media hints at his involvement in a romantic affair. Till now, Pham is not rumored to be dating a lady. So, we can be clear that the baseball outfielder is single and does not have a girlfriend.
Besides, Pham does not like talking about his details with the press, which makes it clear that Pham is a private guy, just like Mitch Dening. Meanwhile, Pham is friendly and often spends time with his close ones. Once, he shared a post on Instagram with his assistant, Shelby Wigell Fessl.
Tommy Pham shares a great bond with his assistant
SOURCE: Instagram @tphamlv
We can follow Pham on Instagram under the username @tphamlv.
Short Details On Pham's Career
Pham was interested in sports from a young age. So, he went to Gorman High School, Centennial High School, and Durango High School in Spring Valley. There he played baseball as a pitcher and infielder. He committed to playing college baseball at Arizona but switched to Cal State Fullerton.
In 2006, Pham began his minor career with the Rookie League Johnson City Cardinals. Later, he also played for other teams. And his professional MLB career started when he was called by the St. Louis Cardinals on September 7, 2014. He played with them from 2014 to 2018.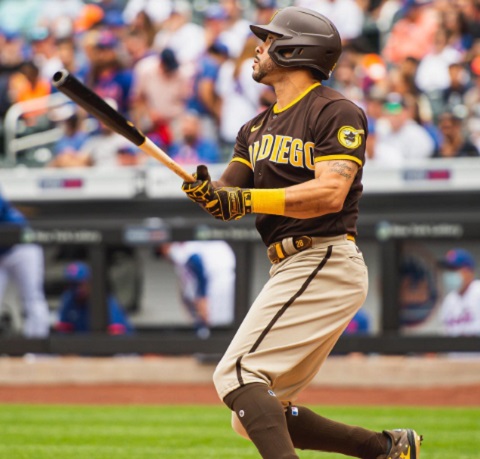 Tommy Pham during his match
SOURCE: Instagram @tphamlv
Pham was traded to the Tampa Bay Rays on July 31, 2018. He played for the Tampa Bay Rays in many games and was a part of the team until he was traded to the San Diego Padres on December 6, 2019. After playing with them in some games, he signed a professional deal with the Cincinnati Reds on March 26, 2022. Hunter Greene is also a baseball player playing for the same team. The reds traded him to the Boston Red Sox on August 1, 2022. On November 10, 2022, Pham was announced as a free agent.
Tommy Pham's Parents and Family Information
Thomas James Pham was born on March 8, 1988, to his parents, Anhtuan Pham and Tawana Pham. He was raised in Las Vegas, Nevada, alongside his sister named Brittany.
Pham is American, and his height is 6 feet 1 inch. Contract