Personal Info
Date of Birth

Age

52 Years Old

Famous Name

The Russian Rocket

Country Russia
Facts
Father

Vladimir Bure

Relationship Status

married

First Name

Pavel

No. of Instagram Followers

17.7K

Father Nationality

Russian

Mother

Tatiana Bure

Property Status

two houses

Last Name

Bure

Birth Name

Pavel Vladimirovich Bure

Net Worth

$70 Million

Mother Nationality

Russian

Facebook

Currently Married

Alina Khasanova

Siblings

Valeri Bure

Salary

Married to

Alina Khasanova

Birth Country

Russia

No. of Siblings

1

Past married if any

Yes

Instagram

https://www.instagram.com/pavelbureofficial/

Famous Name

The Russian Rocket

Children

Palina Bure, Pavel Bure Jr

Divorce

Jayme Bohn

Horoscope

Aries

Hobbies

Nationality

Russian

Affair with

no

Ethnicity

White

Awards

1990 worldchampion, 1991 Finland Bronze, 1998 Olympic Silver and several more

Religion

Christians

Profession

Hockey Player

Famous for

Hockey Player

Started career as

Hockey Player

Height

178

University attended

School attended

Russian University
Pavel Vladimirovich Bure is a Russian former professional ice hockey player known for his Right Wing position and high-speed finishing.
Bure played for different clubs during his 12 seasons in the NHL( National Hockey League)which includes teams like; Florida Panthers, New York Rangers, and Vancouver Canucks.
Pavel Bure Lovelife and Children
Bure has dated four different women in his life but has married two of them. Firstly, On September 1991 he was married to American Fashion Model, Jayme Bohn but Bure didn't get any advantage for immigrating to another country from the marriage, and the marriage ended the next year.
Bure Family in an Event
SOURCE: Hollywood Life
Pavel Bure, a former professional hockey player, dated Dahn Bryan before starting a relationship with tennis player Anna Kournikova. Despite rumors of engagement in 2000, both denied the rumors.
Kournikova was 18, 10 years younger than Bure. Kournikova later married Bure's former teammate Sergei Fedorov in Moscow but they divorced soon after.
On October 10, 2009, Bure tied the knot with 23 years old Alina Khasanova in the presence of about 300 guests in Moscow. As per the source, they knew each other 4 years before their marriage.
They togetherly have 3 children a daughter and two sons; Pavel Jr., Palina, and Anastasia, born on April 23, 2013, July 20, 2015, and 28 December 2018 respectively. Bure doesn't have any children from the other wife.
Pavel Bure's lavish lifestyle; Net worth and Contracts
The Russian Rocket has earned most of his net worth from his professional career. Bure lives a lavish lifestyle in his huge mansion located in Florida, USA, and has an estimated net worth of $70 million.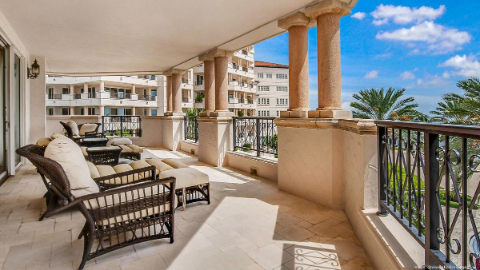 A scene from Bure's House
SOURCE: The Business Journals
During his 12 years career, he has been involved in various brand endorsements and contracts. Bure had earnings of around $65 Million from the NHL in his prime time.
Bure stood up in the courtroom to make a further $50,000 offer, bringing the total up to $250,000 after the Canucks made an initial offer of $200,000. The Canucks management agreed, and the Soviet authorities received the full $250,000 payment.
Bure committed to a four-year deal with an $800,000 signing bonus that is reportedly worth $2.7 million. Bure became the Canucks' second-highest-paid player after captain Trevor Linden as a result of the deal.
Pavel Bure and Valeri Bure related to Each other?
Pavel Bure and Valerie Bure were born on March 31, 1971, and June 13, 1974, respectively in Moscow, Russia to Vladimir Valeryevich Bure (An Olympic Swimmer) and Tatiana Bure.
The two Bure brothers
SOURCE: Pinterest
However, their stepmother is mentioned as Julia as per the sources and yes both are related to each other as they are brothers to each other. The two siblings played with each other briefly as members of the Florida Panthers, after Valeri was traded there in 2001, and played together at the 1998 and 2002 Winter Olympics.
What is Pavel Bure Doing Now?
Pavel Bure, a former Vancouver Canucks player, had his number retired by the team in 2013 and was inducted into the Hockey Hall of Fame in 2012. His departure from the Canucks was difficult, and he has been vocal about his dissatisfaction with the team's management.
Bure as a special representative of International Affai
SOURCE: Russian Ice Hockey Federation
After retiring, Bure took a break from hockey before founding the World Legends Hockey League in 2010. Bure is the commissioner of the league, which has been successful in Europe but has not yet gained traction in North America.
In his spare time, Bure coaches his son's hockey team and spends time in his Florida home with his family.
Pavel Bure has been involved in legal activities several times
Some of the incidents are stated in the following lines;
In 2002, Bure sued the Russian newspaper the eXile for publishing a joke article that claimed he broke up with Kournikova because she had two vaginas. The court ruled in favor of Bure and ordered a retraction to be printed.
Bure along with Putin
SOURCE: Wikiwand
In 2004, a Russian cosmetics chain published a story claiming that Bure had bragged about Kournikova losing her virginity to him. Bure sued the company for $4 million and won, but the amount was reduced to approximately $4,000

In 2006, after his retirement, Bure sued British Airways for $200,000 after being kicked off a flight by the pilot, who mistook him for a rowdy soccer fan. Bure won the case, but the amount awarded was only $890.