Personal Info
Date of Birth

Age

31 Years Old

Famous Name

Country Germany DE
Facts
Relationship Status

married

First Name

Ellen

No. of Instagram Followers

52.6K

Mother

Beata Ziolo

Last Name

Ziolo

Birth Name

Ellen Ziolo

Net Worth

$100,000

Currently Married

Yes

Siblings

Daniel, Silvia and Kevin Ziolo

Married to

Dennis Schröder

Birth Country

Germany

No. of Siblings

3

Past married if any

No

Instagram

https://www.instagram.com/_ellen_schroeder/

Famous Name

Ellen Ziolo

Children

Dennis Junior Schröder, Imalia Aaliyah

Divorce

No

Horoscope

Sagittarius

Nationality

German

Profession

Instagram model and personality

Famous for

Dennis Schröder's wife

Came to fame after

Dennis Schröder's marriage

Height

175
Ellen Ziolo is best known as the wife of Dennis Schroder, a famous German professional basketball player for the Los Angeles Lakers. In addition, the basketball player, Schroder is also the owner of his hometown team, Braunschweig, and has been the majority shareholder of the team since 2018. Despite his success, it is Ellen who has been catching people's attention with her stunning Instagram posts and captivating content.
Ellen has gained quite a following on social media due to her attractive photos and posts, which showcase her fit and healthy lifestyle. Her popularity has led to numerous endorsement deals, as well as collaborations with various fashion and fitness brands. While Ellen may have initially gained attention for being Dennis Schroder's wife, she has since established herself as a successful influencer and entrepreneur in her own right.
Dennis Schroder Wife: The Rise of Ellen Ziolo- From Volleyball to Instagram Fame
Ellen Ziolo, a famous Instagram model, was born on December 10, 1991, in Braunschweig, Germany. As of 2023, she is 31 years old and falls under the zodiac sign of Sagittarius. Ellen is the oldest of four siblings and has two brothers named Daniel and Kevin Ziolo and a younger sister named Silvia Ziolo. Ellen's mother's name is Beata Ziolo and, not much is known about her father, except that he was involved in various businesses.
Ellen captured in a gathering
SOURCE: Instagram @Ellen Schroeder
Ellen completed her education in Braunschweig, attending local schools with her siblings. During her elementary school days, Ellen was part of her school's volleyball team. She continued playing the sport while studying at a local high school in 2005. She also took part in the theatrical club at school and received training in singing and dancing. In 2009, Ellen graduated from high school with a degree in arts.
Although there is no concrete information about her career, some sources suggest that Ellen has worked as a server, bartender, and model. However, she gained widespread recognition as a social media influencer, with her striking photos and content on Instagram. Ellen is also known as the wife of Dennis Schroder, a German professional basketball player for the Los Angeles Lakers of the NBA.
Ellen Ziolo's Married Life and Children with Dennis Schroder
Ellen Ziolo is known to be quite private when it comes to her personal life. She and Dennis Schroder got married on July 21, 2019, in a secret ceremony that was only attended by close friends and family members. There is no information available about how they first met, but rumors suggest that they were introduced at a house party by a mutual friend.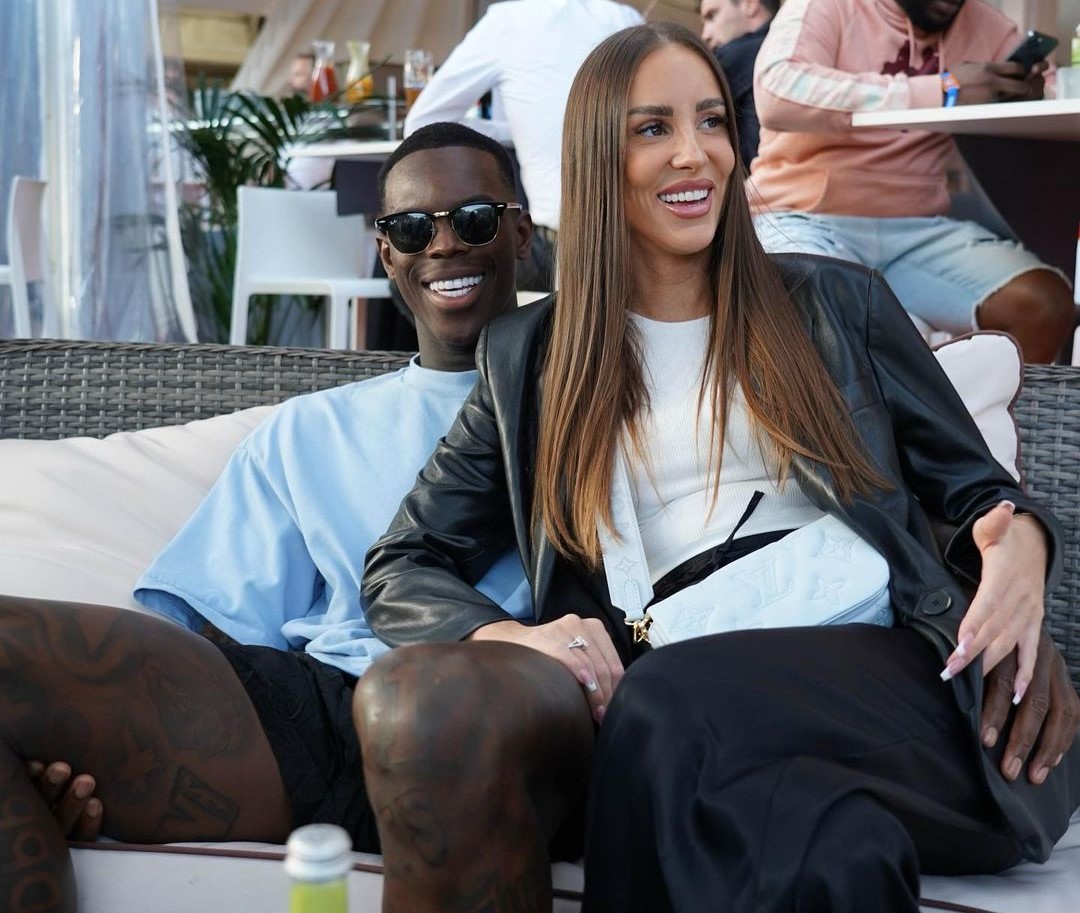 the Schroder couple caught in a restaurant
SOURCE: Instagram @Ellen Schroeder
Prior to their wedding, Ellen and Dennis welcomed their first child, a son named Dennis Junior Schroder, on February 19, 2019. Later, in August 2020, they were blessed with their second child, a daughter named Imalia Aaliyah. As of 2023, their son is four years old and their daughter is two.
Ellen and Dennis seem to enjoy celebrating special occasions with thoughtful gestures. For example, Ellen gave her husband a pair of custom-made Nike shoes as a gift for his 27th birthday. The shoes featured paintings of their son and daughter. Additionally, the couple planned a themed birthday party for their son's first birthday based on the Oklahoma City Thunder basketball team. Despite being private about their personal lives, it seems that Ellen and Dennis enjoy celebrating the important moments with those closest to them.
An Overview of Dennis Schroder: The German Point Guard's Rise to NBA Stardom
Dennis Schroder, a professional basketball player from Germany, is currently known as the backup point guard for the Los Angeles Lakers in the NBA. He is widely considered a dedicated professional and has been a key player on multiple contending teams throughout his career.
Father and children in a frame
SOURCE: Instagram @Ellen Schroeder
In the 2013 NBA Draft, Schroder was selected 17th overall by the Atlanta Hawks. During his rookie season, he played 49 games for the team and was also assigned to the Bakersfield Jam in the NBA D-League. Over time, Schroder's play improved, and his scoring totals began to reach double figures.
Though he waS passed over by the Sacramento Kings and the Minnesota Timberwolves during the draft, Schroder's performance continued to improve, particularly in his free-throw shooting, which increased from 67 percent during his rookie season to 79 percent or above in the following seasons. In the last three seasons, he has averaged 15 points per game or more while playing for teams such as Phantoms Braunschweig, Atlanta Hawks, Oklahoma City Thunder, Boston Celtics, and Houston Rockets.
Unfortunately, on March 29, 2022, Schroder was benched for the remainder of the season due to a shoulder injury. Nevertheless, his impressive career statistics and overall performance have cemented his status as a valued player in the NBA.
Also Read Georgina Rodriguez, Josipa Perisic
Dennis Schroder Net Worth: Schroder's Career Earnings, Contract, Net Worth, And Salary
Ellen Ziolo has an estimated net worth of $100,000, and her husband Dennis Schroder, the German professional basketball player, is estimated to have a net worth of approximately $40 Million and has earned a total of $77,573,794 from his professional basketball career. A significant portion of his wealth comes from his annual salary, which is reportedly close to $2.6 million.
Schroder has had lucrative contracts throughout his career, including a four-year deal worth $70 million with the Atlanta Hawks. He also signed a one-year contract worth $5.89 million with the Boston Celtics in August 2021, and a one-year $2.64 million contract with the Los Angeles Lakers in September 2022. Moreover, he has also endorsed several prominent brands, such as Nike, Mercedes-Benz, and Das Kaugummi, which have contributed to his overall wealth.