Personal Info
Date of Birth

Age

52 Years Old

Famous Name

Chris Cairns

Country New Zealand NZ
Facts
Father

Lance Cairns

Birth Name

Christopher Lance Cairns

Net Worth

$8M

Currently Married

Married

Siblings

Sister

Salary

N/A

Married to

Melanie Croser

Birth Country

Picton, new Zealand

Famous Name

Chris Cairns

Children

5

Divorce

Yes

Horoscope

Virgo

Nationality

New Zealander

Ethnicity

White

Religion

Christian

Profession

Cricketer

Famous for

All rounder

Started career as

Cricket Player

World Cup Game

Played

Currently Club

Retired
Chris Cairns is a legendary New Zealand cricket player who played for the New Zealand national team. Cairns had played all forms of cricket in his days. He also captained the New Zealand ODI Team. Chris Cairns is one of the most successful batting allrounders in Test cricket history. Following his playing career, Cairns went on to work for Sky Sports New Zealand as a commentator.
Cairns completed his Test career with a batting average of 33.53 and a bowling average of 29.40. He was among the top five Wisden Cricketers of the Year in 2000. He has made four appearances in ICC Cricket World Cup competitions: in 1992, 1996, 1999, and 2003. He is recognized as one of the game's best all-around players. He first debuted as a New Zealand test player on 24 November 189 vs. Australia. He has earned 168 caps as a Test player for New Zealand.
Who is Chris and his personal life?
Christopher Lance Cairns, known as Chris Cairns, was born on June 13, 1970, in Picton, New Zealand. Cairns grew up in Picton and attended New Zealand School. Cairns primary school, as well as his university name, is unknown.
Christopher's parents are reportedly from New Zealand. His father, Lance Cairns, was also a professional cricket player who played as an allrounder for New Zealand Cricket. Chris also does not claim that he has got any siblings or not. He is 6 feet and 2-inch tall and weighs 74 kg. Carnes has black eyes and short brown hair. Chris is born with the Virgo birth sign.
Chris Cairns
SOURCE: https://sports.ndtv.com/
Carnes also had got one sister. Louise Cairns, a sister of Cairns, perished in a railway mishap at Rolleston in August 1993. He established the Chris Cairns Foundation in 2006 alongside Kiwi Rail, which raises funds to enhance rail safety. In September 2008, he finished a 1,001 km (622 mi) walk to promote rail safety awareness.
Who is Chris Married to?
Chris Cairns is a married athlete. Melanie Croser, an Australian working in Sydney for the sports marketing firm Octagon, is married to Cairns. Melaine Croser is Chris's third wife. Cairns, who resided in Canberra then, participated in the 2011–12 season with the North Canberra Gungahlin Eagles when h married Melaine.
Chris and his wife Croser
SOURCE: https://www.stuff.co.nz/
His first wife's name is Ruth Leslie, and he married her in 1997. But their marriage relationship doesn't work. His other wife's name is missing as of now. Chris is a father of five children. So, Chris is living his retired life in his own house based in New Zealand as of 2022.
Also, read the biography, net worth and retired life of Bandula Warnapura.
Chris Cairns International Career
Chris participated in the national under-19 cricket squad of New Zealand for the 1988 Youth Cricket World Cup, which ultimately served as the precursor of the Under-19 Cricket World Cup. He was subsequently chosen for the senior national team. On November 24, 1989, he played his first test against Australia. In his younger years, Cairns was an astute fast-medium bowler in addition to being a devastating hitter who could hammer sixes straight down the ground. Since then, he has had to slow down due to ongoing ailments and depend more on his tricky-to-read slower ball.
Cairns has played some of the most notable innings in New Zealand cricket history with the bat, notably his unbeaten 102 to help New Zealand defeat India in the ICC KnockOut Trophy final in 2000 and his 158 off just 172 balls in a Test match against South Africa in 2004. During a test match in Wellington in 2000, Cairns forced Shane Warne out of Australia's bowling lineup by launching multiple sixes onto the nearby street from the Basin Reserve.
Chris is playing for the New Zeland team
SOURCE: https://www.business-standard.com/
Adam Gilchrist has subsequently beaten Cairns' previous record of 87 sixes in a single Test. He formerly held the New Zealand record for the quickest ODI century (75 balls century, currently captivating by furious Corey Anderson with 36 balls). He went on to make a century in his 100th ODI against India in 1999, making history as the second player (after Gordon Greenidge) and the first batter to do so for a team that was winning. He is the only New Zealand player to reach that milestone as of right now.
In addition, he is one of just eight players to have amassed 200 wickets and 3000 runs, making him an all-arounder. Behind Ian Botham and Kapil Dev, Cairns advanced to the double-third position of these seven players, the quickest (58 Tests) (50 tests). Cairns nearly surpassed his previous double of 200 wickets and 5000 runs in ODIs. With just 50 runs left in his ODI career, Cairns concluded with 4950 runs. The Cairns Test team's batting average at position seven (44.02) is fifth all-time for that position.
The net worth of Chris
Chris, a legendary all-arounder for New Zealand, enjoyed a prosperous cricketing career. He had participated in many international cricket leagues. We might infer from this that he had likely made a respectable quantity of money. In his cricketing days, he had also served as captain of the New Zealand Cricket ODI squad.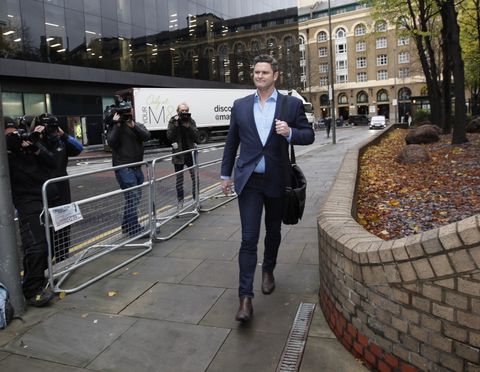 Chris Cairns
SOURCE: https://www.nzherald.co.nz/
After he retired from professional cricket, he was involved in Commentary with Sky Sports New Zealand. From the Commentary, he also earns a huge amount of money. Other than his cricketing career and commentary career, he also used to make money from different sports brands and companies. So, we can claim that he had earned a substantial amount of money back in his professional days. According to different sources, he has a net worth of $8M.
Read More: Justin Langer
All about Cairns Retirement
In 2004, Cairns stepped down from the New Zealand Test squad. Cairns became an Officer of the New Zealand Order of Merit in 2005 as part of the Queen's Birthday Honours for his contributions to cricket. In a press conference on January 22, 2006, Cairns declared his retirement from ODIs. His final game as a New Zealander occurred on February 16, 2006, during a Twenty20 encounter against the West Indies. He participated in the World Cricket Tsunami Appeal matches as a member of the ICC World XI.
Chris appealing for wicket
SOURCE: https://www.mirror.co.uk/
Chris bowled four overs for 24 runs and no wickets in Cairns' last game, and he also managed to score a nine-ball duck before Chris Gayle bowled him. During the bowl-off, he also missed the stumps on both occasions. His final international match was "an unfitting farewell," according to Cricinfo, and "he deserved better." He was chosen to lead the World XI in the 2009 ICL World Series Twenty-20 competition, which was scheduled to take place in Hyderabad. The projected event, however, was abandoned because of financial issues.
Explore more athletes' biography at playerswiki.