Brendan Shanahan is a former Canadian professional ice hockey player who spent 21 seasons in the National Hockey League (NHL). He was known for his physical style of play, scoring touch, and leadership qualities on and off the ice.
Throughout his career, he played for various teams, including the New Jersey Devils, St. Louis Blues, Hartford Whalers, Detroit Red Wings, and New York Rangers. Shanahan is married to Catherine Janney, former NHL player Craig Janney's sister, with whom he has three children.
Brendan's Net Worth, Salary, Career Earnings, and Investments
Brendan Shanahan's successful career in the NHL has earned him a substantial net worth. As of today, his net worth sits at around $50 million. Most of his wealth was accumulated through his playing career, as well as his executive roles in the NHL.
Throughout his 21-year career in the NHL, Shanahan earned a total of $79.5 million in salary. His highest-earning season was in 2006-2007 when he played for the New York Rangers and earned $4 million. His lowest-earning season was in 1989-1990, his second year in the league when he earned $150,000.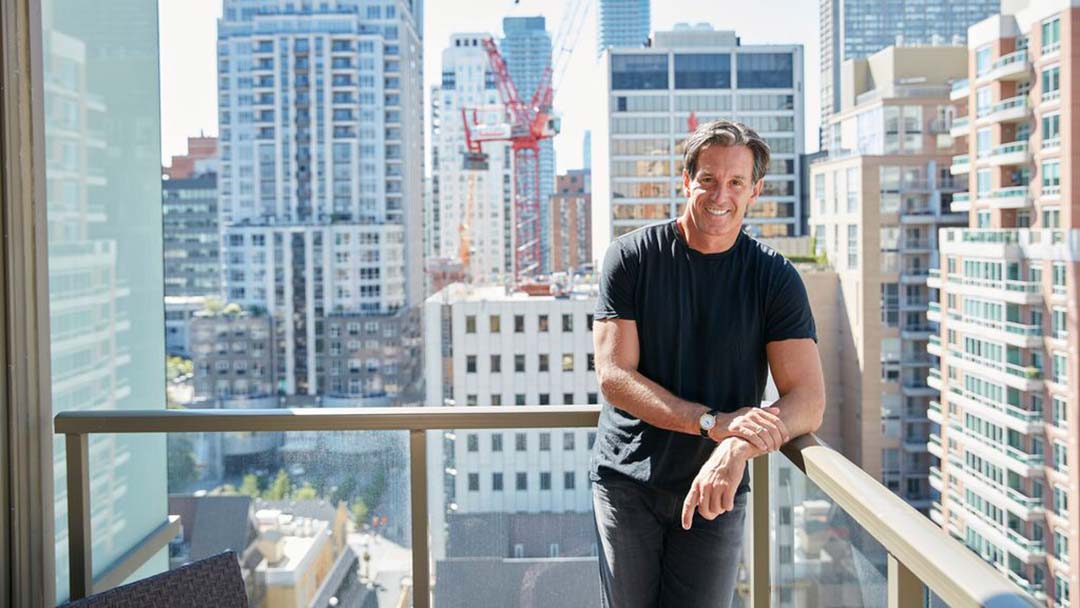 Brendan Shanahan in his Penthouse, Detroit
SOURCE: menshealthfoundation.ca
After retiring from playing, Shanahan took on various roles in the NHL, including serving as the League's Vice President of Hockey and Business Development and later as the President of the Toronto Maple Leafs. In these roles, he earned a significant salary, although the exact figures are not publicly disclosed.
In addition to his salary and executive roles, Shanahan has also made investments in various ventures. He is an investor in the sports drink company BioSteel and is a partner in the Toronto-based law firm Loopstra Nixon LLP. Shanahan has also made several real estate investments throughout his career.
In 2001, he purchased a luxury penthouse in the St. Regis Hotel in Detroit for $1.5 million. He later sold the property in 2012 for $3.1 million.
In 2019, he and his wife Catherine purchased a 6,500-square-foot home in Palm Beach, Florida, for $16.2 million. The home features six bedrooms, six full bathrooms, and two half-baths, as well as a pool and guesthouse.
Brendan Shanahan's Professional Career Statistics
Shanahan's stats speak for themselves, as he finished his career with 656 goals and 698 assists for a total of 1,354 points in 1,524 games played. He ranks 14th all-time in NHL goals scored and 23rd all-time in NHL points.
Brendan Shanahan during an NHL game, 1997
SOURCE: gettyimages.com - B Bennett
Shanahan was a three-time Stanley Cup champion, winning the Cup with the Detroit Red Wings in 1997, 1998, and 2002. He also represented Canada internationally, winning a gold medal at the 2002 Winter Olympics in Salt Lake City.
Brendan Shanahan's Relationship Status, Dating History, and Spouse
Brendan Shanahan has been married to his wife, Catherine Janney. Catherine is the sister of former NHL player Craig Janney, since 1998.
Catherine Shanahan and Brendan Shanahan at the ERMENEGILDO ZEGNA Store Inauguration Evening Party, 2008
SOURCE: Pinterest
Janney is a former figure skater who competed in ice dancing at the 1992 Winter Olympics. The couple met while Shanahan was playing for the Hartford Whalers, and they have been together ever since.
Brendan Shanahan Children: Brendan is the Father of Three Children
Together, Shanahan and Janney have three children. Their first child, a daughter named Maggie, was born in 1998. She went on to attend the University of Michigan and is now a marketing and communications professional.
Their second child, a son named Brendan Jr., was born in 2000. He is a talented hockey player and currently plays for the University of Michigan. The couple's youngest child, a son named Jack, was born in 2004.
Brendan Shanahan with his Children.
SOURCE: Twitter- Brendan Shanahan
Despite being a public figure, Shanahan has managed to keep his personal life relatively private. He has not been linked to any other romantic partners, and there is no information available about his dating history prior to his marriage to Janney.
Brendan Shanahan's Rookie Card
Brendan Shanahan's rookie card is a highly coveted item among hockey card collectors. Shanahan's rookie card was released in 1988 by Topps, and it is card number 61 in the set.
Value and Biddings
The card features a photo of Shanahan in his first season with the New Jersey Devils, and it is considered one of the most valuable cards in the set.
The value of Shanahan's rookie card varies depending on its condition, but it is generally worth several hundred dollars to several thousand dollars. For example, a PSA 9-graded copy of Shanahan's rookie card sold for $1,625 in a 2020 auction, while a PSA 10-graded copy sold for $2,700 in the same year.
Rarity Factors
The high value of Shanahan's rookie card can be attributed to a combination of factors. First, Shanahan is a well-known and highly respected player, having been inducted into the Hockey Hall of Fame in 2013.
Second, the card is from the popular 1988 Topps set, which is known for its iconic design and inclusion of many other notable rookie cards.
Brendan Shanahan Rookie Card, 1988-89
SOURCE: cardboardconnection.com
Third, the rarity and condition of the card are also important factors in determining its value. Since the card is over 30 years old, finding a copy in good condition can be challenging.
Additionally, cards that have been professionally graded by companies like PSA or Beckett are generally worth more than ungraded cards.
Design and Layout
In terms of design, Shanahan's rookie card features a simple, yet eye-catching layout.
The front of the card displays a color photograph of Shanahan in his Devil's uniform, with the team logo in the upper left corner and his name and position in bold letters at the bottom.
The back of the card includes his player stats from the 1987-1988 season, as well as a brief biography and a trivia question.
Brendan Shanahan Trade to Detroit
In 1996, Brendan Shanahan was traded to the Detroit Red Wings in a blockbuster deal that involved nine players. The trade sent Shanahan, along with Brian Glynn and a first-round draft pick, to Detroit in exchange for Keith Primeau, Paul Coffey, and a first-round pick.
The trade proved to be a crucial moment in Shanahan's career, as he went on to win three Stanley Cups with the Red Wings.
Brendan Shanahan Early Life and Career
Brendan Shanahan was born on January 23, 1969, in Mimico, Ontario, Canada. He grew up in the Toronto area and played his junior hockey with the London Knights of the Ontario Hockey League (OHL).
Shanahan was drafted second overall by the New Jersey Devils in the 1987 NHL Entry Draft. He made his NHL debut with the Devils in 1987, playing in two games before returning to the OHL.