Personal Info
Date of Birth

Age

77 Years Old

Famous Name

Country Canada CA
Facts
Father

Claude Parent

League Name

NHL

Relationship Status

married

No. of Twitter Followers

16.7K

Points

First Name

Bernard

No. of Instagram Followers

7502

Past Team

Boston Bruins, Philadelphia Flyers, Toronto Maple Leafs, and Philadelphia Blazers

Market Value

Mother

Emilie Parent

Wikipedia

https://en.wikipedia.org/wiki/Bernie_Parent

Last Name

Parent

Birth Name

Bernard Marcel Parent

Net Worth

$3 million

Facebook

2022 Club

Currently Married

Yes

Current Club Jersey Number

1

Twitter

https://twitter.com/bernieparent?ref_src=twsrc%5Egoogle%7Ctwcamp%5Eserp%7Ctwgr%5Eauthor

Siblings

Jacques Parent and Yvan Parent

Married to

Gini Gramaglia Parent

Birth Country

Canada

No. of Siblings

2

First Club Name

Boston Bruins

Past married if any

Carol

Instagram

https://www.instagram.com/bernieparent1/

Famous Name

Bernard Parent

Children

Bernie Jr. Parent, Kim, Chuck Parent

Career Earnings

Contract

Multi-years contract

Horoscope

Aries

Position in Team

Goaltender

Date

April 3

First Club Join Date

1965

Nationality

Canadian

Current team

Philadelphia Blazers (last team)

Ethnicity

Caucasian

2022 National Team

Awards

Stanley Cup championships in 1974 and 1975, Inducted into the Hockey Hall of Fame in 1984.

National Team Earning

Current City

Contract ending date

1979

Profession

Former Ice Hockey Player

School Location

Is played fifa word cup 2018

Famous for

Playing Ice Hockey

Started career as

Ice Hockey Player
Bernie Parent is a Canadian former Ice hockey player who played for Boston Bruins, Philadelphia Flyers, Toronto Maple Leafs, and Philadelphia Blazers as a goaltender under jersey number 1. Bernie was ranked 63rd on The Hockey News' list of the 100 Greatest Hockey Players.
Bernard Marcel Parent was born in Montreal, Quebec on April 3, 1945, and was raised by his father, Claude Parent, and mother, Emilie Parent. Bernie grew up with his two siblings Yuvan Parent and Jacques Parent; their parents were serious about their education, but the former hockey player was always interested in ice hockey rather than studying.
Bernie Parent's Wife, Gini Gramaglia Parent: Know About The Youthful Looking Italian
Bernie has become an old soul now, but in his youth, he was a firey man. The former ice hockey player was married to a woman named Carol Parent, with whom he shared his 3 children. However, the information regarding their divorce is kept confidential, and seems like the former couples have discarded their relationship.
: Bernie Parent shared a picture on Instagram, of his wedding
SOURCE: Instagram: @bernieparent1
Though, his youthful energy has vanished; Bernard has married an Italian bombshell, who looks 20 years younger than him. Bernie's Parents and Gini Gramaglia exchanged their wedding vows in the Summer of 2016 when Marcel was 71 years old.
It's rumored that Gini Gramaglia is around 55-60 years old as of 2023 and is of Italian heritage. The former hockey player might look old, but still has a lot of valor left, and observing the couple's Instagram, we can say that they are enjoying each other's company.
Bernie Parent's Net Worth: How Much Did He Amass As A Ice Hockey Player
Bernie was an old-school player and was highly inspired by the late goaltender, Jacques Plante. Marcel could be of french heritage, his estimated net worth as of 2023 is $3 million. During the old days' recordings of a player's earnings weren't kept like nowadays, so only bits and pieces of information are available on the internet from which the result can't be generated.
Bernie Parent's net worth is $3 million.
SOURCE: Instagram: @bernieparent1
As Bernard got older his net worth diminished little by little, but still, the former player can live his life as a well-to-do man. He was successful as a hockey player but wasn't well known. Brand sponsors were also absent at that time and the player could only generate their revenue based on the popularity of their matches.
As the former hockey player has married a younger woman, Gini has a high probability of being the successor of his net worth rather than his three sons who are rather unfortunate. Marcel must have married cause he is getting weaker and weaker as the days pass by and needs intimate support.
Bernie Parnet's Bloodline Successors: Know About Them
When Bernard was lively, he shared three children with her previous wife, Carol. The three children were named, Bernie Junior Parent, Kim Parent (maiden name), and Chuck Parent. Trivial information about them is kept private, but the average day of their lives has been summarized by NBC sports. None of his children have walked the same path as his and are currently busy pursuing their needs.
Bernie Parent is the father of three children.
SOURCE: Instagram: @bernieparent1
Bernie Jr. is a masseur, Kim is a homemaker, as she is the mother of 5 children and Chuck is involved in real estate and they all live in South Jersey. Bernard was already 71 years old when he married his second wife and couldn't have any offspring with her.
Bernie Parent Journey To Winning Stanley Cup: How Many Championships Did He Won?
The legendary player's first club was Boston Bruins and his journey with this club ended after a year, and Marcel played a total of 39 games. On an expansion draft, he was chosen by the Philadelphia Flyers with whom he gained professional hockey experience and skill.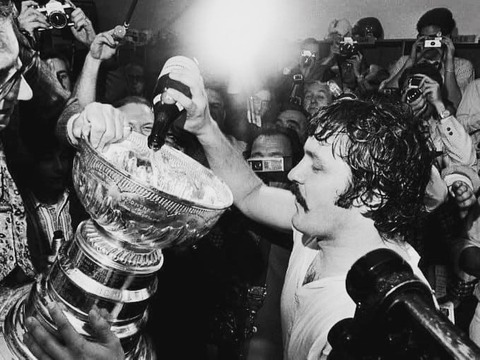 Bernie Parent drank champagne from the Stanley cup.
SOURCE: Instagram: @bernieparent1
Bernie's breakthrough happened when he was drafted by Toronto Maple Leafs. In the leaves he met his idol, Jacques Plante mentored him and played as his teammate. Marcel established himself as an ace player, then he was traded to the Philadelphia Flyers where he made history. Bernard won 2 Stanley championships with the flyers in 1974 and in 1975 along with Reggie Leach and Bill Clement.
Where Is Bernie Parent Now?: His Stats As A Former Ice Hockey Player
Bernie Parent is currently enjoying life with his bombshell wife, Gini. As Gini is of Italian descent, Bernard gets to consume lavish meals with mozzarella cheese on it. The former player stands at 5 feet 10 inches and weighed around 81 kilos during his prime.
Parent has won 271 wins, 198 losses, and 119 ties in 608 games played and as a goalie goal against an average of 2.55 and a save percentage of 0. 915. Bernie is getting older as the day passes and has fulfilled most of his life. Bernard seems satisfied with his career and isn't a melancholic old guy.