Personal Info
Date of Birth

Famous Name

Wanda Ferraton

Country Canada CA
Facts
Father

Allan Ferraton

Relationship Status

married

No. of Twitter Followers

2,738

First Name

Wanda

No. of Instagram Followers

10.1K

Mother

Gwen Werbeski

Last Name

Ferraton

Birth Name

Wanda Ferraton

Net Worth

Currently Married

Yes

Twitter

https://mobile.twitter.com/wandagoldberg

Married to

Bill Goldberg

Birth Country

Canada

No. of Siblings

4

Instagram

https://www.instagram.com/wandagoldberg/

Famous Name

Wanda Ferraton

Children

Gage A.J. Goldberg

Career Earnings

House Price

Nationality

Canadian

Profession

Former Stunt Performer

Famous for

Bill Goldberg's wife

Started career as

Stunt Performer

Came to fame after

Height
Wanda Ferraton is a stunt performer who has worked in many movies and received praise from many people. She is widely noted for her work in Texas Rangers, Ginger Snaps Back: The Beginning, Caught in the Headlights, and Ararat. The Canadian native is also a businesswoman with his own clothing brand, Hide and Chic Boutique.
Apart from that, Ferraton shot to fame after tying the knot with her husband, Bill Goldberg, an American part-time professional wrestler, and former professional football player. Ferraton and Goldberg have been in a marital relationship for nearly two decades. They are also proud parents of a son named Gage, an aspiring baseball player.
Wanda Ferraton and Bill Goldberg Marriage: How Did They Meet?
Once Goldberg also talked about his first encounter with his wife. Wanda and Bill's love story began on the sets of Santa's Slay. The married couple met each other during the 2005 film Santa's Slay shooting. Bill played the lead actor in that project, whereas Wanda was a stunt double.
Wanda Ferraton and Bill Goldberg pictured in their initial phase.
SOURCE: Instagram @wandagoldberg
Shortly, they dated for some years and began making wedding plans. Before that, Ferraton and Goldberg were in a relationship with different people. Finally, the duo walked down the wedding aisle on April 10, 2005. The couple kept their marriage confidential, and there were not many details about their wedding.
It's been over 17 years; their bond is still getting stronger. Since tying the knot, Ferraton has also been the backbone of Goldberg's career. Being married for a long time, they have already started a family. Ferraton and Goldberg became parents for the first time after welcoming a child, a son named Gage A.J. Goldberg, in 2006.
Ferraton's Son, Gage A.J. Goldberg, Is an Aspiring Baseball Player
Gage is a rising baseball player who is a high school student. He plays as a catcher for the Varsity Baseball team, Boerne-Champion Chargers. Apart from baseball, Gage plays football for the school's team as a middle linebacker. Besides, Gage recently received an offer from Chadron State Football.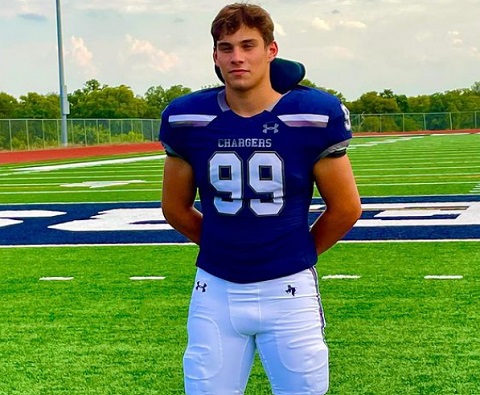 Wanda Ferraton shares a photo of her son, Gage.
SOURCE: Instagram @wandagoldberg
Being the son of a WWE star, people thought that he might be a WWE wrestler too. Gage has expressed his interest in WWE as well in the past. He also appeared in some matches with his father. In the 2021 SummerSlam, Gage was also seen as a supporter of his dad.
How Much Is Goldberg's Wife, Wanda Ferraton Net Worth?
Being a stunt performer, Wanda has preserved a decent amount of money. She has worked in many big-budget movies that have grossed huge amounts. From this, it can be said that her net worth is in the six figures, but the actual figure remains under review. Apart from that, her husband is one of the wealthiest WWE stars and has a net value of $16 million.
Goldberg has preserved most of his gains from his active work as a wrestler. At the peak of his WWE career, Goldberg earned $2.5 million a year. In addition, he has also worked as an actor and has many movies & tv shows under his name.
Wanda Ferraton with her husband and their son.
SOURCE: Instagram @wandagoldberg
Having an impressive fortune, Goldberg and his wife relish a lavish life. The pair lived in Bonsall, California, from 2001 to 2019. Later, they moved to Boerne, Texas. In 1999, Goldberg purchased a home in Bonsall, paying $1 million. The wrestler listed the property for $3.2 million in May 2020. Later that month, the house was sold for $2.9 million.
Wanda Ferraton's Career as a Stunt Performer
The celebrity wife is a professional stunt performer who worked in the entertainment line for a long time. Her first project, named Skipped Parts, was released in 2000. The following year, her other movies, called Texas Rangers, Viva Las Nowhere, The Unsaid, and Speaking of Sex, were released.
In 2022, Ferraton worked in three more movies: Ararat, Johnson County War, and Christmas War. From 2004 to 2005, Ferraton appeared as a stunt performer in Ginger Snaps Back: The Beginning, Caught in the Headlights, Hollywood Flies, and Santa's Slay. Jessie Graff is also a stunt performer.
Wanda Ferraton Birthday: Details About Her Early Life and Parents
Wanda Ferraton was born in 1970 to her parents, Allan Ferraton and Gwen Ferraton, in Saskatchewan, Canada. Her birthday remains unknown at the moment. Besides, Ferraton grew up looking after wild and tame animals on her parents' property.
Wanda Ferraton with her father at a shop.
SOURCE: Instagram @wandagoldberg
It is reported that Ferraton was raised alongside her four siblings, but their names are unavailable in the public domain. Apart from that, her husband Bill was born William Scott Goldberg on December 27, 1966. His parents, Jed Goldberg and Ethel, raised him in Tulsa, Oklahoma, U.S.
Follow Wanda Ferraton on Instagram
Wanda is an active Instagram user whose username is @wandagoldberg. As of now, he has gained over 10.1k followers. Also, Ferraton has another account where she showcases her moments from her farm.