Varvara Gracheva is a tennis player from Russia. She has a career-high WTA singles ranking of 59, and the player has won seven singles titles at tournaments of the ITF Circuit. Gracheva made her main-draw debut on the WTA Tour in 2019 when she qualified after winning against Julia Grabher in the final round.
Gracheva is a pro-level tennis player born on August 2, 2000. Her birth name is Varvara Andreyevna Gracheva; however, she is best known as Vavara Gracheva in the tennis world. Furthermore, Varvara began her career as a tennis player, and she has always had a keen interest in pursuing a career in sports since her early career.
Details On Gracheva's Professional Career
Gracheva made her tennis career debut when she was a junior, and as a junior, Varvara reached a career-high ranking of 19 and won four Grade-2 events. In 2017 she made her professional career debut by playing at $15k tournaments in Hammamet, Tunisia, where she reached three.
Similarly, the player started her 2018 season in Turkey, the same year she reached to reach her first $25k quarterfinal in Perigueux and made her top 500 debuts in July. Furthermore, she had over 300 top wins and concluded the year as the world's No. 447.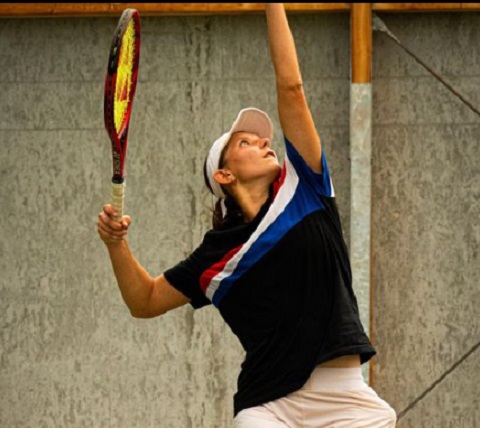 Varvara Gracheva during her match.
SOURCE: Instgaram @gracheva_varvara
Likewise, 2019 was one of the biggest turning points for Gracheva, as from the starting year; she achieved good results on clay. She also won the biggest title of her career worth, including a $25k event. She also made her Grand Slam championship debut in 2019.
She ended the year with a 70-26 record and rapidly rose in the rankings as, at the end of 2019, the tennis player the world No. 105. In 2021 she reached her first career WTA semifinal. And Varvara concludes the year with a semifinal appearance at the Open de Limoges. Additionally, in 2022, Gracheva reached the third round at the French Open for the second time in her career.
Read More.Barbara Haas
Gracheva's Net Worth And Salary
Varvara Gracheva's career earningsas of 2023 is $1,515,610. Her estimated net worth is about $500,000. She is one of the most talented and skilled, like Ana Bogdan, who has a net worth calculated to be $1.5 million.
As of now, Varvara has played in multiple events and tournaments, and since her junior career, Gracheva has won top titles, which have indeed bagged her whopping money. She professionally began playing tennis in 2019, and so far, now, the tennis player has bested and given her all in the tournaments like the WTA tour, U.S. Open, and many more.
In 2022, by playing at Open BLS de Limoges, she bagged more than $4,0000. In Open P2i Angers Arena Loire, she earned above $2,000. Likewise, her Abierto Tampico earnings were +$1,613. More, in Open Capfinances Rouen Metropole Varvara took home $6,000. Her playing career has made us obvious that she is a leading tennis player, and her earnings from each event are more than a thousand dollars.
Read Also: Shuai Zhang and Cristian Garin
Brand Sponsorship And Deals
Tennis is the main source of Varvara Gracheva's income, and she has made much of her money through her professional career as a tennis player. But apart from that, the tennis player also promotes her many sports brands on her Instagram handle, where she speculates to make some money.

Varvara Gracheva holding Yonex's racket.
SOURCE: Instagram @gracheva_varvara
However, Gracheva has barely shared any details regarding his topic. So, Varvara uses Yonex's racket, and her appearance is from Le Coq Sportif. Similarly, has also promoted the sports brand Lotto on her Instagram bio.
Short Details On Varvara's Physical Appearance
The fan's favorite tennis player, Varvara, is tall and beautiful, 5 feet 10 inches; likewise, she weighs 70 kg.
She has a sporty physic, and Varvara often shares her stunning picture on her social media handle, where thousands of people follow her.
Everything On Varvara's Relationship
The professional tennis player Varvara Gracheva's relationship status is single, as per the latest update. Also, she loves maintaining a low profile and prefers keeping her love life and private carer away from her fans and public media. So far, Varvara has never talked about her dating life and partner.
Varvara Gracheva with her friends.
SOURCE: Instagram @gracheva_varvara
Gracheva's less involvement in social media platforms made us clear that she is currently focusing on her career. So, Varvara's fans must wait longer to explore her dating life unless she feels comfortable sharing it online.
Who Are Varvara Gracheva Parents?
The right-handed tennis player Varvara Gracheva grew up with her family in her birth town, Moscow, Russia. Unfortunately, she hasn't mentioned any details regarding his parents and early career. However, this can be said that Varvara must have graduated from a reputed University that emphasizes her birth country.
Furthermore, the details on her siblings also remained away from us, so we are unknown if she also has siblings or if Gracheva is the only child of her parents. Concerning her birth details, the athlete's zodiac sign is Leo.
Social Media Appearance
As mentioned earlier, Varvara doesn't have a strong social media appearance like other sportspeople. However, we can follow her on Instagram, where she is active under the username @gracheva_varvara.
Varvara Gracheva during her vacation.
SOURCE: Instagram @gracheva_varvara
The tennis player mostly shares her match picture on her Insta handle and often communicates with her fans online.
Read More.Sara Errani