Personal Info
Date of Birth

Age

24 Years Old

Famous Name

Tee Higgins

Country United States US
Facts
Father

Eric Higgins

Relationship Status

single

First Name

Tamaurice

No. of Instagram Followers

376K

Mother

Lady Camilla Stewart

Wikipedia

https://en.wikipedia.org/wiki/Tee_Higgins

Last Name

Higgins

Birth Name

Tamaurice William Higgins

Net Worth

$5 million

Siblings

Shakia and Rashard

Salary

$2,171,696

Birth Country

United States

No. of Siblings

2

Instagram

https://www.instagram.com/teehiggins/

Famous Name

Tim Higgins

Career Earnings

$7,114,495

Horoscope

Capricorn

Nationality

American

Ethnicity

African-American

Profession

American Football Player

Started career as

Football Player

Currently Club

Wide receiver

University attended

Clemson University

School attended

Oak Ridge High School
Tee Higgins is an American football player playing for the Cincinnati Bengals of the National Football League (NFL) as a wide receiver. Higgins played college football at Clemson. During his college career, Tee helped his team prevail in the 2019 College Football Playoff National Championship as a sophomore.
Higgins' professional NFL began when the Cincinnati Bengals drafted him as the 33rd overall pick in the 2020 NFL Draft. Besides, he was also a second-team All-ACC member for Clemson in 2018. Higgins has received some honours due to his performances in games that have helped them to win games too. Moreover, he went to Oak Ridge High School in Oak Ridge, Tennessee. As a senior in high school, Tee had 68 receptions for 1,044 yards and 18 touchdowns. Initially, he committed to the University of Tennessee to play college football but later chose to play at Clemson University.
Tee Higgins' Career From Clemson to Cincinnati Bengals at the NFL
As said earlier, Higgins played college football at Clemson University. As a freshman, he had 17 receptions for 345 yards and two touchdowns while playing in 13 games. Furthermore, Higgins had an amazing three receptions for 81 yards in the 44-16 win over Alabama in the College Football Playoff National Championship. He finished his sophomore season with 59 receptions for 936 receiving yards and 12 touchdowns.
Read More.Dontrell Hilliard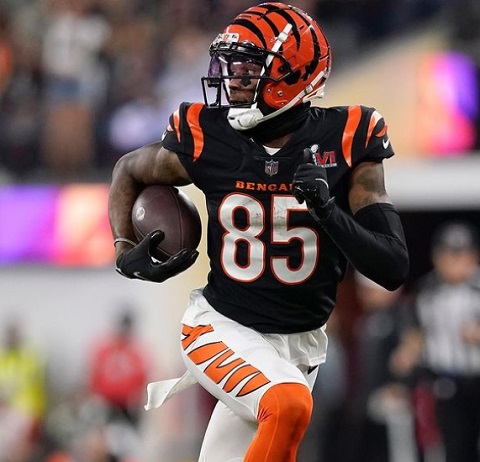 Tee Higgins playing in an NFL game.
SOURCE: Instagram @teehiggins
As a junior at Clemson, Higgins had 1,167 receiving yards and 13 touchdowns. In a game against LSU in the National Championship, he had a 36-yard rushing touchdown and caught three passes for 52 yards. Justin Jefferson is also an NFL player who played at LSU. He forged his final year of eligibility and declared for the 2020 NFL Draft.
The Cincinnati Bengals selected Higgins in the second round with the 33rd overall pick. On July 28, 2020, he signed his rookie deal with the team. Finally, Higgins made his NFL debut in Week 1 of the 2020 season while playing a game against the Los Angeles Chargers. Higgins is still active in this sport and plays with the Cincinnati Bengals.
Read More.Matt Wilhelm
Read More.Rodney Clemons
How Much Is Higgins' Net Worth? Salary and Contract Details
The professional NFL player has an estimated net worth of around $3 million. Playing professionally since 2020, Higgins has signed whopping deals with his current team. Higgins has an $8,686,785 contract with the Cincinnati Bengals. The contract also has a signing bonus of $3,877,664, $5,882,518 guaranteed, and an average annual salary of $2,171,696.
Tee Higgins while going out.
SOURCE: Instagram @teehiggins
In the 2020 season, Higgins earned a total of $4,487,664; in the following season, he took home $1,227,123. At the time of this post, Higgins has total career earnings of $7,114,495. Having earned a good amount of money from his profession, Higgins lives a lavish life and shows his lifestyle via his Instagram pa
Do Follow:Dan Fouts and Michael Hoecht
Relationship Status: Tee Higgins Dating or Single?
Looking at his social media posts, it is believed that Higgins is single and is not dating anyone. The NHL player made his first post on Instagram on November 2, 2020. However, he has not shared a single post regarding his love affair.
Tee Higgins with his friends.
SOURCE: Instagram @teehiggins
Likewise, Higgins has not been involved in any rumours. So, he has not dated anyone in the past too. Moreover, Higgins is a private guy who keeps his matters away from the press. His IG account is registered as @teehiggins.
Read More.Ben Bredeson
Family: Higgins' Parents and Siblings
Tamaurice William Higgins was born on January 18, 1999. He is a native of Oak Ridge, Tennessee, U.S. and was raised by his parents, Eric Higgins (father) and Lady Camilla Stewart (mother). Higgins grew up with his sister named, Shakia.
Tee Higgins with his mother, Lady Stewart.
SOURCE: Instagram @teehiggins
On August 30, 2022, Higgins faced a tragic moment when he lost his father.
Tee Higgins Shares Message for Buffalo Bills' Damar Hamlin
On January 2, 2023, Buffalo Bills player Damar Hamlin collapsed after tackling Higgins. Following the play, Hamlin stood up momentarily before collapsing on his back. After that, team trainers and paramedics rushed to his side within 10 seconds.
Later, Hamlin was rushed to the University of Cincinnati Academic Health Center. Likewise, the game was suspended and later postponed. After some time, it was reported that Damar suffered cardiac arrest, and his heartbeat was revived on-field.
Tee Higgins' prayers to Damar Hamlin.
SOURCE: Twitter @teehiggins5
People are praying for Hamlin, and Tee Higgins also wishes Hamlin a speedy recovery. He tweeted, "My prayers and thoughts go out to @HamlinIsland the Hamlin Family."
Read More.Jamaree Salyer