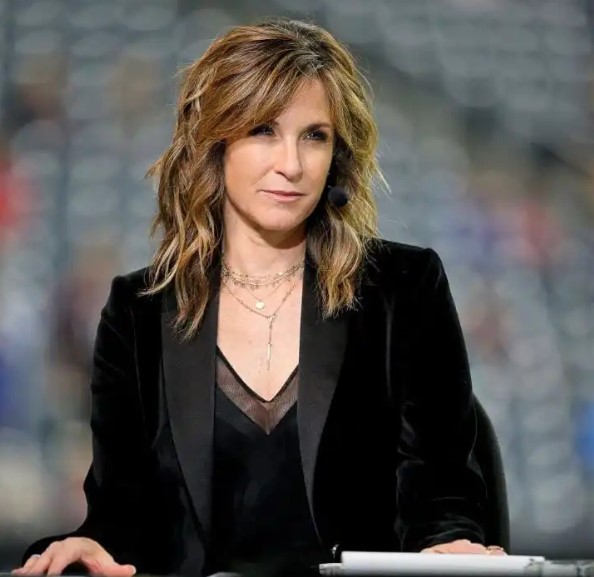 Personal Info
Date of Birth

Age

58 Years Old

Famous Name

Suzy

Country United States US
Facts
Father

Gene Kolber

Relationship Status

married

No. of Twitter Followers

32.3K

First Name

Suzy

Fiance

No. of Instagram Followers

10.8K

Father Nationality

American

Mother

Sandra Kolber

Last Name

Kolber

Birth Name

Suzanne Lisa Kolber

Net Worth

$18 Million

Mother Nationality

American

Facebook

https://www.facebook.com/SuzyKolberNFLonESPN/

Currently Married

Eric Brady

Twitter

https://mobile.twitter.com/suzykolber

Siblings

Salary

$3 million

Married to

Eric Brady

Birth Country

United States

Past married if any

No

Instagram

https://www.instagram.com/suzy.kolber/

Famous Name

Suzy Kolber

Children

Kellyn Brady

Wife profession

Horoscope

Taurus

Date

May 14

Wife working for

Nationality

American

Ethnicity

Religion

Christians

Profession

Reporter, Co-producer, and Sportscaster for ESPN

School Location

800 Loch Alsh Ave, Fort Washington, PA 19034, United States

Famous for

Anchor of ESPN2

Started career as

Reporter

University Team

https://www.instagram.com/suzy.kolber/

University attended

University of Miami

School attended

Upper Dublin High School
Suzy Kolber is a renowned American sportscaster and news reporter who is best known for her work on ESPN's "Monday Night Football" and "SportsCenter."
Suzy works as a sports news reporter and built an immense reputation in the male-dominated sector with her excellent humor and spontaneous creativity since beginning her journey in the 80s. She is in a conjugal relationship with Eric Brady, who happens to be a television executive.
Net Worth of Suzy
Suzy Kolber started her career in 1984 while still in college. She has been covering at the top as a sports news reporter for about four decades now and has triumphed both in her professional and personal life.
Suzy Kolber has an estimated net worth of more than $10 Million.
SOURCE: static.clubs.nfl
Today, Kolber is one of ESPN's highest-paid sportscasters with a glamorous annual salary of $3 million. As of no surprise, her long service has helped her to gather a total net worth of about $10 million.
Relationship Status: Husband and Children
Regarding her family and personal life, Suzy Kolber is married to Eric Brady, a television executive. The couple walked down the aisle in 2008 after dating for almost 8 years since 2000.
Suzy Kolber with her husband Eric Braddy
SOURCE: vizaca
They have one daughter together, named Kellyn Pearl Kolber, born in the same year they tied the knot. They live in Connecticut with their daughter and two dogs.
Kolber believes in keeping her private matter out of the limelight, so the wedding ceremony was held privately with few relatives and friends out of the public space and neither has she released photos of her daughter on social media.
Although there have not been many insights into her marital status, the reports say that she is raising her daughter as a single mother.
Early Life and Education
Suzy Kolber also known as Suzanne Lisa Kolber was born on May 14, 1964, in Philadelphia, Pennsylvania, and grew up in a Jewish family. The star reporter was born to Gene Kolber (father) and Sandra Kolber (mother).
Kolber in her early television career
SOURCE: pensandpatron.com
In Pennsylvania, Kolber attended Sandy Run Middle School in Dresher. After that, she joined Upper Dublin High School for her high school studies and graduated in 1982. Later on, she graduated from the University of Miami with a degree in telecommunications in 1986.
Suzy was actually interested in sports since childhood. She would dress up in helmets and shoulder pads on Halloween, but her parents were against it.
She started her career in journalism as a videotape coordinator at CBS Sports in New York City. From then on, the American sportscaster just had to look ahead.
Career and Achievements
She started her career in journalism as a videotape coordinator at CBS Sports in New York City in 1984. Later, she worked as a sports director at WPEC-TV in West Palm Beach, Florida, and as a sports anchor at WTVJ in Miami, Florida between 1986-1989.
Kolber joined ESPN in 1993 and initially worked for three years. Then, in November 1996, she moved to Fox Sports, where she anchored Fox Sports News and reported for NFL games.
Kolber worked for Fox Sports until 1999, when she moved back to ESPN in August 1999 and then became a fixture on the network. She has covered a wide range of sporting events, including the NFL, NBA, college football, and tennis.
Kolber posing with her award
SOURCE: twitter.com
She has also hosted the ESPN2 show "NASCAR Now" and has been a sideline reporter for ABC's coverage of the X Games.
She has received multiple honors for her work at ESPN, including the Maxwell Football Club's Sports Broadcaster of the Year Award in 2006. The Pennsylvania Association of Broadcasters named her a Gold Medal Honoree in 2018. She was inducted into the Philadelphia Sports Hall of Fame in 2019.
Social Media: Instagram and Twitter
Kolber is active on Instagram, where she has over 12 thousand followers, and hovers more than 33.4K followers in Twitter. She often shares pictures and updates from her work and personal life.
Suzy Kolber's Instagram
SOURCE: instagram
Suzy Kolber is a successful and accomplished sportscaster and news reporter who has made a name for herself in the industry.
Age, Height, and Body Measurements
Susie was born on May 14, 1964, in Philadelphia, United States. She has a slender, tall body standing 5 ft 7 inches tall (173 cm) maintaining approximately 66 Kg (134 lbs) weight.
Suzy attending a party
SOURCE: gettyimages.com
The ESPN reporter has a great physique that has a measurement of 30 chest size, 23 waist size, and 33 hips size.
Suzy always enchanted everyone with her beauty, and she has not aged still looking youthful as if she is in her early 30s. As her beauty is amplified by blonde hair and a pair of grey eyes.