Personal Info
Date of Birth

Age

2 Years Old

Famous Name

Sterling Skye Mahomes

Country United States US
Facts
Father

Patrick Mahomes II

Relationship Status

single

First Name

Sterling

Father Nationality

American

Mother

Brittany Mahomes

Last Name

Mahomes

Birth Name

Sterling Skye Mahomes

Mother Nationality

American

Siblings

Patrick Lavon Mahomes III

Birth Country

United States

No. of Siblings

1

Famous Name

Sterling Skye Mahomes

Horoscope

Pisces

Date

February 20

Nationality

American

Famous for

Daughter of Patrick Lavon Mahomes II

Came to fame after
Sterling Skye Mahomes is a star kid who is widely famous for being the daughter of Patrick Mahomes and his beloved wife, Brittany Mahomes. The married couple recently celebrated their daughter's second birthday. Skye made headlines after receiving a black quilted Chanel purse as a birthday gift.
The star child had a lavish sugar-themed party. Besides that, they also had a complete with latte art, a sprawling dessert table, and a birthday cake made of glazed doughnut holes; the bash was aptly named Sterling's Two Sweet. Furthermore, Sterling is not only the child of her parents as she was raised alongside her younger brother named Patrick "Bronze" Lavon Mahomes III.
Sterling Skye Mahomes Lives a Lavish Life: Her Net Worth Details
Sterling Skye is one of the luckiest children who is living her life to the fullest. She relishes a lavish life as her father has amassed a massive amount of money from being a professional American football quarterback. According to Forbes, Patrick is estimated to have a net worth of $49.1 million.
The Mahomes family on Christmas 2022.
SOURCE: Instagram @patrickmahomes
Since 2017, Patrick has been playing professionally for the Kansas City Chiefs of the NFL. Initially, he signed a jaw-dropping $16.42 million contract, including a signing bonus of $10.08 million. Furthermore, the football quarterback got more into media prominence when he signed a ten-year extension worth $477 million with another $26 million in potential bonuses for $503 million.
This contract is the largest in American professional sports history as Patrick surpassed Mike Trout. In addition to that, he also makes impressive cash from endorsements and sponsorships. He has collaborated with many big brands, such as Adidas, Airshare, BioSteel, and Electronic Arts.
For your information, Patrick is in the 24th position of The World's Highest-Paid Athletes (2022), ranked by Forbes. Having an impressive fortune, the Mahomes family surely lives a lavish life. With that, Sterling is also enjoying her life. As mentioned earlier, she recently received a Chanel purse that costs over $9,000.
Patrick Mahomes' Daughter Appearances in Commercials
Sterling Skye has already started making money, thanks to her parents' fame. She already began getting offers from different companies. Just at 18 months old, Sterling made her first commercial appearance. On September 11, 2022, Patrick shared his Oakley commercial to promote his Signature Series.
Sterling Skye Mahomes in her first commercial with her dad.
SOURCE: Instagram @patrickmahomes
During that time, Sterling was also presented in the shoot and co-starred together with Patrick. Moreover, we can see Sterling's parents' snaps on social media.
Sterling Skye Received Scholarship From Texas Tech Two Days After Her Birth
Sterling is lucky to be the daughter of Patrick. With that, she already has a scholarship from Texas Tech. She was born on February 20, 2021, and just after two days after her arrival, Texas Tech University offered a letter of intent and a soccer scholarship.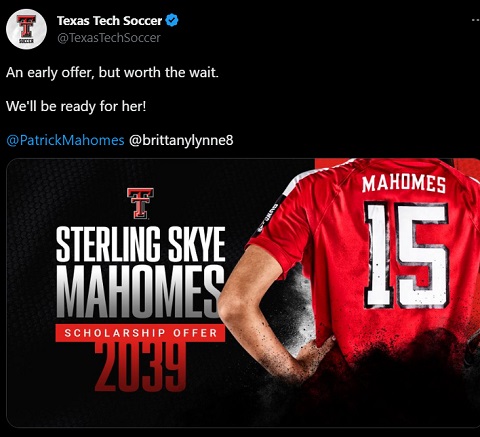 Sterling Skye Mahomes' scholarship offer from Texas Tech University.
SOURCE: Twitter @TexasTechSoccer
It was all due to Sterling's father playing college football and baseball at the institution for three seasons before Kansas City Chiefs drafted Patrick in 2017. Considering this fact, we can say that Sterling will be eligible for the scholarship once the recruiting class of 2039 starts. With that, Sterling may pursue a career as a professional athlete, following in her parent's footsteps.
Sterling Skye Mahomes Birthday Pictures and Birth Details
Sterling Skye lights her birthday candle on February 20 every year. Her parents were happy to announce her birth. They shared a photo of baby Sterling holding Patrick's finger. Days later, Patrick's wife admitted that the couple planned to hold off sharing photos of their baby's face until they felt the time was right.
Sterling Skye Mahomes with her parents celebrating her 2nd birthday.
SOURCE: Instagram @brittanylynne
Four months later, in June 2021, Sterling made her Instagram debut when her father posted a photo on his Instagram page, writing, "Hello, World!" Apart from that, Sterling has a baby brother named Patrick Lavon Mahomes III, nicknamed Bronze, who was born on November 28, 2022.
Sterling Parents' Patrick and Brittany Married Life in Depth
Patrick and his wife Brittany are high school sweethearts. The pair's romance began in March 2012. During that time, Patrick was a sophomore while Brittany was a junior at Whitehouse High School in East Texas. Their relationship began as friends and later turned into a romantic affair.
Likewise, the duo attended multiple school dances, including Brittany's senior prom in May 2013. Their love life was going pretty well, and the football quarterback also gifted his girlfriend a puppy for Valentine's Day in February 2016.
After some time, Patrick began his professional career, and just after two seasons with the Chiefs, the Mahomes pair purchased a $2 million (approx) home in May 2019 in Kansas City. Being in a relationship for a long time, they chose to take it to another level. So, in September 2020, Patrick proposed to his longtime girlfriend in a VIP box at Arrowhead Stadium in Kansas City.
Sterling Skye Mahomes with her parents on their wedding day.
SOURCE: Instagram @patrickmahomes
Weeks after getting engaged, they revealed the news that them expecting their first child. The two tied the knot on March 12, 2022, in Hawaii in the presence of their family and close ones. For the honeymoon, the married pair jetted off to St. Barts. It's been a decade, the couple is still together, and their bond is getting stronger day by day.
Does Sterling Skye Mahomes Have an Instagram Account?
No, Sterling does not have an official account registered on Instagram. Her parents often feature Sterling on their social media posts. So, by following Patrick and his wife on Instagram, we can see Sterling's pictures. The football quarterback is active on IG as @patrickmahomes, while Brittany is verified as @brittanylynne.