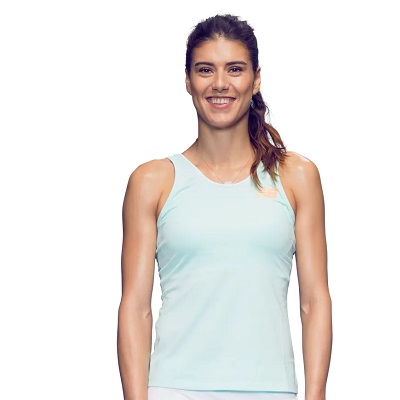 Personal Info
Date of Birth

Age

33 Years Old

Famous Name

Sorana Cîrstea

Country Romania RO
Facts
Father

Mihai Cirstea

Relationship Status

affair

No. of Twitter Followers

162.7K

First Name

Sorana

Fiance

No

No. of Instagram Followers

158K

Mother

Liliana Cirstea

Wikipedia

https://en.wikipedia.org/wiki/Sorana_C%C3%AErstea

Engaged Person Name

Last Name

Cirstea

Birth Name

Sorana Mihaela Cirstea

Net Worth

$3 million

Currently Married

Unmarried

Twitter

https://mobile.twitter.com/sorana_cirstea

Siblings

Mihnea Cirstea

Birth Country

Romania

No. of Siblings

1

Past married if any

No

Instagram

https://www.instagram.com/soranacirstea/

Famous Name

Sorana Cirstea

Divorce

No

Career Earnings

$7,493,402

Horoscope

Aries

House Location

Nationality

Romanian

Affair with

Santiago Giraldo

Boyfriend

Ion Ion Tiriac

Current City

Targoviste

Profession

Tennis player

Famous for

Tennis player

Started career as

Tennis player

Came to fame after
Sorona Cirstea is a Romanian professional tennis player playing in the WTA. The professional player has faced many hard times in her life. Despite that, she has moved on and is doing well in her tennis career. Cirstea achieved a career-high ranking of world No. 21 on August 12, 2013. Besides, Cirstea got more recognition after reaching the quarterfinals at the 2009 French Open. Also, she reached the final of the 2013 Rogers Cup.
Furthermore, Cirstea is an aggressive baseliner who typically accumulates high numbers of both winners and unforced errors. Playing professionally since 2006, Cirstea has been a part of multiple major tournaments and has won some of them too. Since the age of 4, Cirstea has been playing tennis.
Who Is Sorona Cirstea's Iubit (Partner)? A Look at Her Current Relationship
The professional Romanian tennis player is in a relationship with the son of tycoon Ion Tiriac, Ion Ion Tiriac. Ion Ion was previously married to Ileana Lazariuc. After divorcing Lazariuc, he began living at the Stejarii Country Club complex. So, it is said that Cirstea and Tiriac got close simultaneously.
Sorana Cirstea is dating Ion Ion.
SOURCE: Playtech.ro
An online source reports that the pair began dating in 2020. It seems like they are already engaged. Their relatives revealed that the tennis player is making wedding plans with Tiriac. As the pair have preferred to remain far from the people's eyes, the details regarding their engagement also remain unknown.
We can speculate that Cirstea relishes a happy life privately with her partner. Before her relationship with Ion Ion, Cirstea had a relationship with Colombian tennis player Santiago Giraldo.
Sorona Cirstea's Relationship With Colombian Tennis Player Santiago Giraldo
Cirstea had a few years of relationship with Colombian tennis player Santiago Giraldo. They reportedly dated each other for about three years which started in 2014 and ended in 2017. The former pair met each other through tennis as they are engaged in the same field.
Sorana Cîrstea with her ex-boyfriend, Santiago Giraldo.
SOURCE: Twitter @wta_insider
While dating, Cirstea and Giraldo supported each other and appeared in games to cheer. Initially, their love life was going well, but after some time, it began getting sour, leading to their breakup. After breaking up, they moved on their path.
Both of them had some difficulties, and Santiago also thought of taking a break from tennis too.
How Much Is Cirstea's Net Worth? Her Total Prize Money Revealed
As we know, Cirstea has played tennis professionally for a long time and won some major titles. Due to her hard work and dedication, Cirstea has preserved a considerable fortune. Sorona enjoys a net worth of over $3 million, thanks to her long-term tennis career.
Sorana Cirstea shares a photo from Mt. Everest.
SOURCE: Instagram @soranacirstea
At the time of this writing, Cirstea has received a total prize money of $7,493,402. While playing in the 2022 US Open, she took home more than $121,000. In that tournament, she played against Belinda Bencic and Laura Siegemund.
In July 2022, Cirstea participated in the Championships with a massive prize pool of $40,350,000. From that, Cirstea was able to earn over $100,631. One of the highest earned cash by Cirstea was at the 2022 Australian Open, where she took more than $246,795. Moreover, Sorana began her 2023 year by playing in Adelaide International 1, which was organized with a prize pool of $826,837, and Cirstea received over $11,145.
Here Are Sorana Cirstea's Sponsors – Apparel and Racquets
Professional tennis player has endorsement deals with multiple brands. She has a clothing and shoe sponsorship contract with New Balance. Before signing a deal with NB, Cirstea had a contract with Adidas from 2006 to 2016. Kawhi Leonard has also worked with New Balance.
Sorana Cirstea wearing clothing from New Balance.
SOURCE: Instagram @soranacirstea
Besides, Cirstea uses the Yonex EZONE 100 racquet, which directly means that Yonex sponsors her for racquets. Before that, she also used Wilson and Babolat racquets.
WTA's Sorona Turned Professional in 2006
Sorona began playing tennis at a young age, and she notes her idols as Steffi Graf and Roger Federer. Andrei Cociasu coaches the former ITF Junior Circuit top-ten player. Furthermore, Sorona reached the highest combined ranking of No. 6 in 2006.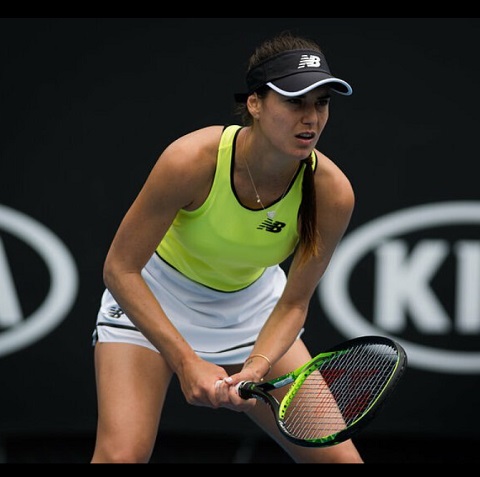 Sorana Cirstea in one of her professional games.
SOURCE: Instagram @soranacirstea
Sorona turned professional in the same year and ended the year at No. 353 in the WTA rankings. The following year, she reached the Budapest Grand Prix's final, a Tier-III event, as a qualifier.
Also, read: Lauren Davis, professional tennis player.
Cirstea's Wiki and Family Background
Sorana Mihaela Cirstea was born in Bucharest, Romania, on April 7, 1990. Cirstea's parents, Mihai and Liliana, raised her alongside her younger brother, younger Mihnea. Despite being a native of Bucharest, Cirstea now resides in Targoviste, where her father owns and operates an ice cream factory.
Sorana Cirstea celebrating her birthday.
SOURCE: Instagram @soranacirstea
Furthermore, Cirstea shares a strong bond with her family members and lives a low-profile life with them. Cirstea's mother has an important role in her success as she was the one who introduced Cirstea to this sport.
Body Measurement: Sorona Cirstea's Height and Weight
Cirstea is a hard-working tennis player who has maintained a slim fit body. Regarding her body measurement, Cirstea stands at the height of 5 feet 9 inches (1.76 m) and weighs 56 kg.
It seems like she has faced significant weight loss in the past few years.
Follow Cirstea On Instagram
The Romanian tennis player is an active social media user with a strong presence on Instagram, available as @soranacirstea. Instagram has verified her account, and more than 159k people have followed her on the platform.
Apart from that, Cirstea has been using Twitter since January 2012. Also, we can find her account on Facebook.