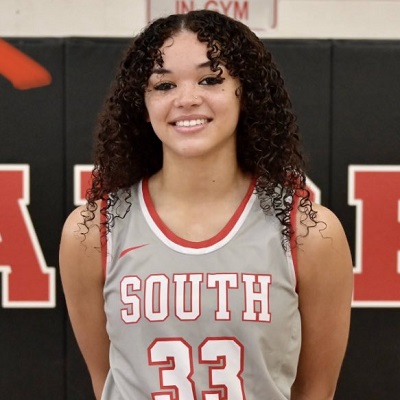 Personal Info
Date of Birth

Age

19 Years Old

Famous Name

Senali Moss

Country United States US
Facts
Father

Randy Moss

Relationship Status

single

No. of Twitter Followers

400+

First Name

Senali

No. of Instagram Followers

2K

Father Nationality

American

Mother

Libby Offutt 

Last Name

Moss

Birth Name

Senali Moss

Net Worth

Mother Nationality

American

Twitter

https://twitter.com/senalimoss

Siblings

Thaddeus Moss, Montigo Moss, Sydney Moss

Birth Country

United States

No. of Siblings

3

Instagram

https://www.instagram.com/senali.moss/

Famous Name

Senali Moss

Children

Horoscope

Pisces

Date

March 14

Nationality

American

Ethnicity

African-American

Religion

Christians

Profession

Basketball Player

Famous for

Randy Moss Daughter

Started career as

Basketball Player

Currently Club

CFC Cape Fear

School attended

South Mecklenburg High School

Graduated year

2021
Senali Moss is a rising basketball player who plays for Cape Fear Community College. She wears jersey number 3 and plays as a guard. Besides that, Senali is most famous for being the daughter of Randy Moss, an American former professional football wide receiver. He played prominently in the National Football League (NFL) for 14 seasons.
Senali is one of the five kids of her father, Randy, and his ex-girlfriend Libby Offutt. All of his siblings are doing pretty well in their own fields. Besides that, Senali didn't follow in her father's footsteps as she was engaged in basketball and is working pretty hard to achieve more success in this sport.
Who Are Senali Moss' Parents? Meet Her Mom and Dad
Senali Moss was born on March 14, 2004, to her parents Randy Moss (Father) and his former partner Libby Offutt (Mother). Senali is a native of America and spent most of her early days in West Virginia and North Carolina. Her grandparents are Randy Pratt and Maxine Moss.
Randy Moss with his former partner, Libby Offutt.
SOURCE: Yahoo News
Furthermore, Moss also stayed at her maternal and paternal grandparent's homes. While growing up, she was with her grannies. For your information, Senali was fortunate as she spent time with her dad, as her other siblings saw Randy until they became teenagers.
Senali Moss Has Three Biological and Two Half-Siblings
Senali has three biological siblings. Sydney Moss is the eldest one who was born on March 6, 1994. When Sydney was born, her mother was barely 18 years. Not to mention, Sydney is a retired basketball player. She now serves as an assistant coach for St. Thomas University's Women's basketball team.
The second oldest child is Thaddeau Moss, born on May 14, 1998. He is a free agent but previously played at NC State. Her other sibling Montigo was born in June 2002. Meanwhile, Montigo is also a football player. Furthermore, Senali's younger sister Sylee prefers to stay away from the limelight.
Senali's brother Thaddeus Moss is a football player.
SOURCE: Twitter @thaddeusmoss
Apart from that, Senali has two half-siblings named Lexi Adkins, while the name of another half-sibling remains unknown but is said to be with Lydia Moss. Lexi is a Marshall University student who graduated in 2021. She is also reported to be a cheerleader. Some online sources have claimed that Senali has more half-siblings, but their information remains under review.
What Is Senali Moss' Job? A Look at Her Basketball Career
Senali Moss is also a sports lover who plays basketball. So, she is aiming to become a professional basketball player. She went to South Mecklenburg High School and played for the women's team. She was associated with the team from 2018 to 2022.
Senali Moss with her teammate.
SOURCE: Instagram @senali.moss
After that, Moss went to CFC Cape Fear Women's Basketball in 2021. While being a prominent player on the team, she has helped them to win some games. She has appeared in games against Denmark Technical College, USC Salkehatchie, and Fayetteville Technical CC, among others.
Does Senali Moss Have a Boyfriend?
No, Senali does not have a boyfriend. She is young, and rather than searching for a boyfriend, Senali is focused on her basketball career. So, Moss may give some updates about her love life in the future as her fame is growing gradually.
In the same way, Moss does not have much activeness on social media, making it more challenging to know about her partner.
Senali Lives a Quality Life With Her Father's Million-Dollar Net Worth
Senali is just at the beginning of her career and may earn a good sum after turning professional. Currently, she lives a quality life as her father has preserved a considerable fortune. Combining his career earnings, it is reported that Randy has an estimated net worth of around $25 million.
Randy's NFL career kicked off with the Minnesota Vikings, with whom he signed a deal of $4.5 million with a $2 million signing bonus. He did pretty well with the team, and the contract was extended on July 25, 2001. He received $75 million with a $10 million signing bonus during the contract extension.
Randy Moss is fishing in his free time.
SOURCE: Instagram @randygmoss
After that, Randy played with the Oakland Raiders, with whom he had a deal of $2.5 million and a $500,000 signing bonus. His contract with the Raiders was increased for three years, and he took $27 million and a signing bonus of $12 million.
In the same way, Moss prominently played for other NFL teams earning a huge sum of money which helped him increase his bank balance.
Read Also: Jalen Duren and Trey Murphy III
Is Senali Moss Active On Instagram?
The 5 feet 7 inches tall Senali seems to have an account on Instagram registered as @senali.moss. She has garnered a few followers but does not post regularly. Besides that, Moss has been using Twitter since June 2018, where we can follow her under the username @senalimoss.