Nikkita Lyons is a well-known professional wrestler from America who is signed to WWE, where she performs on its NXT. Besides that, she is also a taekwondo practitioner and musician. The professional wrestler has also wrestled for Women of Wrestling (WOW) as Faith the Lioness. Before coming to WWE, she did years of training in and coaching MMA, Boxing, earning a black belt in Tae Kwon Do.
Since making her jaw-dropping NXT debut, Lyons has been in the spotlight. She has fought under multiple nicknames in her professional wrestling career, including Faith the Lioness, FaithyJ, and Faith Jefferies. Likewise, she has a YouTube channel named FaithyJ (Nikkita Lyons WWE) which she created in 2013 and has gained total views of over 400k.
Lyons' Career Beginning From Women of Wrestling to WWE
Initially, Lyons played Taekwondo. It is reported that she began practicing Taekwondo at the age of four. By the age of 8, she had already earned a black belt. In 2018, Lyons started professional wrestling training under Selina Majors. Under the nickname "Faith The Lioness," Lyons made her debut for Women of Wrestling (WOW).
Nikkita Lyons in an NXT game.
SOURCE: Instagram @nikkita_wwe
After attending WWE's tryouts in Las Vegas in 2021, Lyons was offered a developmental contract. So, in the late summer of 2021, she signed a contract with WWE and made her debut on December 31, 2021, against Amari Miller.
Likewise, Nikkita's NXT debut came on February 22, 2022, against Kayla Inlay. Also, she played a tag team match at the Spring Breakin', where she teamed up with Cora Jade. The duo defeated Lash Legend and Natalya. On the July 19 episode of NXT, Nikkita competed in a 20-woman battle royal but was eliminated by Tiffany Stratton.
Personal Life: NXT Wrestler Nikkita Lyons' Real Name, Bio, and Height
The real name of Nikkita Lyons is Faith Jefferies. She was born on August 5, 1999, in Las Vegas, Nevada, U.S., to her parents, Rodolfo Ubach (Father) and Sidna Ubach (Mother). The 5 feet 8 inches tall wrestler has not given much insight into her family life, due to which her siblings' details remain a mystery.
Furthermore, Lyons was raised in Hollywood, California. Nikkita lives a low-profile life with her parents, and she has shared some snaps with them on her Instagram page too. Moreover, Lyons graduated from high school in early 2017 and began her career after that.
How Rich Is Faith Jefferies? All About Her Net Worth and Earnings
Lyons has amassed a decent amount of money from her professional wrestling career. Apart from WWE, she is also a successful YouTuber and a famous singer. Due to that, Lyons has racked up a net worth of over $3 million.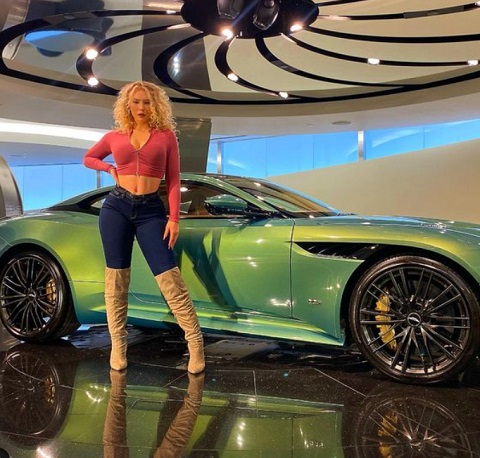 Nikkita Lyons shares a photo in front of a car.
SOURCE: Instagram @nikkita_wwe
Most of Nikkita's earnings come from being a professional wrestler. She has won some matches; from that, Nikkita has indeed taken home considerable cash. Being a professional wrestler, Nikkita has worked with some brands and has modeled from them.
From this, it becomes clear that Lyons makes money from sponsorship and endorsement deals. Likewise, Lyons makes some cash from merchandise sales. We can find her merch on the official website of WWE. Also, she has a YouTube channel, and Social Blade reports that her monthly estimated earnings are between $1-$16 while her yearly earnings are $12-$194.
As Lyons is still active in this field, her income will skyrocket in the coming years.
Relationship Status: Is Nikkita Lyons Single or Dating Someone?
Lyons is highly active on social media but has not given hints about her love life. So, she is possibly single and is not dating anyone at the moment. There isn't enough information to validate her current relationship status. Due to her private nature, she has never opened up about her affair. In the past, she was not engaged in rumors or controversies about having a romantic affair.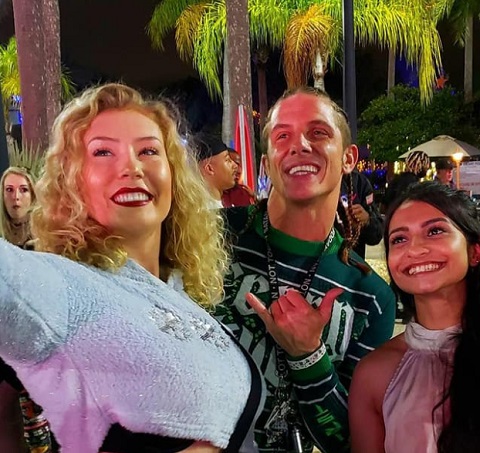 Nikkita Lyons with her fans at an event.
SOURCE: Facebook @RealFaithyJ
Moreover, Nikkita is focused on building her career as a WWE Superstar. Furthermore, she is a fun-loving person who loves visiting different locations during her spare time. She does not hesitate to show her life to the world.
As her fans are concerned about her dating life, Nikkita may give some updates about her boyfriend or partner in the coming years.
Nikkita Lyons Has Suffered Major Injuries in Her WWE Career – Surgery Update
Lyons has faced some injuries in her career. In May 2021, she played in the NXT Women's Breakout Tournament. However, she was removed from the tournament due to an injury. Later, it was announced that she suffered a partial MCL tear and an MCL sprain.
Nikkita Lyons gives an injury update from the hospital
SOURCE: Instagram @nikkita_wwe
Lyons finally returned on the June 28 episode of NXT, fighting Mandy Rose. In January 2023, Lyons was attacked in the NXT parking lot. When news of the incident traveled, Nikkita was spotted nursing her injured leg. In the latest NXT episode, we can see Lyons squirming in pain on the pavement and being watched by other wrestlers, including Wendy Choo, but it was not disclosed who attacked her.
On late January 2023, Lyons gave an update regarding her injury, revealing that she underwent successful surgery following a torn ACL and meniscus in her knee injury. Lyons also discussed that she would come back stronger. Nikkita has not specified a timeframe for her return to in-ring competition.
Nikkita Lyons' Finisher Is Tornado Kick
Since making her NXT debut, wrestling fans have asked for Lyons' finisher name. Initially, it was unknown what it was called. She came into the spotlight after performing a split-legged leg drop finisher. Later, Lyons took to social media to talk about it.
Nikkita Lyons performing her signature finisher.
SOURCE: 411 Mania
Nikkita said that her finisher is called Tornado Kick. In the same way, she does Missile Dropkicks, Corner Forearm Smash, and German Suplex.
Social Media Presence: Follow Nikkita on Twitter and Instagram
The WWE star is an active social media user whose accounts are available on Twitter, Instagram, Facebook, and TikTok. Since August 2009, she has been using Twitter; her username is @nikkita_wwe. Likewise, we can follow Nikkita on Instagram as @nikkita_wwe.
All of her social media pages are verified from where Lyons shares updates regarding her daily life and events.