Nancy Lopez is a former American professional golfer who had an illustrious career on the LPGA Tour. Joining the tour in 1977. Nancy achieved remarkable success by winning 48 LPGA Tour events: including three major championships. Lopez showcased her talent in the amateur circuit, winning the New Mexico Women's Amateur at the age of 12 and the U.S. Girls' Junior Championship at 15 before turning professional.
Lopez accomplished a remarkable feat in 1978 becoming the only woman to win LPGA Rookie of the Year, Player of the Year, and the Vare Trophy in the same season. Lopez continued to excel, winning the Player of the Year award in 1979, 1985, and 1988, and earning the Vare Trophy in 1978, 1985, and 1988. Nancy was inducted into the Georgia Sports Hall of Fame in 2002.
Nancy Lopez Net Worth: In Details About Her Earnings
Nancy Lopez has achieved notable financial success throughout her career. Nancy's net worth is estimated to be around $2.5 million, but various sites indicate that it's $10 million. These figures reflect her earnings from various sources: including tournament winnings, endorsements, and business ventures.
Nancy Lopez runs her own golf company.
SOURCE: Instagram- @nancylopezgolf
Lopez's golf career has been exceptionally fruitful, as she won a remarkable 48 LPGA Tour events which includes three major championships. Her numerous victories and contributions to the sport have undoubtedly contributed to her overall earnings. Additionally, her induction into the LPGA Hall of Fame further underscores the significance of her achievements and the financial rewards that accompanied them.
Furthermore, Lopez has leveraged her expertise and reputation in the golf industry by establishing her own company, Nancy Lopez Golf. The company specializes in producing a comprehensive range of women's clubs and accessories. This venture likely generates additional income for Lopez, as she capitalizes on her brand and expertise to cater to the needs of female golfers.
Nancy Lopez Career Earnings: Nancy's Earnings from Endorsements and Golf
Nancy Lopez has amassed a significant sum of $4,897,457 in earnings from her successful professional golf career. Throughout her time on the course, she has achieved remarkable results, securing 31 victories and consistently performing at a high level. In a noteworthy accomplishment, Lopez has made it into the top 10 in 182 hours of the total matches she has played, showcasing her consistency and competitiveness.
Nancy Lopez with her friends.
SOURCE: Instagram- @nancylopezgolf
While her golfing achievements have undoubtedly contributed to her financial success, it is important to note that specific details about her earnings from her golf company, Nancy Lopez Golf, are not publicly disclosed. Therefore, any assumptions about the financial impact of her business venture should be reserved until official sources provide concrete information. However, it is evident that Lopez's golfing prowess and reputation have likely facilitated opportunities for financial gain both on and off the course.
Nancy Lopez Ex-Husband Tim Melton: Why Did the Couple Split?
Various sources present different claims about the divorce between Nancy Lopez and Tim Melton. According to one source in Married Biography which stated the reason for their divorce was reported to be Nancy's extramarital affair. However, it's important to note that this information is not corroborated by other sources and the exact reason behind their divorce remains undisclosed and has not been confirmed by reliable sources.
Nancy Lopez with Tiger Woods.
SOURCE: Instagram- @nancylopezgolf
Following her separation from Tim Melto, Nancy Lopez went on to marry Ray Knight who is a Major League All-Star baseball player in 1982. This union signifies a new chapter in Lopez's personal life after her previous marriage ended. However, specific details regarding the circumstances leading to her divorce from Tim Melton and the subsequent marriage to Ray Knight are not widely documented.
Read More: Get To Know About Eliud Kipchoge's Net Worth, Earnings and Sponsors. Also His Stats in Boston Marathon and Records
Nancy Lopez's Ex-Husband Ray Knight: Know about Nancy and Ray Divorce
Nancy Lopez and Ray Knight enjoyed a long-lasting marriage of 27 years before officially divorcing in 2009. According to a source, their decision to separate was attributed to growing apart and no longer sharing the same interests. Despite their decision to end their marriage, Nancy and Ray maintained an amicable relationship and continued to treat each other with respect and friendship.
Throughout their union, Nancy Lopez and Ray Knight became parents to three daughters: Ashley, Erinn, and Torri. Ashley, the eldest, was born in 1983, followed by Erinn. The youngest, Torri, arrived in 1991. The couple's dedication to their family remained evident as Nancy actively supported her daughters' pursuits and encouraged them to follow their passions.
During their marriage, Nancy and Ray primarily resided in Albany, Georgia, which also happened to be Ray's hometown. The choice to settle in Albany allowed them to establish roots in a familiar environment and foster a sense of belonging for their family.
Nancy Lopez Husband, Ed Russell: Nancy and Russel's Married Life
Nancy Lopez, who married Ed Russell in 2017, has chosen to maintain a private personal life, making it challenging to gather specific details about their marriage. However, in a picture shared by Nancy in the early part of 2020, she and Ed are seen happily enjoying a moment together, savoring red wine.
Nancy Lopez with her Husband Ed Russell enjoying Red Wine.
SOURCE: Instagram- @nancylopezgolf
The image suggests that they have a harmonious relationship and find joy in each other's company. Additionally, it appears that Nancy continues to play golf with Ed and their friends, indicating that she embraces her married life and appreciates having a life partner by her side as she enters the later stages of her life. While Nancy prefers to keep her personal affairs undisclosed, it is evident that she values the support and companionship of her husband, Ed Russell.
Read More:Who is Tony Hawk Married To? His Wife and Children. Also Know About Hawk's Net Worth, Earnings and Endorsements
Nancy Lopez Golf Journey and Golf Stats: Where is Nancy Now?
Nancy Lopez holds a career scoring average of 72.39. She has been inducted into the LPGA Hall of Fame and the Georgia Sports Hall of Fame. Her accomplishments include winning the Vare Trophy, LPGA Rookie of the Year, and multiple Player of the Year awards.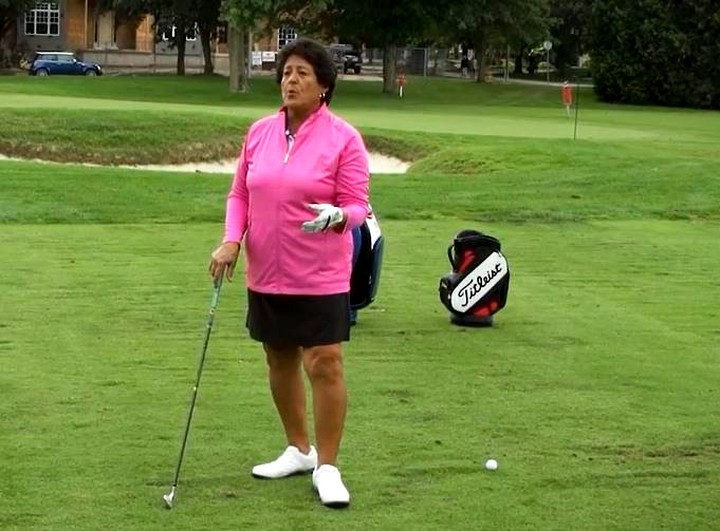 Nancy Lopez even now plays golf with her friends.
SOURCE: Instagram- @nancylopezgolf
Nancy Lopez remains actively involved in the golf industry. She has established her own golf company called Nancy Lopez Golf, which specializes in producing a comprehensive range of women's clubs and accessories.
The company's mission is to redefine and elevate the women's golf experience by providing high-quality products and engaging in activities that promote the sport. Nancy Lopez Golf is dedicated to enhancing the overall golfing journey for women and is committed to empowering female golfers through their offerings.