Margarita is a former professional basketball player from Spain. She started playing at 14 and won three Liga Femenina titles. She was on the national basketball team of Spain.
Margarita was born Margarita Ivonne Geuer Draeger, on May 3, 1966, in one of the largest cities of Spain, Spain. Both of her parents are German and moved to Spain.
What Is The Net worth Of Margarita Geuer- Her Son Willy & Juan Hernangomez Are Millionaires!
Margarita Geuer has an estimated net worth of $1 Million. She earned most of her net worth through her professional basketball career, which spanned over a decade. However, Geuer has never shared her economic stats with the public.
Margarita Geuer with her family during her early parenthood.
SOURCE: Instagram- @andreahernangomez
Margarita's son Juan Hernangomez has an estimated net worth of $17 Million and her second son Willy Hernangomez has an estimated net worth of $6 Million. The former player represented the Spain National team in several international events, won the gold medal in the 1993 European Championship, and received a good amount of prize money.
Read More: How Much is J.J. Redick's Salary? Know about J.J. Redick's net worth, houses and cars, and Karim Mane
Is Hernangomez Family Wealthiest In Spain?
The Hernangomez family is a family with a rich athletic background so, they probably won't have to stress about money. Margarita's elder son, Willy Hernangomez, has a net worth of $6 Million. His only source of income is professional basketball.
Willy Hernangomez before his luxury car
SOURCE: twitter.com by @WillGuillory
Her younger son, Juancho Hernangomez, is estimated to be worth around $17 Million. Juancho earns a large portion of his wealth from professional basketball while also getting involved in brand endorsements. He has also starred in a Netflix movie, "Hustle". Andrea Hernangomez is the daughter of Margarita, who is a budding collegiate athlete.
Related- Andrea Hernangomez Boyfriend, Jake Wojcik: Juancho and Willy's Hot Sister Has Boyfriend!
Who Is Willy & Juancho Hernangomez Mother- Margarita Is A Proud Mom!
Margarita is a married woman living happily with her husband and their children. Geuer exchanged her wedding vows with Guillermo Hernangomez on July 16, 1983, former professional basketball player.
They have three children, two sons and a daughter, Willy, Juancho, and Andrea Hernangomez. Both of their sons are professional NBA basketball players. At the same time, Andrea plays professional basketball in Spain.
Geuer with her family in Andrea's Graduation.
SOURCE: dotcomstories.com
Willy was born on May 27, 1994, and plays from New Orleans, Pelican. Juancho was born on September 28, 1995, and plays for Toronto Raptors. Andrea was born on May 6, 2000, and plays Fairfield Stags women's basketball in Spain.
Read More: Ray McCallum, Jr.
How Margarita Played Basketball- Willy & Juancho Hernangomez's Mother Is A Professional Athlete
Margarita started local-level basketball in her hometown at 14. She has a massive height of 6 feet 1 inch, which is her great advantage as a basketball player
Geuer stepped into the larger court when she was 17. She got into a famous Spanish basketball team, Real Canoe NC. She won the Liga Femenina title three times in a row from 1984 playing in that team.
Due to her giant-like height, she used to be the center player. After Real Canoe, Geuer played for CD Xuncas from 1986-1988. There she ranked runner-up in the 1987 league and Copa de la Reina in both 1987 and 1988.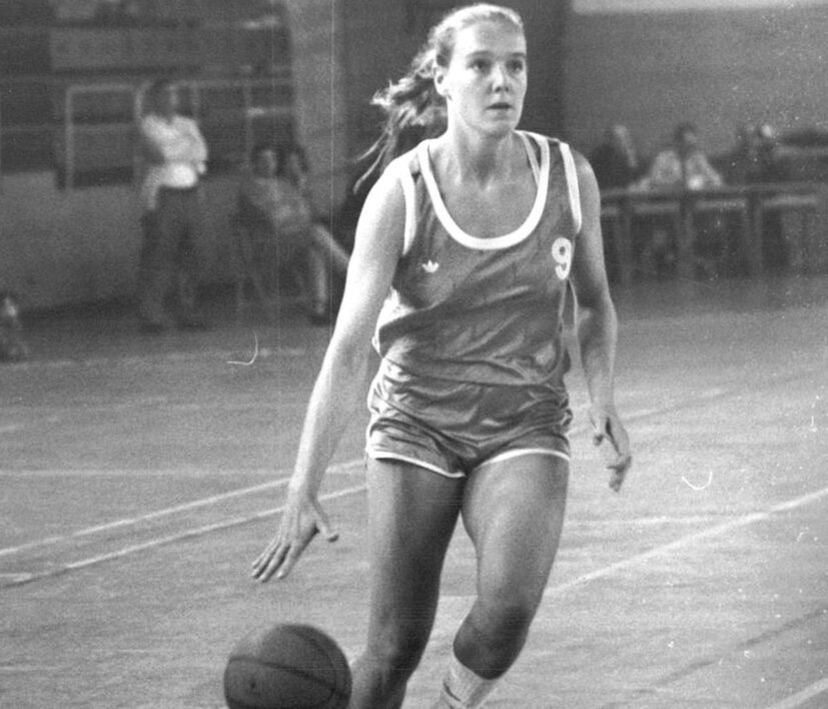 Margarita Geuer while dribbling baskeball.
SOURCE: sportytell.com
After that, she entered BEX Banco Exterior, where many top-tier players were recruited to represent Spain in the Summer Olympics of 1992. She played for the team for four years till the year 1992.
In 1992, Ivonne started playing for Dorna Godella but only played for one year. During her time with the team, although she played for just a year, she achieved impressive victories, such as winning the Liga Femenina, the FIBA European Champions Cup, and the FIBA Club World Cup in Brazil in September 1992.