Liana Jojua is a Georgian professional mixed martial artist famously known as "SheWolf." The UFC Flyweight Fighter is a former Fight Nights Bantamweight Women's Champion.
She fights under Akhmat Team and is managed by Prime Fight Management. The Georgian Fighter has an 8-4 professional mixed martial arts record.
Early Life and Education
Liana was born on March 22, 1995, in Tbilisi, Georgia. She completed her school and college in Georgia. She shifted to the United States to follow her dream to be a professional fighter.
Kid Liana Jojua with her pet
SOURCE: Instagram @likajojua
Born and raised in Georgia, the 26-year-old fighter was always fond of watching professional fights. She started watching Gina Carano and decided to follow in her footsteps.
Jojua made her MMA debut in September 2015 with a hard-fought victory against Sarah Moras.
Body Measurement and Fighting Style
Liana stands at the height of 5 feet 4 inches with an incredible reach of 62 inches. She prefers an orthodox stance, and her fighting style is Muay Thai, Wrestling, and Kudo.
The talented fighter weights 57 kg and fights in Flyweight and Bantamweight Divison.
Liana Jojua Net Worth and Earnings
Liana is a professional UFC Fighter. Her main source of income is professional fighting. She makes a minimum of $30,000 from each fight with endorsement bonuses. However, this fluctuates with the opponent's status.
Jojua is an ambassador of Bet City. It is an online betting platform famous in Russia. She makes a handsome amount of money from the promotion.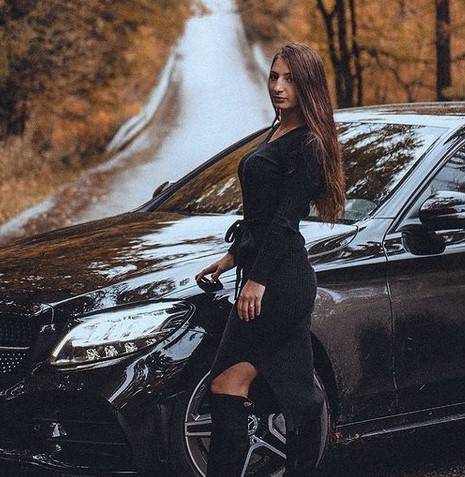 CAPTION: Liana Jojua posing in front of her car
SOURCE: Instagram @likajojua
She drives a luxurious car that costs way too much. From this fact, you can guess the lifestyle she has.
Liana is managed by Prime City Management. It brings big brands' sponsorships for Liana. It is helpful for her to make extra money. The net worth of Liana Jojua is estimated to be around $0.5 million - $1 million.
Read Also: Angela Lee and Dequan Townsend
Liana Jojua Relationship Status (Boyfriend and Affairs)
Liana is currently focused on her MMA career. She wants to make a name for herself in this sport. She always trains hard in the gym. Liana is single at the moment. She looks so gorgeous. People don't believe that Liana does not have a boyfriend despite being so pretty.
There are no rumors about Jojua's affairs and boyfriends. All you see, Liana is with her pet or friends on the beach.
Liana Jojua with Khabib Nurmaggedov
SOURCE: Instagram @likajojua
Liana Jojua is a big admirer of Khabib Nurmagomedov. They are seen clicking photos during events. Most people doubt that Liana Khabib might be dating. But that's totally false.
Khabib is already married and has three cute children. SheWolf loves Khabib as a professional athlete and wants to shine in UFC like him.
Family (Parents, Siblings, and Pets)
Liana Jojua lives far off from his parents. Her parents live in Georgia, whereas she lives in the United States. Her parents do not like being in the limelight. So, she respects their privacy and doesn't post or talk about them.
Liana has no siblings, as per reports. However, she has so many awesome friends whom she treats no less than her siblings.
Liana Jojua holding her cute brown pet
SOURCE: Instagram @likajojua
She is a great animal lover. She has had pets since her childhood. Right now, she also has a cute pet whom she travels and has fun with.
Highlights of Liana Jojua Vs. Miranda Maverick on October 24, 2020
Liana Jojua's Last Fight was against Miranda Maverick, where she lost against Maverick. Dana White, the president of UFC, has promised her another fight.