Personal Info
Date of Birth

Age

24 Years Old

Famous Name

Kelsie Whitmore

Country United States US
Facts
Father

Scott Whitmore 

Relationship Status

single

No. of Twitter Followers

2,852

First Name

Kelsie

No. of Instagram Followers

21.7K

Mother

Mirasol Whitmore

Wikipedia

https://en.wikipedia.org/wiki/Kelsie_Whitmore

Last Name

Whitmore

Birth Name

Kelsie Whitmore

Net Worth

$500,000

Currently Married

Unmarried

Twitter

https://mobile.twitter.com/kelsiewhitmore

Siblings

Matthew Whitmore

Birth Country

United States

No. of Siblings

1

Past married if any

No

Instagram

https://www.instagram.com/kelsie_whitmore/

Famous Name

Kelsie Whitmore

Horoscope

Gemini

Date

June 5

Nationality

American

Profession

Baseball player

School Location

Temecula, California

Famous for

Baseball player

Started career as

Baseball player

University Team

Cal State Fullerton Titans

University attended

California State University

School attended

Temecula Valley High School
Kelsie Whitmore is an American professional baseball player playing for the Staten Island FerryHawks of the Atlantic League of Professional Baseball (ALPB). She wears jersey number 3 and can play as a pitcher and outfielder. Apart from playing for the clubs, Whitmore has also represented the national team of the United States.
From 2014 to 2019, Whitmore was a part of the United States women's national baseball team. She was the US team member that played in the 2014 IBAF Women's Baseball World Cup, and the team finished second position. Furthermore, Whitmore played college softball for the Cal State Fullerton Titans.
How Much Is Kelsie Whitmore's Net Worth? Her Contract and Salary Details
Whitmore has already amassed a long list of baseball accomplishments. Currently, she is playing in the Atlantic League of Professional Baseball. A person playing in the ALPB has an average salary of $300,705. The amount may range from $264,543 to $340,764. So, we can say that Kelsie may earn in the same range. Considering that, it can be speculated that Whitmore has a net worth of around $500,000.
Kelsie Whitmore using a product from Kala Therapy.
SOURCE: Instagram @kelsie_whitmore
Whitmore's contract with her current team remains unknown as none of the media outlets have shared the fact. Due to that, the information regarding her salary also remains unknown. As said earlier, she has also played for the national team; she may have received a considerable profit.
Apart from her profession, Whitmore may also take home some cash from sponsorship deals and brand endorsement. She has worked with Kala Therapy, and we can see her using their products. During her spare time, Whitmore loves exploring beaches. In February 2022, she went to La Jolla Cove and shared some moments via her social media handles.
Read Also: Dillon Maples and Pedro Baez
Is Kelsie Whitmore Dating or Single?
Looking at her social media posts, it is believed that Whitmore is single and is not having romantic affairs with anyone. Like Matt Farniok, Whitmore also prefers to maintain privacy in her life and keep herself away from the press.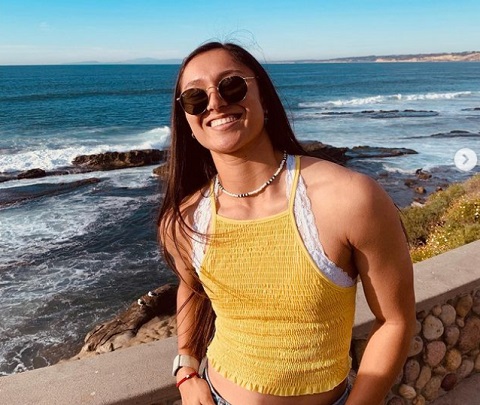 Kelsie Whitmore enjoying a trip.
SOURCE: Instagram @kelsie_whitmore
Whitmore seems to be leading a solitary life for a long time, as there are no records of the baseball pitcher having affairs with anyone in the past. As of now, Whitmore is entirely focused on her career rather than searching for a life partner.
Also, her social media posts show that Kelsie is a family person who loves spending her spare time with her close ones.
Insights on Whitmore's Family Life: Meet Her Parents and Siblings
Kelsie Whitmore was born on July 5, 1998, in San Diego, California, US. Her parents are Scott Whitmore and Mirasol Whitmore. Whitmore comes from a superior family background. She also has a brother named Matthew Whitmore in her family.
Kelsie's father used to be a middle school physical education teacher. Later, he retired and moved to New York with his daughter. In his early days, Scott used to be an athlete who played multiple sports, including baseball, track and field, football, and basketball.
Read More.Toni Harris
Kelsie Whitmore with her dad, Scott.
SOURCE: Instagram @kelsie_whitmore
Scott and his daughter share a strong bond. The baseball player has also shared some images with him on her Instagram account. On the other side, her mother, Mirasol, lives a low-profile life, and there is not much info about her professional life.
What Is Kelsie Whitmore's, Pitch Speed? Velocity
Whitmore is also famous for her amazing pitching speed. Her fastest speed is reported to be 78 mph, while some show it is around 93 mph.
Whitmore also received messages from many people after signing a deal with FerryHawks. Many big names, including former tennis star Billie Jean King, also shared a supporting message to Whitmore.
Take a Look at Whitmore College Basketball Career
Whitmore enrolled at California State University, Fullerton. She earned a scholarship to play college softball for the Cal State Fullerton Titans during that time. In the same way, Whitmore was allowed to train with the Cal State Fullerton Titans baseball team.
In 2016, Whitmore signed with the Sonoma Stompers of the Pacific Association. She recorded her first professional hit on July 20 of the same year. Whitmore formed the first all-female battery in a professional baseball league match after pitching to Anna Kimbrell in 2016.
Kelsie Whitmore is in a game playing for FerryHawks.
SOURCE: Instagram @kelsie_whitmore
After that, Whitmore joined the Portland Pickles of the West Coast League in October 2021. The team played in the Mexican-Pacific League, and in the second game, Whitmore pitched five innings without allowing a run. Whitmore got the eyes of many people after signing a deal with the Staten Island FerryHawks of the Atlantic League of Professional Baseball on April 8, 2022.
On April 22, Kelsie made her Atlantic League debut as a pinch runner. On May 1, she became the first woman to start an Atlantic League playing as a left fielder.
Read More.Willie Stargell
Read More.Dakota Hudson
What Is Kelsie Whitmore Height? Body Measurement
Whitmore has an athletic body and stands at an average height of 5 feet 6 inches. She weighs 130 lbs. Her Instagram posts show that Whitmore is focused on her training, and her body results from her hard work and dedication.
Social Media Presence: Follow Whitmore on Instagram
Kelsie is an active social media user who is fond of showcasing her professional life with her fans and followers. Whitmore uses Instagram under the username @kelsie_whitmore, and over 21k people have followed her there. She made her first post on August 24, 2019; since then, Whitmore has been posting on IG.
Kelsie Whitmore working out in a gym.
SOURCE: Instagram @kelsie_whitmore
Apart from that, Whitmore is also a Twitter user whose username is @kelsiewhitmore. She has been active on the platform since October 2014. Also, we can find her account on TikTok, where she has gained more than 500 followers. Whitmore has shared some funny videos and short clips of her trips.
Read More.Todd Van Steensel