Personal Info
Date of Birth

Age

75 Years Old

Famous Name

Country United States US
Facts
Father

Ferdinand Lewis Alcindor, Sr.

League Name

NBA

Relationship Status

divorced

Weekly wage

No. of Twitter Followers

2.2 Million

Points

38,387

First Name

Kareem

Endorsment brands

AT&T, Nestle, NBA2K and Adidas.

No. of Instagram Followers

1 Million

Past Team

Milwaukee Bucks

Rebounds

9,394

Mother

Cora Lillian

Wikipedia

https://en.wikipedia.org/wiki/Kareem_Abdul-Jabbar

Last Name

Abdul-Jabbar

Birth Name

Kareem Abdul-Jabbar

Net Worth

$25 Million

Facebook

https://www.facebook.com/kaj

Currently Married

No

Current Club Jersey Number

33

Twitter

https://twitter.com/kaj33

Siblings

Salary

$3 million (highest during his career)

Married to

Habiba Abdul-Jabbar (maiden name Janice Brown)

Birth Country

United States

No. of Siblings

Endorsement earnings

First Club Name

Milwaukee Bucks

Past married if any

Yes

Instagram

https://www.instagram.com/kareemabduljabbar_33/

Famous Name

Kareem Abdul-Jabbar

Children

Kareem Abdul-Jabbar Jr., Adam Abdul-Jabbar, Sultana Abdul-Jabbar, Amir Abdul-Jabbar, Habiba Abdul-Jabbar, Amir Abdul Jabbar and Adam Abdul Jabbar

Divorce

Yes (Habiba Abdul-Jabbar)

Career Earnings

$50,000,000

Wife profession

Horoscope

Aries

House Location

Hawai

House Price

$5.9 million

Position in Team

Centre

Wife nationality

American

Date

April 16

First Club Join Date

1969

Wife working for

Nationality

American

Current team

The Los angeles lakers

Affair with

Cheryl Pistono, Pam Grier

2nd Car

Packard Super 8 Convertible car

3nd Car

Volkswagen Atlas SUV

4th Car

Mercedes-Benz Sedan

Awards

6× NBA champion (1971, 1980, 1982, 1985, 1987, 1988) 2× NBA Finals MVP (1971, 1985) 6× NBA Most Valuable Player (1971, 1972, 1974, 1976, 1977, 1980)NBA Rookie of the Year (1970) NBA All-Rookie First Team (1970) 2× NBA scoring champion (1971, 1972) NBA rebounding champion (1976) 4× NBA blocks leader (1975, 1976, 1979, 1980)3× NCAA champion (1967–1969) 3× NCAA final Four Most Outstanding Player (1967–1969)

Current City

New York city

Sponsors

Profession

American former professional basketball player and coach

School Location

New York City

Famous for

Basketball Player

Started career as

Basketball Player

Came to fame after

University Team

Bruins

Currently Club

The Los Angeles Lakers

University attended

University of California

School attended

Power Memorial Academy

Graduated year

1969
Kareem Abdul-Jabbar is an American former professional basketball player who is the six-time NBA champion and the league's only six-time MVP. Kareem played for two clubs The Milwaukee Bucks and The Los Angeles Lakers as a center. He is the NBA's all-time leading scorer with 38,387 points.
Kareem Abdul-Jabbar also known as Ferdinand Lewis Alcindor Jr. was born on April 16, 1947. Kareem was the only child of Cora Lillian and Ferdinand Lewis Alcindor Senior. Abdul grew up in the Dyckman Street projects of Upper Manhattan, which he moved to at the age of 3. Alcindor Jr.'s towering height is measured to be 2.18 meters long.
Kareem.Abdul-Jabbar Net worth
Most peoples only know Kareem as a basketball player but he has worked as an actor, basketball coach, screenwriter, and film producer, and is an established best-selling author. Alcindor Jr.'s net worth is estimated to be around $25 million. Abdul's highest earned salary during his professional career was around $3 million and his total career earnings were estimated to be around $50,000,000.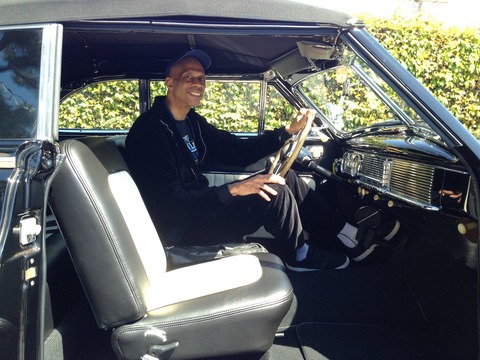 CAPTION: Kareem Abdul-Jabbar's net worth is $25 million.
SOURCE: Facebook: Kareem Abdul-Jabbar
Alcindor Jr. saved most of his wealth during his time as a professional basketball player and coach. It is estimated that Kareem earns at least $10 million from his different works. He made his fortune by doing commercials and brand endorsements. Abdul-Jabbar was endorsed by numerous brands like AT&T, Nestle, NBA2K, and Adidas.
Kareem continued to make cash after he retired from his professional basketball career as a basketball coach. Alcindor Jr. has authored many books and most of them have gone on to become New York Best Sellers. He has bought luxurious cars and watches like Packard Super 8 Convertible car, Volkswagen Atlas SUV, Mercedes-Benz Sedan, Tiffany Tesoro watch, and Patek Philippe Aquanaut Travel 5164 watch.
Read Also: kenyon martin jr and Cody Zeller
Kareem Abdul-Jabbar's Wife And Reason For Their Divorce
Kareem and his wife Janice Brown, were said to have met in college and she was born in New York, US. under a Christian family. They both had problems from the beginning as Abdul-Jabbar was talked into getting married to Janice by his religious leader. Janice's parents weren't allowed to attend their wedding cause the wedding was done in Muslim rituals.
It was rumored that Alcindor Jr. had feelings for another woman before the marriage with Janice. Kareem and Janice's wedding was held at the mosque. Janice changed her name to Habiba Abdul-Jabbar after the marriage.
Kareem Abdul-Jabbar was divorced in 1978.
SOURCE: Trending News Buzz
Abdul-Jabbar and Habiba would go on to have three children during their time together named Habiba, Sultana, and Kareem Junior. Kareem and Habiba lived separately after just 2 years of their marriage. Unfortunately, their relationship didn't last long, and they divorced in 1978, the reason for the divorce also included Kareem's involvement with another woman.
He was engaged in the past with Chery Pistono but they didn't ever get married and eventually broke up. Despite not being married they had 2 sons named Amir Abdul Jabbar and Adam Abdul Jabbar. Kareem Abdul Jabbar had another affair with a girl actress named Pam Grier but it didn't work out.
Kareem Abdul-Jabbar Height
Kareem Abdul-Jabbar's mother was a department store price checker and his father was a transit police officer and jazz musician. At, birth Alcindor Jr.'s height was 22 and a half inches and he weighed around 5.75 kg. Abdul-Jabbar was very tall for his age and was often depressed cause he was insecure about his height.
Kareem Abdul-Jabbar stands at a height of 7 feet 2 inches.
SOURCE: Big picture flim club
By 13-14 years he had grown to 6ft 8 inches and could already slam dunk a basketball but his height grew more. By the time he was playing professional basketball he had a towering height of 7 feet 2 inches and weighed around 102 Kg others players that have similar heights like Alcindor Jr. are Moses Brown of the Los Angeles Clippers and Bol Bol.
Kareem's height later helped him when he decided to play basketball professionally. Abdul-Jabbar is famous for his trademark shot named as skyhook shot.
How Many Rings Does Kareem Abdul-Jabbar Have?
Kareem Abdul-Jabbar has won 6 rings in total, 1 with The Milwaukee Bucks, and 5 others with the Los Angeles Lakers.
The 1971 NBA All-Star Game Ring is worth $51,555, the 1980 NBA championship Ring is worth $245,500, the 1985 NBA championship Ring is worth $343,700, the 1987 NBA championship Ring is worth $398,937.50 and the 1988 NBA championship Ring is worth $245,500.
The total worth of Kareem's rings is $1,285,192.50 and he auctioned the Hall of Famers title rings and memorabilia for almost $3 million in 2019.
How Old Is Kareem Abdul-Jabbar?
Kareem Abdul-Jabbar has played 20 seasons in the National Basketball Association (NBA) for the Milwaukee Bucks and the Los Angeles Lakers. Abdul-Jabbar retired at the age of 42 in 1989, he started playing professionally in 1969 at the age of 22.
Kareem started showing interest in coaching and imparting knowledge from his playing days. In his 50s he was the head coach of the Oklahoma Strom of the United States Basketball League in 2002. He returned to the lakers as a special assistant coach to Phil Jackson for six seasons.
Kareem Abdul Jabbar is 75 years old.
SOURCE: Sportsnet
Kareem Abdul-Jabbar is 75 years old and now serves society as a humanitarian. Abdul-Jabbar raised his awareness for cancer research. In 2020, Abdul-Jabbar was nominated for the Primetime Emmy Award for Outstanding Narrator for his work on the documentary.
Why Kareem Abdul-Jabbar Wore Googles
On January 12, 1968, in Kareem Abdul-Jabbar's junior year of basketball, he suffered from scratch to his left cornea. Later in his professional years, his cornea was again scratched.
When Kareem Abdul-Jabbar caught the fingernails of Celtics player, Don Nelson, he suffered from a corneal abrasion. In a rage he punched the backboard stanchion, breaking two bones in his right hand.
Kareem Abdul-Jabbar wore goggles to prevent eye damage SOURCE: NBC sports
Kareem Abdul-Jabbar wore goggles to prevent this incident.
Kareem Abdul-Jabbar's Professional Career
He was drafted with the first overall pick by The Milwaukee Bucks in the 1969 NBA draft and In 1975, Alcindor Jr. was traded to the Lakers, with whom he played the final 14 seasons of his career in which they won five additional NBA championships.
Alcindor Jr. chose the Milwaukee Bucks' offer of $1.4 million and became an instant star receiving the NBA Rookie of the Year title. When the Bucks acquired All-Star guard Oscar Robertson the Bucks received the best record in the league and swept the Baltimore Bullets 4-0 in the 1971 NBA Finals.
Kareem Abdul-Jabbar privately requested a trade preferably to the New York Knicks but the Lakers themselves acquired Abdul-Jabbar as and reserve center. Alcindor Jr. helped the Lakers to win 5 NBA championships and improved the overall team's stats. He also helped The Los Angeles Lakers break the 8-streak win of the Boston Celtics where John Havlicek played.
Read More.Sviatoslav Mykhailiuk