Josh Archibald is an American Ice-hockey player who plays for the Pittsburgh Penguins of the National Hockey League (NHL). Further, Josh was selected in the 2011 NHL Entry Draft, where he was drafted in the sixth round, 174th overall. More, he has professionally played hockey at the University of Nebraska Omaha for about three years, i.e., from 2011-2014.
Josh was born on October 6, 1992, in his birthplace, Regina, Saskatchewan. He is the son of Jim Archibald and Anne Archibald. Josh's star sign, as per his birth detail, is Libra. As his father was a famous player, Archibald followed his father's career path as he was a hockey professional.
Hockey Is Archibald's Major Source Of Income
Josh is one of the professional and skilled hockey players whose salary for the season 2022-2023 is estimated to be $900,000. Besides that, the player is gaining whopping money from his professional Ice hockey career that he has been leading since a young age. Talking about his career earnings it is calculated to be $6,250,000. So, the current net worth of the player is above $ 3 million.
Josh Archibald spends quality with his wife and kids.
SOURCE: Instagram @jc.archibald15
While glancing at the latest data, Josh's fortune in 2022 was $1,500,000, $1,500,000 in the 2020-2021 season, and $1,000,000 in the 2019-2020 season. The updates show that Archibald has been gaining whopping money from his successful hockey career. Well, talking about his sponsorships, the player hasn't shared this topic yet on the web sources, nor has he promoted any brand on his Instagram handle.
With such good fortune, Josh maintains a lavish lifestyle with his wife and family but doesn't like to flaunt it on his social media life.
Josh Archibald Is A Father Of Two
The Canadian Ice Hockey player is a married man, and apart from being a professional player, he is also a good father and husband to his kids and wife. Josh is married to his long-term partner, Bailey Baxter. The couple got married in June 2016. The lovebird first met at the University of Nebraska Omaha.
Josh Archibald's wife and kids
SOURCE: Instagram @jc.archibald15
So, the duo welcomed their first child, Brecken Carter Archibald, in August 2017. Similarly, the couple gave birth to their daughter on January 14, 2019. The couple loves sharing their kid's pictures, and Josh shares quality time with his kids and wife on his off schedule. Besides, Brecken was three weeks old when he experienced his baptism in the Stanley Cup.
When Did Josh Start His Professional Career?
Being the son of a professional hockey player, Josh was introduced to the sports from his young career. As a senior, he started his hockey career at his high school, Brainerd High School.
So, Josh played college hockey at the University of Nebraska Omaha from 2011 to 2014. So, in 2011 the hockey player was also picked as the WCHA Rookie of the Week. So, Archibald began his professional career in 2014 by signing a three-year contract with the Pittsburgh Penguins.
Read More.How Much is Connor McDavid's Net Worth, Know About His Net Worth, Salary and Contract Details in the NHL
Josh Archibald with a trophy after winning an event.
SOURCE: Instagram @Lord Stanley
The same year, in 2017, the hockey player was traded to the Arizona Coyotes in exchange for professional hockey goaltender Michael Leighton and a fourth-round pick in 2019. So, two years later, Josh joined the professional hockey team Edmonton Oilers on a year contract. Likewise, in 2022, he returned to his original club, the Pittsburgh Penguins, after signing a contract worth $900,000 for a year. Since February 10, 2020, Jason Zucker has been playing for Pittsburgh Penguins.
International Career
Professional hockey player holds dual nationality in Canada and the United States. However, the player chooses to play for the Americans in an international competition.
While glancing at his playing career, Josh played for Team USA at the 2012 World Junior Ice Hockey Championships.
Early Life And Family Background Checked
As mentioned earlier, Josh Archibald is the son of Jim Archibald, an infamous ice hockey player in his college North Dakota Fighting Sioux. Besides, his mother, Anne, was also a notable swimmer at the University of North Dakota. But there is no information regarding his siblings so he might be Jim and Anne's only child.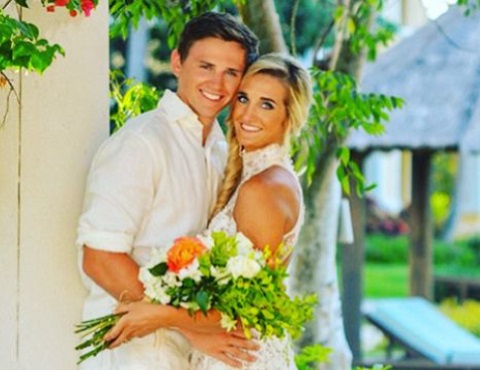 Josh Archibald and his wife at their wedding.
SOURCE: Instagram @jc.archibald15
At a young age, Josh and his family moved to Brainerd, Minnesota, where he started playing hockey. Despite being a family man, the hockey player doesn't like to share them online.
Take A Look At Archibald's Physical Appearance
Like the Ice hockey player Marcus Pettersson, Josh Archibald is also tall and has a towering height of 5 feet 10 inches. Similarly, he weighs 80 kg or 128 lbs.
Read More.Frederick Roy