John Klingberg is a Swedish professional ice hockey player playing for the Anaheim Ducks of the National Hockey League (NHL). The professional athlete spent his early years with Lerums BK and later joined the Frolunda HC youth system. After concluding his early career, Klingberg's NHL career kicked off after getting drafted by the Dallas Stars in the fifth round (No. 131) of the 2010 NHL Draft.
Being a Swedish player, Klingberg plays for the national team of Sweden nationally and internationally. He was a part of the Swedish team that finished fourth in the IIHF World Junior Championship (WJC) in 2011. In 2012, 2017, and 2018, the Swedish national team took home gold medals (WC), and Klingberg did pretty well in those tournaments. Furthermore, John was named the best defenceman of the year in 2018.
Injury: What Happened to John Klingberg's Teeth?
The 6 feet 3 inches tall player has suffered injuries while playing multiple games. Most notably, Klingberg once lost several teeth in 2017. According to Mark Stepneski of NHL.com, Klingberg was forced to sit out in a World Championship pre-tournament game after taking a stick to the face and losing several teeth.
John Klingberg in a press conference after losing his teeth.
SOURCE: YouTube
Klingberg lost his teeth in an IIHF World Championship game against the Czech Republic.
John Klingberg's Net Worth: Know His Salary and Contract Details
Klingberg has been playing professionally since 2010. He has been a part of multiple teams and had impressive deals with them. Considering his career earnings, it is believed that Klingberg is estimated to have a net worth of over $18 million.
John Klingberg posing in front of a luxurious car.
SOURCE: Instagram @klingbergjohn
Klingberg has a whopping deal worth $7 million with the Anaheim Ducks. In the 2014-15 season with the Dallas Stars, John took home $810,000. The following season, he earned $2,250,000. His income rose in the 2017-18 season; Klingberg received $3,500,000.
In the 2021-22 season, John earned a total cash of $6,000,000. Playing professionally in the 9 seasons, Klingberg has preserved total career earnings of $37,560,000. Trevor Zegras is another ice hockey player who earns a decent profit by playing with the Anaheim Ducks.
Read Also: Jordan Weal and Doug Weight
Relationship Status: Klingberg Is Married to His Wife, Fanny Hammarstrand
John Klingberg is married to his beloved wife, Fanny Hammarstrand. She loves pottery and graduated with interaction design. The lovebirds began dating each other in 2010. Like many couples, Klingberg and his partner kept their love life confidential. Finally, the pair made their relationship public in the summer of 2018. It is reported that John and Fanny are high school sweethearts.
After being in a romantic relationship for some years, the Klingberg couple thought of taking their relationship to the next level. So, the duo got engaged in 2019, and they took to social media on October 23 to share the news of their engagement.
John Klingberg and his wife, Fanny.
SOURCE: Instagram @klingbergjohn
The couple began making plans for their wedding. The special moment finally came on July 21, 2022, as they tied the knot privately in the presence of their family and close ones. Their marriage ceremony was organized in Norrvikens, Tradgardar.
John and Fanny Are Proud Parents of Two Children
Having been together for over a decade, John and his wife, Fanny, have already started a family. The duo announced the news of Fanny's pregnancy by posting a photo on Instagram on November 28, 2020. The married couple became parents for the first time on March 7, 2021, after welcoming their child, a daughter named Elsa.
John Klingberg shares a photo of his two kids.
SOURCE: Instagram @klingbergjohn
The family of three was living happily, and the ice hockey player also posted snaps with them on his Instagram handle. People were surprised when the news of their having another baby was announced on April 12, 2022. John and Fanny gave birth to their second child, Ida Viola Klingberg, on September 28. The happy family of four resides in Orange County, California.
NHL Career Beginning From Dallas Stars to Anaheim Ducks
The Gothenburg native began his career at a very young age in Lerums, BK. After that, he was signed as a youth to join the Frolunda HC program. While representing the team, he made his Elitserien debut playing against AIK on September 21, 2010. On May 16, 2011, it was announced that Klingberg and the Dallas Stars had signed a three-year entry-level deal.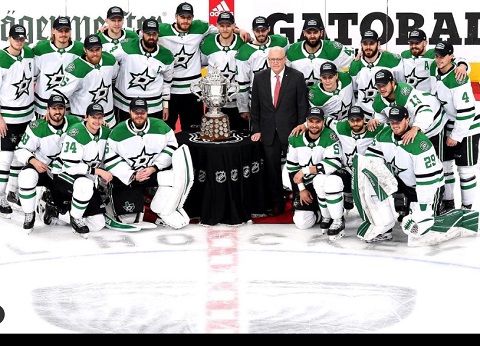 John Klingberg with his squad.
SOURCE: Instagram @klingbergjohn
Klingberg played on loan for the 2013-14 season with Frolunda HC. During that season, he recorded a career-high 11 goals and 28 points in 50 games. Later, he also played for the Texas Stars. On November 11, 2014, Klingberg made his NHL debut in a win over the Arizona Coyotes. Besides, his first NHL goal came against Mike Smith.
Likewise, John and his teammate Tyler Seguin were named to the 2018 NHL All-Star Game. After signing a deal with the Anaheim Ducks on July 29, 2022, and has been a part of the team.
Who are Klingberg's Parents? His Siblings Names
John was born John Andersson Klingberg on August 14, 1992, in Gothenburg, Sweden. His parents raised him along with his two brothers, Carl and Olle. Their father, Anders Klingberg, is also active in hockey. During the TV-pucken, Anders was a head coach for Goteborg.
As Klingberg has not talked much about his family life, we can't give further updates regarding his mother. Besides that, his brothers are also engaged in the same sports.
Facts About John Klingberg's Brothers – Carl and Olle
Both Carl and Olle are ice hockey players. Carl plays as an ice hockey forward for EV Zug of the National League (NL). Besides, he has also played in the NHL after getting drafted by the Atlanta Thrashers in the 2009 NHL Entry Draft with the 34th overall pick in the second round.
Two brothers of John Klingberg.
SOURCE: Instagram @carlklingberg
Likewise, Carl was selected for Team Sweden to represent them at the 2018 Winter Olympics. Team Sweden finished 5th in the tournament, and Carl competed in a game. Apart from that, John's other brother Olle is also an ice hockey player playing for the Lerums BK.