Lucas is a former NBA basketball player and was named All-NBA First Team three times, All-NBA Second Team twice, an NBA All-Star seven times, and the 1964 NBA Rookie of the Year.
Lucas was divorced twice before he married Cheri Wulff in the 1980s. He and his wife, Cheri, live their old days in Templeton, California, US.
Who is Jerry Lucas Married To?
Jerry has been married thrice to date. He was first married to Treva Lucas during college, and they divorced in 1974. The reason for divorce isn't public yet.
Jerry Lucas with his ex-wife, Treva
SOURCE: gettyimages.com
After the divorce from his first wife, Lucas married contemporary Christian singer Sharalee Beard. Their marriage didn't last long, either. They divorced in the 1980s.
Lucas eventually married Cheri and is living happily. Much about his children is under the radar.
Jerry Lucas Net Worth and Career Earnings
Jerry Lucas has an estimated net worth of $5 Million, all of which he earned from his professional basketball career. He must have earned most of his net worth through his basketball career and deals.
Jerry was part of the United States National Team and must have received a good amount from representing the countries at international events. Also, A sports personality makes a reasonable sum from sponsorship and advertising deals.
Read More: Keenan Evans
Jerry, from High School Through College To Olympics
Jerry joined Middletown High School in his hometown for his high schooling in 1956. There he played for his school team from his sophomore year. His massive height turned the favor in his side mostly.
Lucas had excellent teammates, so, he polished himself through the team effort. He consistently focused on assists and rebounds. However, he still managed to be the top scorer for his school team.
Jerry Lucas in a pass attempt
SOURCE: nba.com
Lucas attended Ohio State University in 1958. He was sought by many colleges and offered sports scholarships and even academic scholarships for his brilliant memory.
Olympics team for basketball. He won the gold medal for his country in basketball in the same Olympics. His outstanding playoff in the 1960 NCAA championship finals led his name to be enlisted for the 1962 USA.
Dive into NBA and ABA Career
The player got himself in the 1962 NBA draft by territorial pick, which was in practice at that period. He was picked by Cincinnati Royals now Sacramento Kings) and played for six years until 1969.
Jerry later played for San Franciso Warriors now Golden State Warriors) for two years until 1971.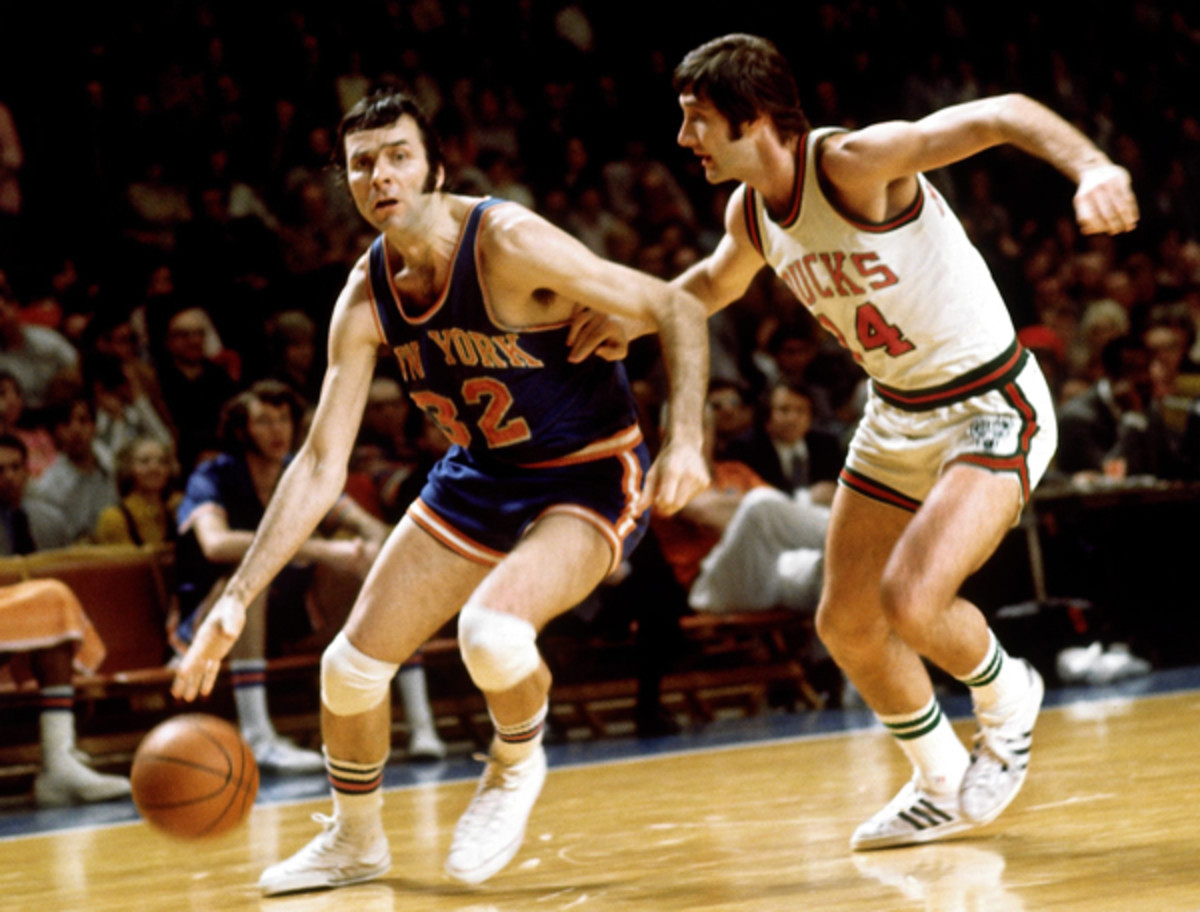 Lucas drives against Milwaukee Bucks in an NBA match
SOURCE: si.com
His final team before retirement was New York Knicks where he played for three years until 1974. During the 1972-1973 NBA season, Knicks won the 1973 NBA finals.
He holds the title for NBA Champions 1973 too.
Early life of Jerry Lucas
Lucas was born Jerry Ray Lucas on March 30, 1940, in Middletown, Ohio, US. However, he hasn't disclosed much about his parents and hasn't openly talked about his childhood in detail.
Lucas talked about his interest in basketball during his childhood days. He dominated the street basketball matches in his hometown. He was a tall kid since his early days, by the time he was 15, he stood at the towering height of 6 feet 7 inches.