Personal Info
Date of Birth

Age

38 Years Old

Famous Name

Jennifer Giroud

Country United States US
Facts
Relationship Status

married

No. of Twitter Followers

120

First Name

Jennifer

No. of Instagram Followers

167

Last Name

Giroud

Birth Name

Currently Married

Yes

Twitter

https://mobile.twitter.com/jennifergi9

Siblings

Amandine Monti

Married to

Olivier Giroud

Birth Country

United States

No. of Siblings

1

Instagram

https://www.instagram.com/jengiroud/

Famous Name

Jennifer Giroud

Children

Aria, Jade, Evan, Aaron

Date

September 25

Nationality

American
Jennifer Giroud is the celebrity spouse who gained widespread recognition after being recognized as the wife of Olivier Giroud, a French professional footballer playing for Serie A club AC Milan. Jennifer and Olivier have been sharing the relationship of a husband and a wife for over a decade. Their married life is still going well, and they have four children.
Furthermore, Olivier is one of the most loved footballers who began his professional football career with Grenoble. After that, he played for multiple clubs, most notably for Arsenal. From 2018 to 2021, he played for Chelsea. Since his contract expired with Chelsea, Giroud has been a prominent player at AC Milan. Maintaining his professional career, he is also doing well personally.
Jennifer Giroud and Olivier Giroud Wedding: Journey From Relationship to Marriage
Jennifer and her husband, Olivier, have supported each other for quite a long time. As the duo has kept their relationship confidential, it is unclear when and how they met. It is believed that the Olivier couple dated each other for years before tying the knot.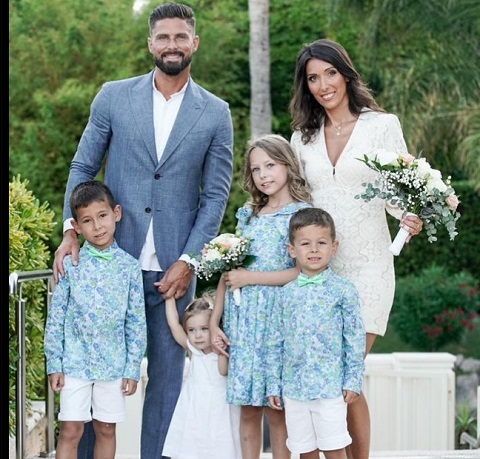 Olivier Giroud shares a photo with his family on his 11th marriage anniversary.
SOURCE: Instagram @oliviergiroud
Olivier and Jennifer walked down the wedding aisle in July 2011. They had a private wedding ceremony organized with their family and close ones. Since then, the pair have gone through many hard times but chose to be with each other in every step.
On July 10, 2022, Olivier took to Instagram to mark the duo's 11th marriage anniversary. He posted a photo with his kids and wife, writing, "A week ago… 11th wedding anniversary."
Olivier Giroud Cheating Allegations Explained
As mentioned earlier, Olivier and his wife have faced some issues. In 2014, Olivier got into hot water during his run with the Arsenals in the United Kingdom. Before that night, he reportedly took a companion named Celia Kay to his room at the Four Seasons, reported by The Daily Mail.
After the news surfaced in the media, people said that Giroud cheated on his wife for Celia, who is reported to be a model who has worked for international magazines such as FHM and Maxim. Despite the cheating rumors, Giroud denied taking Celia to his hotel room.
Olivier Giroud apologized to his close ones.
SOURCE: Twitter @_oliviergiroud_
On the other hand, Celia had also shared a photo of him in his hotel room, just wearing underwear. Not only that, but the model also posted a mirror selfie from the bathroom wearing lingerie. After the pictures circulated online, Olivier admitted to being with Celia the night before his game.
Later Olivier confessed to being with Celia but denied any adulterous acts. On February 16, 2014, he tweeted, saying, "I apologize to my wife, family and friends, and my manager, teammates, and Arsenal fans." During the public scandal, Olivier's wife, Jennifer, remained silent and didn't comment publicly. Despite all these, the duo stayed together, which made them a power couple.
Jennifer Shares Four Children With Her Husband
Being married for over a decade, Jennifer and her husband have already started a family. The Giroud couple has four kids, two daughters and three sons. They became parents for the first time in 2013 after welcoming their baby girl named Jade.
Three years later, after their first child, Jennifer became a mother for the second time in 2016 as she gave birth to a baby boy named Evan. After two years, Jennifer and Olivier welcomed another son named Aaron in 2018. Likewise, the family of five increased to six when another daughter named Aria was born in 2020.
Olivier Giroud with his wife Jennifer and their kids at a FIFA World Cup 2022.
SOURCE: Instagram @oliviergiroud
The Giroud family lives happily, and the professional footballer does not hesitate to showcase their unforgettable moments on social media. They often go to different places to enjoy the holiday. In 2017, Jennifer and her husband were spotted having good times at a beach in Sardinia. In the same way, they celebrated the 2022 Christmas together.
What Does Jennifer Giroud Do for a Living? Her Profession and Net Worth
Jennifer is a loving housewife who takes good care of her family. The details regarding her educational background and occupation remain unknown. The housewife is registered on Instagram as @jengiroud but has kept her account private.
We frequently see her on her husband's Instagram profile. There is no doubt that the celebrity spouse is living her life to the fullest as her partner is one of the wealthiest footballers. Thanks to his long-term football career, Olivier is estimated to have a net worth of around $10 million.
Jennifer Giroud and her husband in holiday.
SOURCE: Twitter @jennifergi9
Olivier received €2.85 million while joining his current club, AC Milan. Before that, he played for Chelsea and had a jaw-dropping deal of €17 million. In the same way, he played for other clubs, which helped him preserve a decent fortune. His current market value is €4 million, while the highest value was €27 million, recorded on February 9, 2016.
Jennifer Giroud Family Background: Meet Her Parents and Siblings
Born on September 25, 1984, Jennifer Giroud was raised by her parents in the United States of America. She is super private regarding her family, so her father and mother's details are unknown. As per a report, Jennifer has a sister named Amandine Monti.
Besides that, Jennifer's husband, Olivier Giroud, was born on September 30, 1986, in Chambery, France. So, Jennifer and Olivier share two years of an age gap; Jennifer is two years older.
Social Media Presence: Follow Jennifer on Twitter
Jennifer is available on Twitter and has been using it since July 2016. Her username is @jennifergi9, and she has accumulated over 100 followers. Apart from that, her husband is also a verified Instagram user. We can follow Olivier as @oliviergiroud.