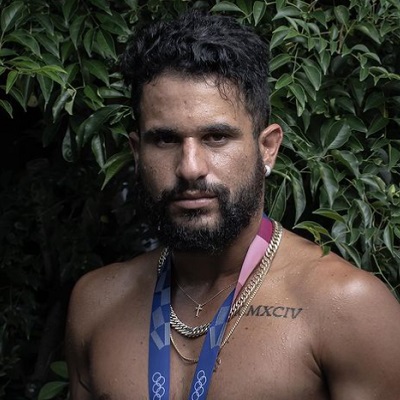 Personal Info
Date of Birth

Age

28 Years Old

Famous Name

Italo Ferreira

Country Brazil BR
Facts
Father

Luisinho

Relationship Status

affair

First Name

Italo

Fiance

Mother

Katiana

Last Name

Ferreira

Birth Name

Italo Ferreira

Net Worth

$500,000

Birth Country

Brazil

Famous Name

Career Earnings

$1 Million

Hobbies

Nationality

Brazilian

Affair with

Ana Carla Medeiros

Girlfriend

Ana Carla Medeiros
Brazilian world champion surfer Italo Ferreira is recognized as one of the sport's most ferocious competitors. He is well known for his energetic style and ability to amuse people no matter what. Ferreira also garnered attention online after earning the inaugural men's surfing gold medal at the 2020 Summer Olympics in Tokyo.
Italo Ferreira is a successful surfer with a notable career in the Championship Tour. He gained recognition during his rookie season in 2015, reaching the semifinals in Rio and his first CT Final in Portugal.
Ferreira has been surfing for a long time and has competed in numerous notable competitions, winning the majority of them. As a result, he has also made a substantial profit.
How Much Is Italo Ferreira's Net Worth?
Italo is a promising surfer who has a respectable income from his line of work. The 2015 World Champion, who is currently rated first in 2019, earned $171,000 after competing in numerous events while ranking seventh.
With his participation in various tournaments, Ferreira has accumulated a significant income, estimated to be at least $500,000.
Ferreira has total earnings of around $1 Million from his professional career to date, there's no doubt that he'd add more soon.
Who Is Ferreira Girlfriend or Wife, Ana Carla Medeiros? Their Relationship Timeline
Ferreira is currently in a relationship with Ana Carla Medeiros, but the start of their romance is unclear. They celebrated their one-year anniversary in January 2022 and often share pictures of each other on social media.
On January 20, 2022, Ferreira and his girlfriend shared a photo on Instagram to celebrate one year of dating. They shared lovely memories of their trip to Fernando de Noronha Island. Ferreira frequently tweets photos of himself with his girlfriend. Ferreira has also wanted her to post some adorable pictures on Instagram.
Italo Ferreira Early Life And Family Background
Italo Ferreira was born on May 6, 1994, in Baia Formosa, Rio Grande do Norte, Brazil, Ferreira's father is a fisherman, and his mother is an innkeeper. He received support from his parents and began to surf professionally.
He even purchased a home for his family with the money he earned from his winnings and business. Ferreira has not provided much information about his family history, therefore it is uncertain if he has siblings or not.
Ferreira stands 5 feet 7 inches, and weighs 68 kg, maintaining a fit physique through his hard work and dedication. He has a large following on social media, with over 2.8 million followers on Instagram and more than 79k subscribers on his YouTube channel, which has gained over 6 million views since its creation on February 12, 2015.