Ilya Ivashka is a Belarusian professional tennis player who competes in the ATP. Daniel Navarro Molina coaches the professional tennis player. Ivashka is the current No. 1 Belarusian men's singles player who achieved a career-high singles ranking by the ATP of No. 40 on June 20, 2022.
Since becoming professional in 2013, Ivashka has played in many games and won prominent titles. He upset No. 6 Alexander Zverev Jr. for his biggest career win en route to 2021 Munich SF as Q. Ivashka was passionate about playing tennis from an early age. He started playing after turning 5, watching his father play. If he weren't a tennis player, he would be a football player, as he was initially passionate about playing football.
Find Ivashka's Net Worth and Prize Money
Ivashka is estimated to have a net worth of over $1 million, thanks to his long-term professional career as a tennis player. Playing in many games, he has taken home an impressive profit. Ivashka turned pro in 2013, winning $4,404 in the same year. The following year, he took prize money of $792 in doubles and $4,172 in singles.
Ilya Ivashka on a trip to Brighton Beach Bath Boxes.
SOURCE: Instagram @ilyaivashka
With his active participation and playing skills, Ivashka began playing in major tournaments, which allowed him to maximize his earnings. In 2015, Ivashka earned a total of $19,717. After winning some games in professional tournaments, Ivashka took $774,186 (singles & doubles combined) in the year 2022. Aryna Sabalenka is another Belarusian tennis player having an impressive fortune. In total, Ilya has gathered $2,645,360.
Being a professional tennis player, Ivashka also makes money from brand endorsement, which he often promotes via his social media posts.
Read More: Tommy Paul
Who Is Ilya Ivashka's Wife or Girlfriend?
Ilya is reportedly married to his beloved wife, who goes by the name of Veronika Shkliaeva. The couple has been sharing the relationship of a husband and a wife for quite a while now. Ivashka and Veronika had kept their love life away from the media, due to which we are unknown when they began dating and tied the knot.
Furthermore, the duo shares a strong bond and have also supported each other in every step of their career. Ivashka has not hesitated to talk about his wife's support with the press. He won his first ATP title at Winston-Salem in 2021.
After winning the title, Ivashka shared his happiness and thanked his wife. He took to social media to thank his wife. It seems like they have not given birth to any kids yet. Ivashka lives a low-profile life with his wife.
Hydrogen and Head Sponsors Ilya Ivashka - His Racquet
The professional tennis player, Ivashka, has worked with a few sports brands which he wears in major tournaments. Also, he promotes them on his Instagram account. Primarily, Ivashka has collaborated with Hydrogen and Head.
Ilya Ivashka has a clothing endorsement with Hydrogen.
SOURCE: Instagram @ilyaivashka
Ivashka has a clothing sponsorship for famous sportswear named Hydrogen. He wears their t-shirts and other clothing. Likewise, Ivashka has a racquet sponsorship contract with Head. Ilya has also used the Head Graphene 360 Radical MP racquet.
Ivaskha's Parents: Meet Uladzimir (Father) and Anzhela (Mother)
Ivashka was born Ilya Uladzimiravich Ivashka on February 24, 1994, in Minsk, Belarus. The Minsk native has a strong bond with his supportive parents, Uladzimir and Anzhela. It seems like his father also played tennis, as Ilya began playing after watching his dad play.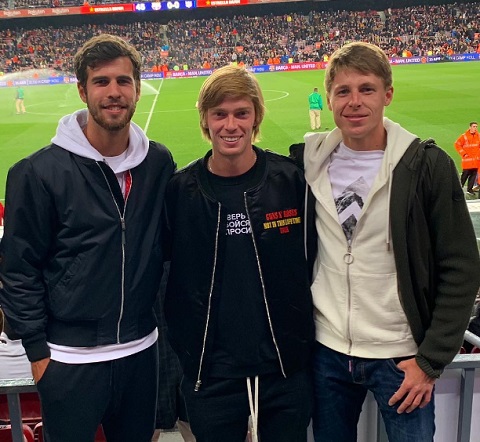 Ilya Ivashka with his friends in a football game.
SOURCE: Instagram @ilyaivashka
Apart from that, Ivaskha also took inspiration from star player Roger Federer. Furthermore, Ivashka has kept the details of his parents confidential. Due to that, we can't say much about his father and mother.
Ilya Grew Up With His Brother, Aleksei
Ivashka has received great support from his family. He is not only the child of his parents, as Ilya was raised alongside his one brother named Aleksei.
The Ivaskha brothers have a good connection, but Aleksei prefers to stay away from the limelight. Ilya has not made a single post with his sibling on his Instagram account.
A Look at Ilya Ivaskha Professional Career and Coach
Daniel Navarro Molina currently coaches Ilya, but Jose Checa Calvo previously coached him. Jose is also a former professional player. Ivaskha turned pro in 2013 and entered the top 150 when he hit a career-high ranking of No. 147 on February 26, 2018.
Ilya Ivashka is playing in the Australian Open.
SOURCE: Instagram @ilyaivashka
Ivaskha's career was going well, and in 2022, he withdrew from the Melbourne Summer Set 1 and Sydney Classic. Also, he withdrew from the Australian Open due to a leg injury. His first tournament in the year 2022 came at the Open Sud de France. In that tournament, he lost in the first round against Mackenzie McDonald.
Apart from that, Ivaskha has also represented his nation in the Davis Cup.
Follow Ivaskha On Instagram
Ivaskha is an active social media user with a strong Instagram presence. We can find him under the username @ilyaivashka. At the time of this post, he has amassed over 10.9k followers, and his account has also been verified. Ivaskha made his first post on Instagram on October 18, 2014.