Richard Winston "Dickie" Moore was a Canadian professional ice hockey player widely considered one of the most prominent left-wingers to have ever played the game of hockey. He was a six-time Stanley Cup Champion and a two-time Art Ross Trophy winner.
Moore played for Montreal Canadiens, Toronto Maple Leafs, and St. Louis Blues from 1951 to 1968. He was married to Joan Moore until he died in 2015.
Dickie's Death
Dickie Moore bid farewell to the world on December 19, 2015, in Montreal, Quebec, Canada. He was 84 years old at the time of his death. He took his last breaths, surrounded by his family members, including his wife and children.
People at the funeral of Dickie Moore
SOURCE: thestar.com
The hockey legend Moore suffered from prostate cancer for a few years; it was the sole reason for his death, disclosed by Rejean Houle, a former player of the Montreal Canadiens and public-relations official of the team.
Dickie Moore's Net Worth and Career Earnings
When he died in 2015, Moore's net worth was estimated to be between $2 Million. His total career earning was $48,720 in 1968 during his retirement, equaling $482,634.52 today, considering the inflation rate since 1968.
While he made a modest salary during his playing career, he accumulated wealth through his business ventures after retiring from hockey.
His rental company "Dickie Moore Rentals" was successful, providing him with a steady source of income.
Read Also: Curtis Lazar and Justin Holl
Relationship Status and Family
Moore married his wife, Joan Moore, in 1951, and the couple had three children together - Richard, Lianne, and John. Tragically, their son Richard died in a car accident at 16, a devastating loss for the family.
Dickie with his wife, Joan, on a shopping spree. 1950s
SOURCE: puckstruck.com
Moore was a private person and rarely talked about his personal life. However, his fans, teammates, and fellow players widely respected and admired him.
Dickie Moore Hockey Card
Aside from his successful hockey career, Dickie Moore's legacy lives on through his hockey cards. Even after his passing, his hockey cards continue to be on sale until this day.
Hockey card enthusiasts can purchase a Dickie Moore hockey card for as low as $1 or as high as $400, depending on the rarity and condition of the card.
Dickie Moore Hockey Card: 2004-05 Upper Deck Legends Classics
SOURCE: comc.com
Moore's hockey cards are highly sought after by collectors, especially those who specialize in vintage cards. His cards are considered valuable because of his contributions to the sport and because they serve as a testament to the era in which he played.
Moreover, the hockey cards featuring Moore remind him of his remarkable achievements in the NHL, such as being a six-time Stanley Cup champion, a two-time Art Ross Trophy winner, and a six-time NHL All-Star.
Dickie Moore Rookie Card
Dickie Moore's rookie card (#46) is one of the key cards in the set. It features a black-and-white photograph of the young left-winger in his Montreal Canadiens uniform, with his name and team printed in blue letters at the bottom of the card.
The card is known for its rarity and condition sensitivity, with high-grade examples commanding premium prices at auction.
Dickie Moore Rookie Card #10
SOURCE: psacard.com
In 2021, a PSA 9 (mint) example of Moore's rookie card sold for over $11,000 at auction, highlighting the strong demand for this card among collectors.
As a six-time Stanley Cup champion and Hall of Fame inductee, Dickie Moore's rookie card remains a highly coveted item for hockey fans and collectors alike. It serves as a reminder of his incredible contributions to the sport and his lasting legacy as one of hockey's all-time greats.
Moore's NHL Stats
Dickie Moore played 719 games in the NHL, scoring 261 goals and 346 assists for 607 points. Ted Lindsay and Jerry Lucas are the other two NHL legends from the 20th century.
He also had 646 penalty minutes, 52 game-winning goals, and a plus/minus rating of 63. Moore's point shares were 65.2, and he recorded 743 shots on goal.
Dickie Moore #12 of the Montreal Canadiens at the Montreal Forum, 1950
SOURCE: gettyimages.com
His most successful seasons were in 1958 and 1959, when he was named to the NHL first-team All-Star and won the Art Ross Trophy both years.
He was also a member of six Stanley Cup championship teams with the Montreal Canadiens between 1953 and 1960.
Business After Retirement: Dickie Moore Rentals
After the 1962-63 season, Moore announced his retirement from professional hockey. However, he returned to the ice two years later to play for the Toronto Maple Leafs. He played for one more season before retiring for good in 1965.
After he retired from professional hockey, Moore started his equipment and tools rental company "Dickie Moore Rentals" for construction in Montreal, Ottawa, and Toronto.
Moore's business venture proved successful, and he eventually became a prominent businessman in the Montreal area. His net worth was evaluated to be between $2 Million in 2015 at the time of his death.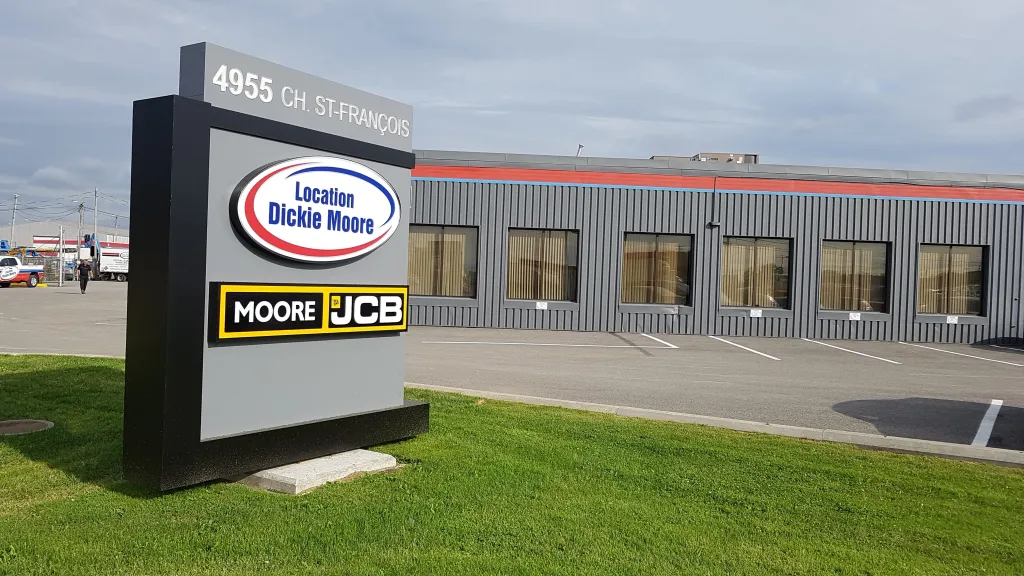 Office of Dickie Moore Rentals in Sant-Laurent, Quebec
SOURCE: dickiemoore.com
Moore was a philanthropist and was actively involved in charitable work, including raising money for children's hospitals and cancer research.
Dickie Moore Rentals quickly became a reputable and successful business. The company grew to become one of the most extensive equipment and tools rental providers in the regions it served. Moore's reputation as a professional athlete also helped enhance the company's brand, as customers trust the quality of services a six-time Stanley Cup champion provides.
Although Dickie Moore Rentals was eventually sold to new owners, Moore's legacy in the construction industry lives on. His entrepreneurial spirit and dedication to providing high-quality services continue to inspire future business owners.
Early Life and Rookie Career
Moore grew up in Montreal and was passionate about hockey early on. He started playing organized hockey at the age of five, and by the time he was a teenager, he was already playing for junior hockey teams in Montreal.
At the age of 17, Moore joined the Montreal Canadiens, which was his hometown team. He made his debut for the Canadiens in the 1951-52 season, and in his rookie year, he scored 33 points in 60 games.
Publicity shot of Canadian hockey player Dickie Moore.
SOURCE: gettyimages.com
Moore played for the Canadiens for over a decade, and during that time, he became one of the most consistent and reliable players in the league. He was known for his exceptional speed, skill, and versatility, making him a formidable player on offense and defense.
He was a key player for the Canadiens during their dominant period in the 1950s, and he was widely regarded as one of the best players of his generation.
Legacy and Honors
Moore's legacy in the world of hockey is undisputed. He was inducted into the Hockey Hall of Fame in 1974, and in 2005, his number "12" was retired and raised to the rafters of the Bell Centre, home of the Montreal Canadiens.
In 2017, Dickie was named one of the '100 Greatest NHL Players in history. Moore helped the Canadiens win six Stanley Cups in his career, including a historic five between 1956 and 1960.
Montreal Canadiens celebrating after winning the Stanley Cup in 1956
SOURCE: gettyimages.com
He also won the Art Ross Trophy twice, in 1958 and 1959, for leading the league in points during the regular season.
Moore's most impressive accomplishment was his record for most regular-season points in one NHL season. He played in NHL All-Star Game 6 times and was named NHL's first-team All-Star twice in 1958 and 1959. He was also named the NHL second-team All-Star in 1961.