Personal Info
Date of Birth

Age

32 Years Old

Famous Name

Dan Evans

Country United Kingdom GB
Facts
Father

David Evans

Relationship Status

affair

No. of Twitter Followers

First Name

Daniel

Endorsment brands

Luke, Wilson, HalolTSM

No. of Instagram Followers

28.8K

Father Nationality

British

Mother

Bernadette Evans

Wikipedia

https://en.wikipedia.org/wiki/Dan_Evans_(tennis)

Last Name

Evans

Birth Name

Daniel Evans

Net Worth

$3 million

Mother Nationality

British

Currently Married

Update

Siblings

Clare and Laura

Salary

-

Married to

Update

Birth Country

United Kingdom

No. of Siblings

2

Instagram

https://www.instagram.com/danevo.official/

Famous Name

Dan Evans

Career Earnings

$6,370,157

Horoscope

Libra

Date

May 23

Nationality

British

Affair with

-

Ethnicity

-

Girlfriend

Aleah

Awards

Sponsors

Luke, Wilson, HalolTSM

Religion

Christians

Profession

Tennis player

Famous for

Tennis player

Started career as

Tennis player
Daniel Evans is a British professional tennis player who has been playing professionally since 2006. The British player achieved an ATP career-high No. 22 in singles on September 27, 2021. Also, he is the current British No. 2 in singles. Being a native of England, he represents Great Britain in the Davis Cup. In September 2009, Evans made his Davis Cup debut against Poland.
Likewise, Evans made it to the 4th round of the 2017 Australian Open and the 2021 US Open. He is an all-court player who plays a tactical game. Due to his performances, he has also been named the bad boy of British tennis and the most egregious wasted talent in British tennis. Nicknamed 'Evo,' Evans is coached by Sebastian Prieto.
Who Is Daniel Evans' Girlfriend, Aleah? A Look at Their Dating Life
Evans is in a romantic relationship with his girlfriend, Aleah. Reportedly, the lovebirds met each other while working in Winchcombe in 2017. They have been together for quite a while now. Aleah is a supportive partner who has been with Evans in many hard times.
Dan Evans' girlfriend, Aleah, is in a tennis game.
SOURCE: The Sun
For your information, Evans was once banned after failing a drug test in 2017. So, Aleah was there with Evans comforting him. Once, Aleah was also seen cheering his partner in a game at Wimbledon. As the duo has lived a low-key life, further information regarding their relationship timeline remains under review.
Likewise, Evans has not shared a single post with his girlfriend on Instagram. But he sometimes shares updates about his professional life via IG, where he is verified as @danevo.official.
Evans Faced Ban After Failing Drug Test in 2017
As said earlier, Evans once faced a ban, and his girlfriend was with him. On April 24, 2017, Evans provided a positive sample at the Barcelona Open. After that, Evans tested positive for cocaine. Due to failing a drug test, he was banned from playing professional tennis for one year.
Dan Evans was banned for 1 year from playing professional tennis.
SOURCE: Twitter @IndySport
Evans said the samples had accidentally mixed with his medication in a wash bag. After that, Evans stayed lowkey and did not play tennis for eight-and-a-half months. So, with his girlfriend, Aleah, he spent time on the golf course and in Cheltenham. The right-handed tennis player was eligible to return to action on April 24, 2018.
Evans Enjoys a Net Worth in Millions: Find His Prize Money
Evans lives a lavish life having an impressive net worth of over $3 million. Evans has earned most of his gains from being a professional tennis player. The British player has collected total prize money of $6,370,157. In 2006, he turned professional, and in that year, Evans bagged himself $1,522. The following year, Evans earned a total of $429,026.
In 2022, Daniel earned $177,387, competing in doubles and $1,612,800 in singles. As a professional tennis player, Evans has collaborated with some sports brands, which may pay him well.
Daniel Evans Sponsors – Luke, Wilson, HalolTSM
Evans has worked with some sports brands he promotes on social media. Evans has a clothing sponsorship with Luke, which he signed in 2020. Likewise, Evans has a racquet sponsorship with Wilson. Christopher O'Connell also has a deal with Wilson.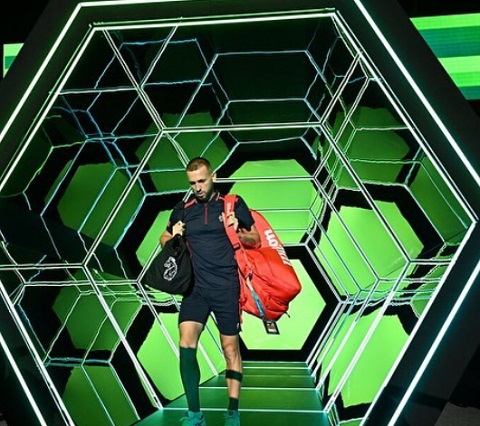 Dan Evans is moving out for a tennis game.
SOURCE: Instagram @danevo.official
Daniel's racket is Wilson Pro Staff 97 V13, his bag is Wilson Super Tour, and his shoes are Asics Solution Swift FF. Furthermore, Evans signed a contract with an IT service company named HaloITSM in 2021. The IT company works with organizations of all sizes.
Dan Is a Native of Birmingham: His Parents and Family Background
Daniel Evans was born on May 23, 1990, in Birmingham, England. The 5 feet 9 inches tennis player grew up with his two sisters, Clare and Laura. The Evans siblings were raised by their supportive parents, David (father) and Bernadette (mother).
David is an electrician, while Bernadette is a nurse. Initially, Dan played squash with his father. At seven, he began playing tennis with his dad at a local tennis club. After turning 12, Dan left home and lived with a host family while training in Loughborough.
While growing up, Evans' idols were Tim Henman and Pete Sampras.