Chad Ruhwedel is an American professional ice hockey player playing as a defense for the Pittsburgh Penguins of the National Hockey League (NHL). Chad is a right-handed shooter and began playing ice hockey at San Diego Ice Arena. Ruhwedel wears no. 2 jersey playing for the Penguins. Chad is yet to represent his national team in international matches.
Ruhwedel started his NHL career by signing a two-year entry-level contract as an undrafted free agent with the Buffalo Sabers. After leaving Buffalo Sabers, he signed with the Pittsburgh Penguins of the NHL and won Stanely Cup in 2016-17. Chad Ruhwedel is living a happy married life with his wife and child.
Chad Ruhwedel's Networth 2023 in Millions: More on His Salary
Chad Ruhwedel keeps his net worth private, but it's estimated to be around $4 Million. He is currently on 2 years contract worth $16,00,000 with Pittsburg Penguin and has a salary of $8,00,000 yearly.
Chad Ruhwedel has an estimated net worth of $4 Million.
SOURCE: Youtube- Prep Pigskin Report
On April 13, 2013, Chad signed his first entry-level contract with Buffalo Sabers for 2 years worth $1,950,000. In July 2014, Ruhwedel extended his contract until 2016 for another $1,300,000.
Read More: Jordan Weal
Chad Ruhwedel's NHL Contracts
In 2013, Chad signed his first contract and then remained with the club until 2016. After the contract expired in 2016, The Player signed a 1-year contract worth $5,75,000 with The Pittsburgh Penguins of the NHL. On June 22, 2017, Chad extended his contract for 2 years, $1,300,000, with the Pittsburgh Penguins.
Chad Ruhwedel won the Stanley cup in 2016.
SOURCE: California Rubber magazine
In 2019, Shortly before the termination of the contract, Ruhwedel extended his contract for $1,400,000 with Penguins for 2 years. The following year, He extended his contract to $750,000 for 1 year. Over a career over 11 seasons, Chad Ruhwedel has signed 7 contracts totaling $8,875,000.
Who is Chad Ruhwedel Married to? Know About His Wife.
Every living soul on this planet requires someone to share their journey with, and lucky Chad got his life partner with whom he would share the rest of his journey. Chad Ruhwedel and his stunning wife Elle got married in 2020. Their wedding ceremony was held at World's Fair Pavilion located in St. Louis. Many of Chad's friends, relatives, and family attended their fabulous wedding.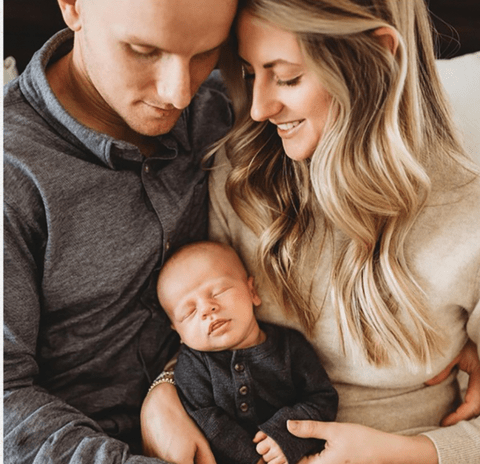 Chad Ruhwedel and Elle are the proud parents of a son, Brody.
SOURCE: NHL
Chad and Elle welcomed a new member to the family in less than a year in January 2021. The duo was blessed with a son, Brody Hayes Ruhwedel. They seem to enjoy their life away from the public's eyes. Although Chad is an active Instagram user but has kept it private.
Chad Ruhwedel's Daring Sky-Diving Parents
Chad Ruhwedel never seems to run out of fun facts during his match interviews. Chad revealed that his parents became love birds through sky diving and broke awkwardness in their conversation due to their mutual interest.
Chad Ruhwedel with his family.
SOURCE: NHL
Chad's parents are sky-diving addicts. Chad's dad, John, did more than 3000 jumps, while his mom, Robin, had more than 1500. The crazier part is that she took 20 of them while she was pregnant with Chad.
Chad Ruhwedel is gifted with such daring and caring parents that it's natural that he is proud of them and vice-versa.
Undrafted NHL Draft to Winning the Stanley Cup
Chad Ruhwedel has played ice hockey since his young days and has achieved many awards and honors. Chad joined the Hockey East Academic Team when he played at UMass Lowell. In the 2011-12 season, The player was a Hockey East First Mention All-Star, and in 2012–13, Ruhwedel was named a Hockey East First-Team All-Star.
In the 2012-13 season, Ruhwedel was honored with East First All-American Team by AHCA. Chad also won the Bob Monahan Award as the best defenseman in New England.
Chad Ruhwedel's biggest achievement of his lifetime was during 2016-17 when Pittsburgh Penguins won Stanely Cup. Defenseman Kris Letang scored the Stanley Cup-winning goal against San Jose in Game 6. Pittsburgh's captain Sidney Crosby won the Conn Smythe Trophy as playoff MVP in the finals.
How Did Chad Ruhwedel's Upper-Body Injury Affect His Match?
In December 2022, Ruhwedwel injured his upper body from a collision with Islanders forward Oliver Wahlstrom and missed two matches.
After a single shift in the second during the match between the Pittsburgh Penguins and New York Islanders, Chad had to forfeit the match. The penguins heavily suffered that match cause of his absence. Recently his teammate, Ryan Poehling, also had an Upper-Body Injury.
Chad's injury has caused him to only appear in 17 games this season, and Ruhwedel recorded only a single assist. He seems to be recovering from his upper-body injury and will be back in the game soon.
Chad Ruhwedel's Early Life
Chad was born Chad James Ruhwedel on May 7, 1990, and grew up on Scripper's Ranch in San Deigo, California. In 2014, Ruhwedel shared a photo congratulating his sister, Evan Ruhwedel, on her wedding.
As a youth, Ruhwedel played for the San Diego Junior Gulls and La Jolla Jaguara. After that, he played in the under-18 club, the Los Angeles Kings U18 AAA team. After juniors, Chad earned a Division I college hockey scholarship to UMass Lowell. by playing for Sioux Falls Stampede of the USHL.
Read More.Justin Schultz