Alfie Haaland is a former professional associational soccer player from Norway who played as a center midfielder and right-back for several football teams. He made appearances for several English Premier League teams, such as manchester city, Leeds United, and Nottingham Forest. Also, Haaland played for his nation's football clubs, including Bryne FK and Roseland BK.
The Bryne Fk youth system graduate also represented the Norwegian national football team in several international competitions. Notably, his international debut came in January 1994 in the clash against Costa Rica. The Norwegian international recorded total games of 64 international matches for Norway's national football team.
Erling Haaland Father, Alfie Haaland: Alf-Inge Haaland's Man City career
Alf-Inge Haaland, renowned as the father and agent of the emerging football sensation Erling Haaland, gained prominence for an unfortunate incident that prematurely halted his own playing career. In a memorable Champions League debut for Red Bull Salzburg in September 2019, Erling astounded the world with a remarkable hat-trick, marking the beginning of his meteoric rise, while his father's career had ended years prior due to a fierce tackle from Roy Keane in 2001.
Alf-Inge, unlike his prolific goal-scoring son, excelled as a defender and midfielder during his playing days, managing a modest tally of 23 goals across 255 matches. The majority of his career unfolded in the Premier League (1993-2003), representing Nottingham Forest, Leeds United, and Manchester City.
Alfie Haaland, married to Anita Haaland Stromvold, has two daughters. Previously married to Gry Marta Braut, they have three children: Astror, Erling, and Gabriela Haaland. Alfie takes pride in Erling's league performance.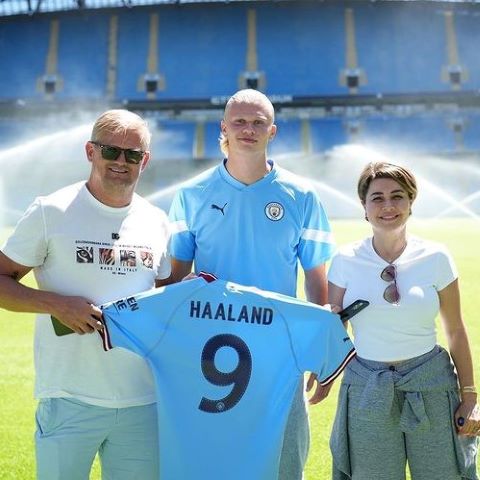 Alfie and his ex-wife during their son Man City contract signing.
SOURCE: Instagram@alfiehaaland
Haaland's journey commenced in 1993 when he joined Forest from his local Norwegian club, Bryne FK. After debuting against Leicester, he went on to make 75 appearances for Forest, finding the net seven times before transferring to Leeds in 1997. At Elland Road, Haaland played 74 matches, scoring eight goals, and was part of the Leeds squad that reached the semi-finals of the UEFA Cup during the 1999–2000 season. Subsequently, he made a move to Manchester City in a transfer worth £2.5 million.
Haaland's Resilience: Debunking the Myth and Reflecting on His Manchester City Career
Contrary to popular belief, Roy Keane's tackle did not directly end Haaland's career. Although he had been experiencing discomfort in his left knee for several months, Haaland played through the pain and even finished the game, which ended in a 1-1 draw. He even managed to start Manchester City's next match against West Ham. However, he was subsequently excluded from the squad for the final two games of the season against Ipswich and Chelsea. Unfortunately, Haaland's persistent knee issues persisted, leading to surgery on his left knee the following summer. Despite making four substitute appearances the next season, he was unable to fully recover and ultimately retired in July 2003.
While Haaland acknowledged the pain caused by Keane's challenge, he maintained that he didn't hold Keane responsible for ending his career. In a 2014 interview with BBC Radio 5 Live, he emphasized that he didn't blame Keane for the incident, but expressed concern over Keane's stated intention of seeking revenge. Haaland's career did not entirely conclude with the Manchester City episode, as he briefly emerged from retirement eight years later to play for Norwegian Third Division club Rosseland BK in 2011. However, after nine appearances, Haaland decided to retire for good in 2012. Throughout his career, Haaland made a significant contribution to Manchester City and their fans will always remember his time with the club.
Alfie Haaland revealed his perspective on the infamous incident involving Roy Keane's tackle
In a captivating tale of rivalry and redemption, former Manchester United star Roy Keane finds himself in an uncomfortable position as a pundit following Erling Haaland's move to Manchester City. Keane's infamous tackle on Haaland's father, Alfie, is etched in Premier League history as one of the worst challenges ever witnessed. The incident took place four years after their initial clash at Elland Road, where Keane suffered a career-threatening injury.
Erling Haaland is taking soccer to new heights.
SOURCE: Instagram- @erling.haaland
Seeking retribution, Keane unleashed brutal revenge on a now-Manchester City player, Erling Haaland. His autobiography chillingly describes the moment, leaving no doubt about his intentions. However, in a surprising turn of events, Haaland's father, Alfie, reflects on the incidents with unexpected empathy, refusing to hold Keane solely responsible for the end of his career.
Amidst the drama, Keane continues his punditry role, analyzing the performances of Erling Haaland, who is following in his father's footsteps. The young Norwegian phenom has already garnered praise from Wayne Rooney, who boldly asserts that Haaland is currently the best footballer in the world. With Erling's immense talent and the echoes of a bitter rivalry still reverberating, a football dynasty is getting shaped before our eyes.
Erling Haaland Net Worth, Contract, Salary, and Career Earnings: How Rich is the Former Man City Player, Alf-Inge Haaland
Alf-Inge Haaland, also known as Alfie Haaland, is a former professional soccer player from Norway who has made a significant impact on Norwegian football. While specific details about his career earnings and salary during his active playing days are not readily available, it is safe to assume that as a player in the English Premier League (EPL), he earned a substantial income. EPL clubs are known for their impressive pay scales, and players typically receive lucrative salaries.
Vacation with wife Anita in Aurlandsfjord
SOURCE: Instagram@alfiehaaland
Alf-Inge Haaland has an estimated net worth, valued at $17 million, which reflects his accomplishments on and off the field. Although we couldn't find precise information about his earnings, it is likely that his income during his playing career reached the six-figure range, considering his stature as a professional soccer player.
Earling Haaland's Net Worth, Contract, Salary, Sponsors, Endorsements, and Career Earnings
Furthermore, in terms of endorsements and sponsorships, Erling Haaland has also secured lucrative deals that contribute to his overall net worth. He recently re-signed with Nike after his previous agreement with the sportswear brand expired in January 2022. Throughout his career, Haaland has been seen wearing boots from various brands such as Adidas, Puma, and Nike, with all three companies vying for his signature, further bolstering his net worth.
As a result of his achievements and successful career, Erling Haaland's estimated net worth is around $40 million. By the time he completes his contract with Manchester City, he is projected to earn a total of £117,000,000, making him one of the highest-earning soccer players. His net worth is a testament to his exceptional skills and marketability, attracting substantial endorsement deals and securing his financial future.
Facts About Alfie Haaland
Alfie Haaland was born on November 23, 1971, in Stavanger, Norway.
He migrated to Europe to pursue a career in professional soccer, playing in the top leagues.
Details about Alfie Haaland's parents and siblings are not publicly known as he has not revealed information about them.
His parents have a Norwegian heritage and follow the Christian religion.
Alfie Haaland has a height of 6 feet 1 inch (1.86 meters) and weighs over 82 kilograms. He has a wheatish skin complexion and blond hair.