Personal Info
Date of Birth

Age

50 Years Old

Famous Name

Alfie Haaland

Country Norway NO
Facts
Father

Unknown

League Name

Premier League

Relationship Status

married

First Name

Alfie

No. of Instagram Followers

121K

Past Team

Bryne FK 3

Mother

Unknown

Last Name

Haaland

Birth Name

Alfie Haaland

Net Worth

$8 Million

Currently Married

Yes

Current Club Jersey Number

Twitter

Siblings

unknown

Married to

Anita Stromsvold

Birth Country

Norway

No. of Siblings

First Club Name

Bryne FK

Past married if any

yes

Instagram

https://www.instagram.com/alfiehaaland/

Famous Name

Alfie Haaland

Children

Erling Haaland, Gabrielle Haaland, Astor Haaland

Divorce

Gry Marita Braut

Contract

five-year

Horoscope

Sagittarius

House Location

Norway

Date

November 23

First Club Join Date

1979

Nationality

Norwegian

Current team

Norway

Ethnicity

White

Religion

Christians

Profession

Former Football Player

Squad No

Famous for

Football Player

Caps

Rank
Alfie Haaland is a former professional associational soccer player from Norway who played as a center midfielder and right-back for several football teams. He made appearances for several English Premier League teams, such as manchester city, Leeds united, and Nottingham Forest. Also, Haaland played for his nation's football clubs, including Bryne FK and Roseland BK.
The Bryne Fk youth system graduate also represented the Norwegian national football team in several international competitions. Notably, his international debut came in January 1994 in the clash against Costa Rica. The Norwegian international recorded total games of 64 international matches for Norway's national football team.
Father Of Manchester City Goal Machine Erling Haaland
The Stavanger-born former footballer is the husband of his beloved wife, Anita Haaland Stromvold, with whom he has two daughters. Before that, he married Gry Marta Braut, a former women's heptathlon athlete. With Gry, Haaland has three children Astror Haaland, Erling Haaland, and Gabriela Haaland. Alfie is pleased about his son's performance in the league.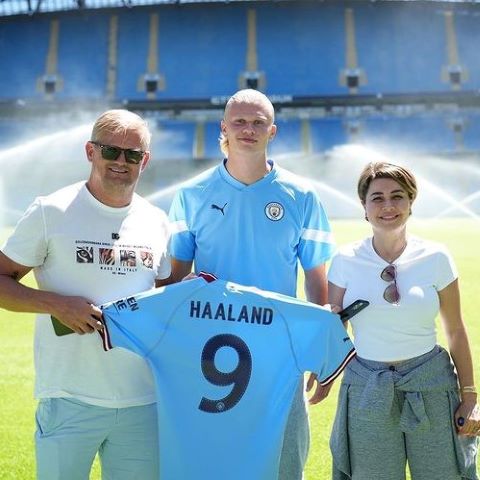 Alfie and his ex-wife during their son Man City contract signing.
SOURCE: [email protected]
Despite being retired from soccer, the former player keeps his soccer dreams alive from his son Erling's soccer career. The father and son have a close bond and often attend soccer events together.
Beef with Former Manchester United Player Roy Keane
Alfie Haaland was not on good terms with Roy. The player had an altercation in the soccer match. It all started when Haaland accused Keane of faking the injury in the game between City and Nottingham Forest. Alfie's this act caused vengeance on Roy, which later ended horribly.
In April 2007, the former Manchester United player intentionally tacked, causing him a horrific knee injury in the Manchester derby. Roy was banned from five matches for his intentional foul, compensating with £150,000.
What Is Alfie's Career Earnings From Soccer? Know About Wherewithal And Net Worth
Alf-Inge Rasdal Haaland, aka Alfie Haaland, is one of the most prominent soccer players in Norwegian football history. Digging various sites, we could not discover any information about the paycheck he got during his active career.
Vacation with wife Anita in Aurlandsfjord
SOURCE: [email protected]
However, there is no doubt that it should be in the six figures as EPL pays their players impressively. The 6 feet 1 inch tall professional approximate net worth is valued at $8 Million.
Take A Look Into Alfie's Family Facts And Early Life
The retired football Alfie was born in Stavanger, Norway, on November 23, 1971. Although born in Norway, Alfie migrated to Europe to play soccer in the top league.
Coming to his parents and siblings, the professional has not revealed anything about them so far. Moreover, his parents are of Norwegian heritage and believe in the Christian religion.
Physical Stature (Height And Weight)
Alfie Haaland measures his height at 6 feet 1 inch or 1.86 m tall and weighs over 82kg. Furthermore, the ex-midfielder has a wheatish skin complexion and blond hair.